If there is one night each year I expect celebs to bring it with fun nail color and art, it's the Grammys. Last night, however, was a bit of a snoozefest.
Don't get me wrong, there were some gorgeous looks and a sprinkling of nail art but where were the hashtag-worthy styles? There was no Lady Gaga in an egg, no side boob controversy. Outside of Pharrell's "Dudley Do Right" hat situation and one head-scratching manicure from Lorde, the Grammy red carpet could have belonged to any other award show.


Pretty In Pink
Last night, two pop divas, known for in-your-face nails, opted for understated elegance. COVERGIRL's Katy Perry and P!nk left me saying, "I feel shocked" a la Pepper Brooks in Dodgeball, by wearing pale nails on the red carpet.
Katy was perfectly polished by Kimmie Kyees in COVERGIRL Outlast Everbloom while Michelle Saunders layered COVERGIRL Outlast Natural Blush over Forever Fawn to create a pink-tinged nude for P!nk.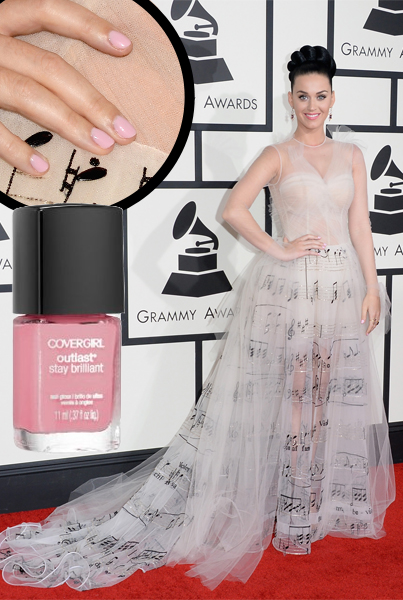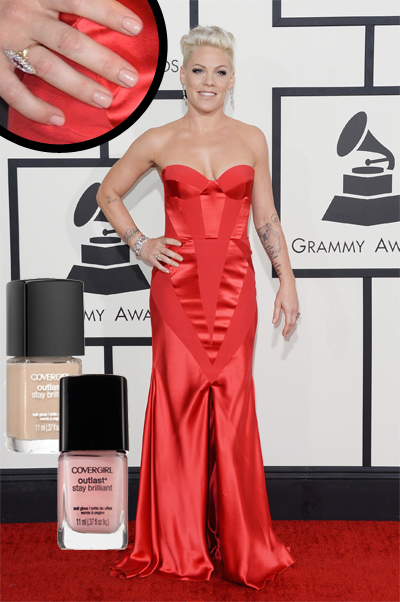 Nail Art Isn't Dead
As much as I keep hearing about the decline of nail art in the celebrity and fashion realm, some ladies were still holding on last night.
Rita Ora may have looked like a feminine, gold statue in her Lanvin dress but her nails told a different story. She went all out with colorful character nail art and hands of a thousand rings.
Kacey Musgraves donned a moon manicure created by Kimmie Kyees using Essie Warm & Toasty Turtleneck with Good As Gold moons.
Known for her pointy tips and love of nail art, Kelly Osbourne went a similar route as her Golden Globes manicure, adding sculpted award statues as accents to her black and gold striping tape crosses. Both looks were created by her manicurist Maya Tanaka.
Leona Lewis also paid a visit to the hardest working manicurist on Grammy night, Kimmie Kyees, who created this look using Red Carpet Manicure White Hot and Black Stretch Limo.

Sparkle and Shine
From glitter to chrome there was a fair share of blinged out nails at the Grammys.
No matter what you think of Paris Hilton, there is no denying, the girl looked AMAZING last night. I mean, her hair and makeup killed. Simply stunning! Add in some sparkly nails, fit for an Ice Queen, and she jumped right to the top of my best dressed list.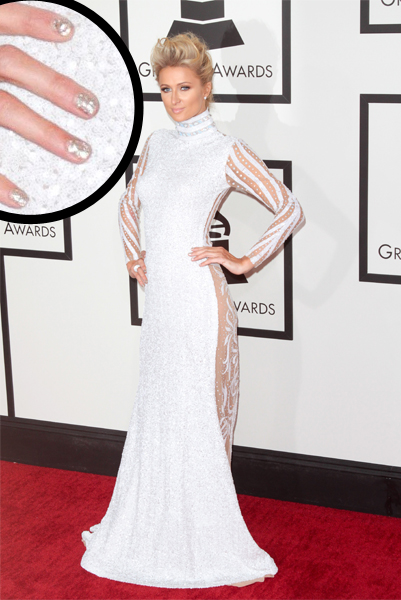 Even though I don't listen to country music, I adore Miranda Lambert. Her and Blake Shelton are one of my fave music couples. She was a goddess last night, accenting her hot red gown with the pale pearl metallic, Azature Bronze Diamond.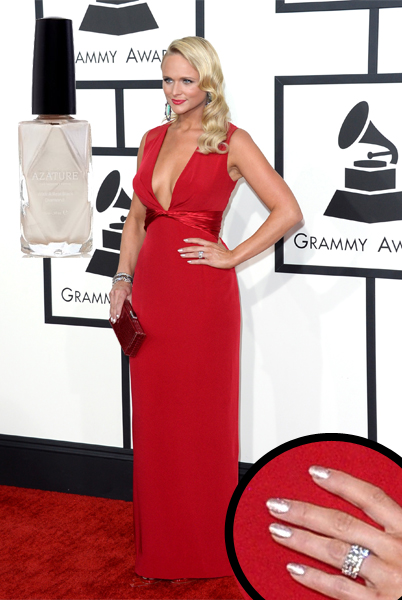 I saw Cyndi Lauper in concert a few years back and I can't even begin to tell you how phenom she is live. Not to mention that I wept when she sang "True Colors". I viewed her nails at multiple angles and my best guess is that she's wearing Minx Golden Lightening or a similar chrome nail covering, to compliment her major neck hardware.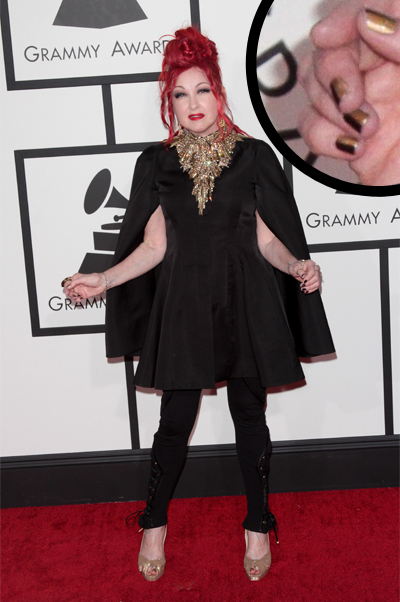 Beyonce's Flashdance-esque performance stopped me in my tracks and left my mouth hanging open. She owned the stage and I would hate to follow that act.
Bey turned to her longtime manicurist, Lisa Logan, who layered two Formula X for Sephora polishes to create a sparkling ruby shade. Pedal To The Metal, a purple metallic was topped with ruby red glitter, Atom + Eve.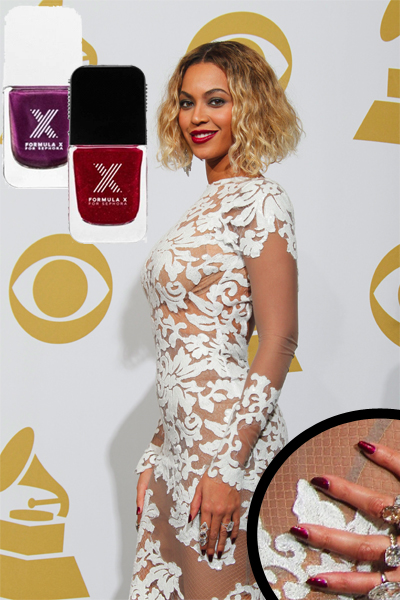 Dark and Daring
The overall red carpet nail trend this season is a throwback to the classics: nude, red and deliciously dark. There was no shortage of moody manicures at the Grammys.
It's not just because I could watch Pitch Perfect on a loop, Anna Kendrick looked H-O-T. Like, seriously, WOW! And her cool taupe manicure in Essie Chinchilly was tipped with Ignite the Night from Encrusted Treasures by manicurist Lisa Postma. It was a perfect compliment to her figure flattering gown.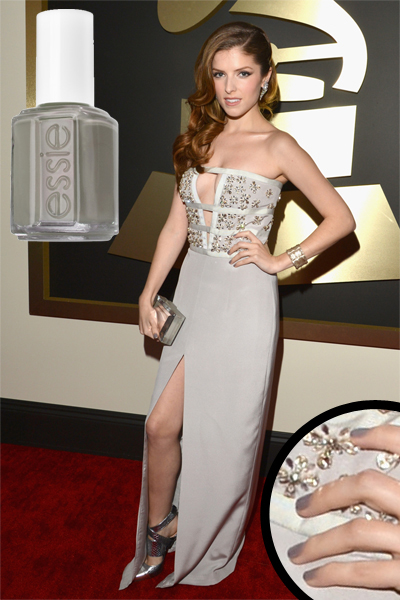 If you don't follow the hilariously nutty, yet drop dead gorgeous, Chrissy Teigen on Instagram/Twitter, you are seriously missing out. She is cra in the best possible way.
Saying a model looks beautiful in a dress is like saying the sky is blue but I still loved her look. And the dark nails were an unexpected touch.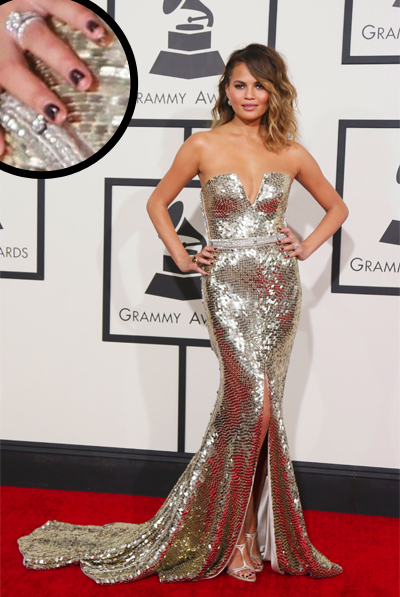 I couldn't help but take notice of Faith Evans' dreamy purple nails. The color looks so regal with her gold ring.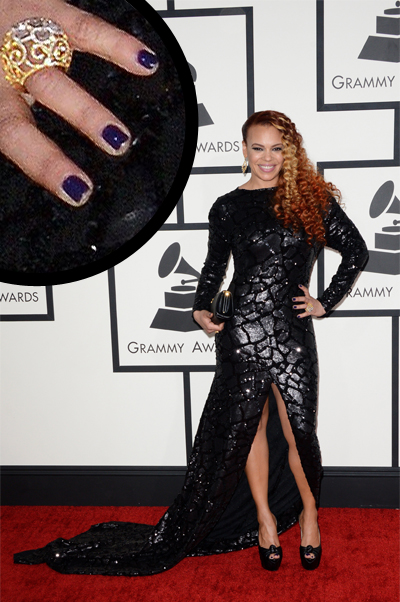 File under: What the What? I don't know what was happening with Lorde's nails but, as I said during #NailGlossip, it looked like she had been digging in coal. Up close shots revealed that she was wearing black polish with what appears to be black makeup on the surrounding skin. I don't get it but I'm happy she won.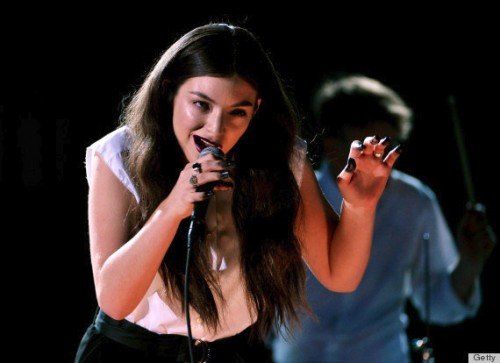 So what nail looks caught your attention at the Grammys? If you were nail styling the stars, what would you do differently?
And if you missed our Grammy night #NailGlossip chat, the next one is February 9th at 9pm EST.
images and info:
COVERGIRL
,
Huffington Post
and
Celebutopia
Disclosure: Product samples were provided by reps for . Affiliate links appear in this post. When you purchase through an affiliate link, you help support this site. For more info view my Disclosure Policy.