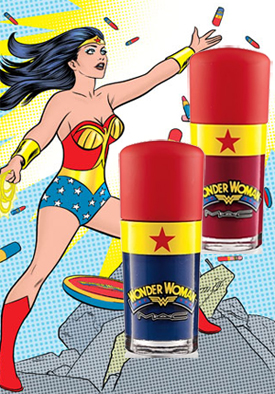 The recently launched MAC Wonder Woman collection brought out the little girl and "nail artist" in me.  That's right Fanatics, you didn't misread the title, I said "nail artist."  You can check my forehead for a fever all you like but I'm perfectly healthy AND loving my Wonder Woman themed foray into the nail art.I'm sure my fellow Gen-Xers will happily stroll down memory lane with me to the days of Wonder Woman Underoos and raven haired beauty, Lynda Carter, flying into living rooms nationwide in her invisible airplane.  At just four years old my Wonder Woman doll was my most prized possession next to my Donny Osmond doll, purple socks and all, of course.  Way before my Barbie obsession took hold, I was imagining myself lassoing evildoers to confess their crimes.

The MAC Wonder Woman collection includes two new Nail Lacquers in WW's signature colors; red (Obey Me) and blue (Spirit of Truth).  As easy as it would be for me to just wear the colors as a mani/pedi combo or a multi-colored manicure I decided to take it one step further, inspired by one of my fave nail art lovers, Nail Art Junkie's Keri B.

Keri B is a regular at Sakura Nail Spa in NYC and she's a faithful CalGel wearer.  She continues to top herself with each design concept she conceives with the artists at Sakura.  She wore some killer plaid for MAC's A Tartan Tale launch and when MAC Fabulous Felines came out she went all "cat lady" crazy, something the furball mother in me can appreciate.
Now as you know I am normally not big into the whole nail art thing but when I saw Keri's Wonder Woman nails, I was transfixed.  The gilded red moons, the blue and silver stars that mimic WW's costume, the iconic Wonder Woman logo.  It all wowed me.  To the point that I decided to test out my amateur (at best) nail art skills to represent this collection.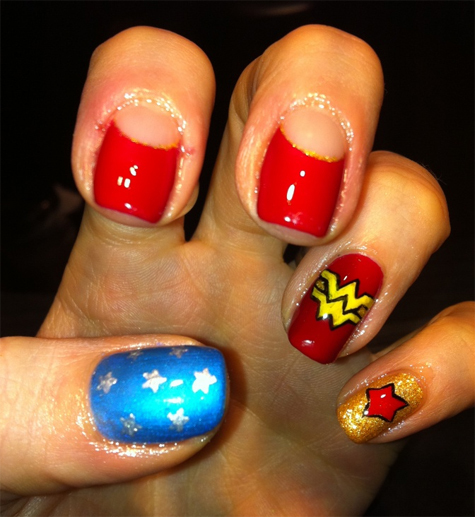 I've had Milani's Nail Art polishes for a while now but never had a reason to pull them out.  This was the perfect occasion. I used Black Sketch and Art of Gold to create the designs.  The Milani Nail Art polishes come in an easy to grip bottle with a thin nail art brush instead of your stand round polish brush.  While Black Sketch, a black creme, was very easy to work with, Art of Gold was chunky which made it perfect for filling in designs but not for drawing straight lines.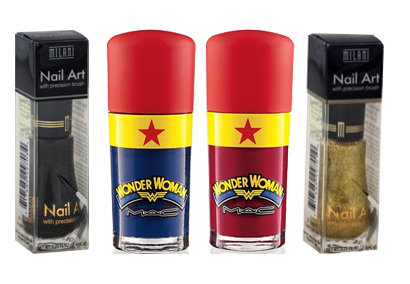 Spirit of Truth reminds me a lot of China Glaze First Mate in that it's a cross between royal blue and navy.  The two colors are very similar.  To the point that owning one is all you really need.  The application of SoT was perfection.  The pigmentation was spot on.  I barely needed a second coat.  It's one of those "had me at hello" kind of polishes.  The fact that MAC branded the bottles makes me love it even more.
I chose to do a multi-colored manicure for my base apply Spirit of Truth to my left hand with my Obey Me polished ring finger serving as the accent nail.  I painted the more intricate Wonder Woman symbol on this hand since my polishing skills aren't as strong with my non-dominant hand.
Using Keri B's photo as a guide (and practicing on a nail art wheel prior) I first painted the black outline of the WW symbol using Black Sketch and then filled in the design with Art of Gold.  Now because of AoG's chunky nature it bleed onto the black a bit so I went back and redefined the lines after.  I started with the middle "W" but I placed it too high on the nail so when I painted the top one, the lines got a bit blurred. It's far from perfect but I'm kind of mesmerized by it and can't stop staring at my nails with pride.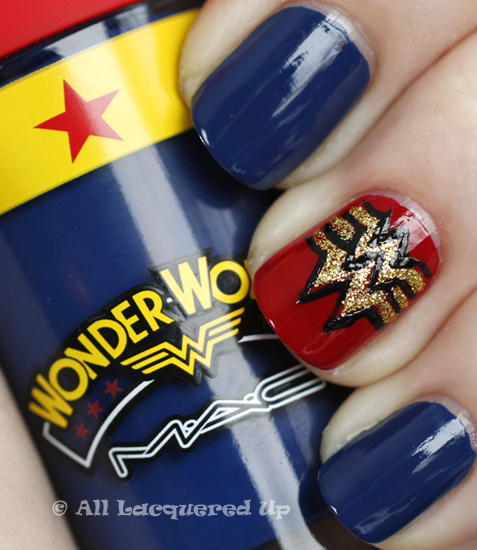 Obey Me is a candy apple red creme.  It's pretty straightforward and like Spirit of Truth is flowed flawlessly on the nail.  The formula for both these polishes is exquisite.
On this hand I applied Obey Me on four nails with Spirit of Truth on the ring finger accent nail.  I knew I couldn't pull off a ton of little stars so I went for one big star instead.  What a disaster that turned out to be.
I can barely draw a respectable star with a pencil and paper so I don't know WHY I thought I could draw one on my nail with my non-dominant hand with a chunky polish.  I tried to outline the star with Black Sketch to try and make the star shape more balanced but it can only do so much.  Clearly I'm not proud of how it turned out but I'm giving myself an A for effort.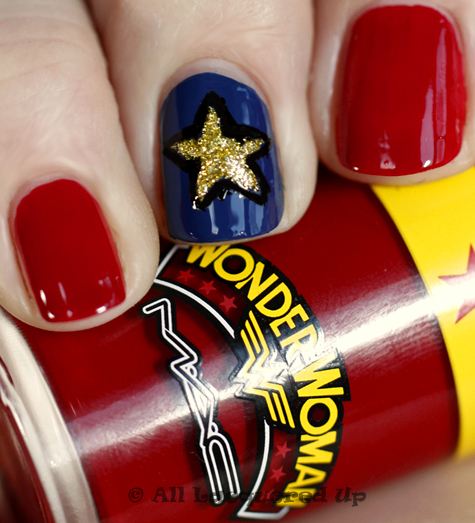 Bottom Line: MAC did us right in this collection. They branded the bottles, which they should in every collection of this type (Venomous Villains I'm looking at you), they gave us beautiful colors that would make Wonder Woman proud and they delivered a formula worthy of the price point. Color me smitten!
The MAC Wonder Woman Collection is currently available online at MACCosmetics.com and at MAC counters nationwide. MAC Wonder Woman Nail Lacquers retail for $15/ea for a .34oz bottle.
Thoughts on the Wonder Woman polishes?  What do you think of my attempt at nail art?  Any tips on how to paint a star or do detail work with your non-dominant hand?  Did you get anything else from Wonder Woman?  I'm loving the fuchsia & red glosses.
Product samples were provided by MAC and Milani. For more info view my Disclosure Policy.
image credit: Nail Art Junkie courtesy of Keri B.