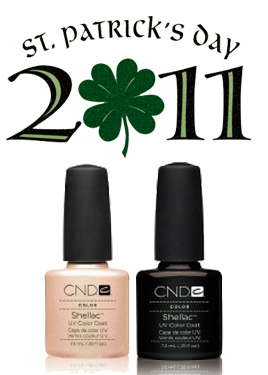 This past weekend I visited Chicago to check out America's Beauty Show, one of the largest professional beauty trade shows in the US. The show just happened to coincide with Chicago's St. Patrick's Day Parade and the Chicago River being dyed green.  Talk about perfect timing for a green polish fanatic, no?

I arrived in Chicago on Saturday wearing China Glaze Starboard, a pretty rad St. Paddy's Day color, but the following day I had an appointment to get Shellac'd at the CND Suite at the ABS show.  While I was happy to give Shellac another run, I was sad that I wouldn't be rocking a fabulous green come today.

Thankfully CND Education Ambassador Kris Kiss came to my nail rescue applying a layering combination of Shellac colors that fulfilled all my green dreams.  Using Shellac Black Pool and Shellac Iced Coral she created an eye-popping green that does this most festive holiday justice.

Application & Formula: If you missed my initial detailed review of CND Shellac, make sure you check it out but just to recap Shellac is a nail polish hybrid that combines the best that nail polish and UV gels have to offer.  The result is a long lasting manicure that applies like polish, wears like gel and removes in 10 minutes flat.

I'm sure, like me, you raised an eyebrow at the thought of a coral over black to create green but if you ever owned Iced Coral prior to the Colour & Effects launch then you remember that it has a green flash. When applied in an extremely thin layer over Black Pool all you see is the green as the coral base fades into the background. Pretty amazing, no?
In person this color is so much more vibrant.  Here it looks akin to OPI Jasper Jade but it's more like the offspring of Lippmann Don't Tell Mama and butter LONDON Thames, a blue-green peacock-esque metallic shimmer.
Application Tip: For all the nail techs out there, Kris says the key is to apply Iced Coral as thin as possible, to the point of dragging the color over Black Pool.  Applying it thicker would result in a much lighter color.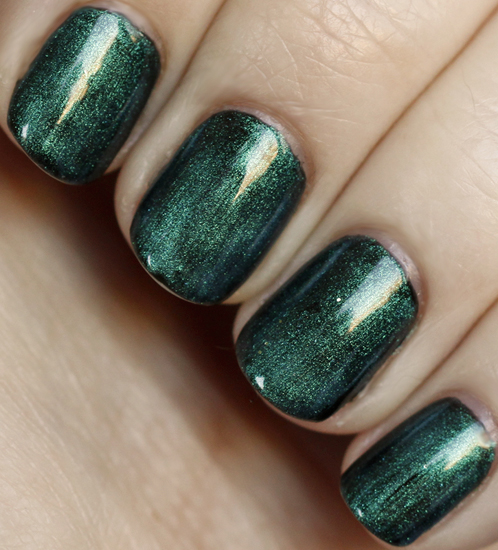 To make my manicure a little more festive we decided to ice my thumbs with some craft glitter.  I've heard the phrase "Blackberry Bling" used to refer to this style.  Manicurist Dawn Sterling coined the term a couple years ago when she started bejeweling clients thumb nails, since they are so noticeable when texting.  
Kris created my own version of Blackberry Bling using a green Martha Stewart glitter. After applying the base coat, two coats of Black Pool and one coat of Iced Coral, Kris dampened a nail brush with Isopropyl Alcohol, dipped it in the glitter and brushed it on the nail. She burnished the glitter into the tacky Shellac color by blending it with a circular motion, sealing it with two layers of Shellac Top Coat.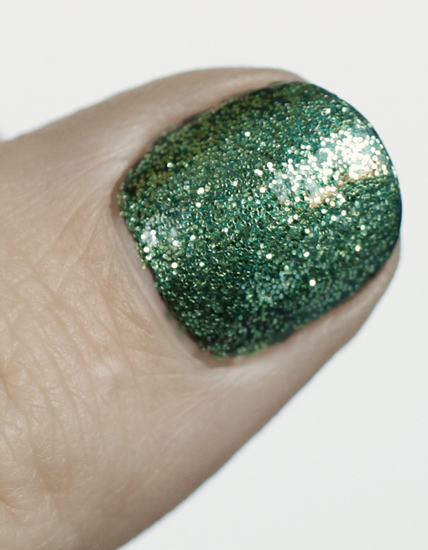 The final look!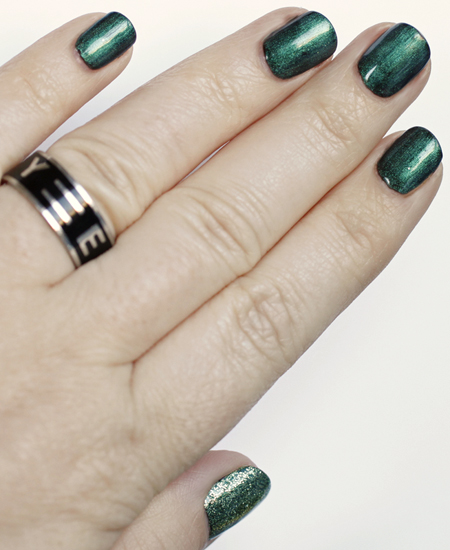 Bottom Line: From the beginning, my biggest gripe with Shellac was the lack of colors. My core nail color obsessions are green, purple and blue so the initial set of 12 shades did nothing for me.  I was overjoyed to see Rock Royalty in this latest release but it still didn't feed my blue/green hunger.  It wasn't until this past weekend that I jumped fully on the Shellac bandwagon as I can finally have my funky colored cake and eat it too.
For all you blue lovers out there, the pale pink shimmer, Beau, has a blue flash that creates a navy or gunmetal shade depending on how it is layered.  As you can see, with all the new color combinations being discovered the range is continuing to grow and for the moment I am satiated though I'm still campaigning for Blue Blue Shellac.
Layering Tip: Unsure of how two colors will look when layered? Swipe a coat of the top color on the exterior of the base color bottle to preview the end result.
CND Shellac is a salon only service.  Prices vary by location but expect to pay 50% more than a standard manicure.  To find a location near you visit CND.com.
So what are you wearing this St. Patrick's Day?  What do you think of my layering combo?  Do you have any special plans to celebrate the holiday?  Where are my hardcore St. Paddy's Day partiers who start the day with kegs & eggs at 6am?
Looking for last minute St. Paddy's Day green nail polish recs?  Then check out some of my fave Irish greens in my St. Patrick's Day posts from 2008, 2009 and 2010.
Disclosure: Shellac services were provided by CND. For more info view my Disclosure Policy.