Happy Green Nail Polish Lover's, er, St. Patrick's Day!!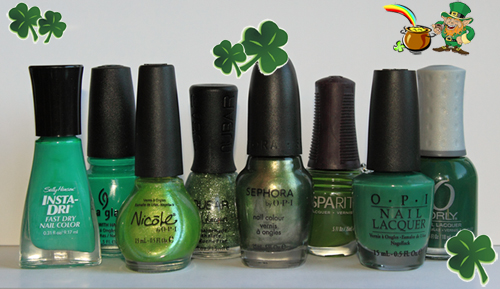 l-r: Sally Hansen Mint Sprint, China Glaze Four Leaf Clover, Nicole Make Mine Lime, Nubar Meadow Sparkle, SOPI Leaf Him At The Altar, Sparitual Yes I Can, OPI Jade Is The New Black, Orly Wandering Vine
To those of you who go all out to celebrate St. Paddy's, I hope you're having a festive and safe time.  I've personally never made it to a parade or "kegs & eggs" though one year I was in the Finger Lakes during the holiday and that was fun.  One of the wineries I visited hosted a contest where you sampled their wines and then tasted one dyed green.  If you could guess which wine was the green one, you got a discount on your purchase.  That's pretty much the extent of my St. Paddy's Day participation outside of my nails.
You know it's funny, I wear green polish a LOT (big surprise!) and most of the time no one says anything, yet last weekend I was asked at least three times if I was "getting ready for St. Paddy's Day" because I had on Nicole Make Mine Lime (pictured above).  I've had the same thing happen when I was wearing black polish around Halloween. Odd.
Anywho, with so many amazing greens out for spring it was hard for me to choose a color for today.  Want to see what I picked?  Find out after the jump and see some of my fave greens of the season!

If you read my review of OPI Jade Is The New Black, you know I'm absolutely smitten with it.  It was the first polish I thought of when I woke up this morning.  Though as I started pulling all my new greens, I couldn't help but feel the need to kick it up a notch.
I decided to jazz up JITNB with a layer of Nubar Meadow Sparkle from the Sparkles collection.  What I love is that even though Meadow Sparkle doesn't have any gold glitter, it reflects gold in natural light.  It looks like little pieces of gold against a lush green hill.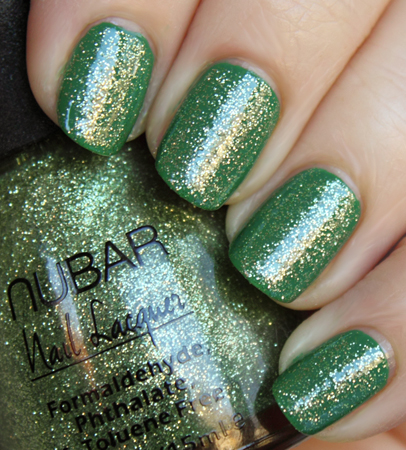 If you want something a little deeper and more classic, try Orly Wandering Vine.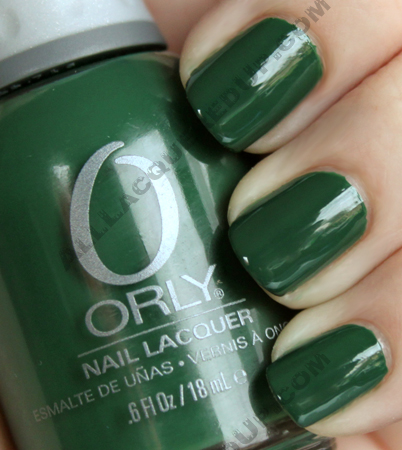 And for the warmer toned Fanatics, the mossy green from Sparitual, Yes, I Can, would be a perfect choice.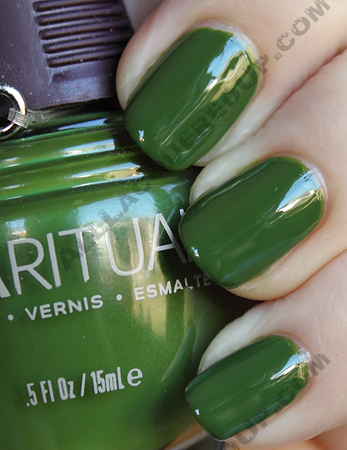 What are you wearing on your nails today? Do you join in the green festivities on St Paddy's Day? What's your fave green of the season?
Disclosure: Product samples were furnished by Sparitual, Orly, OPI and Nubar. For more info view my Disclosure Policy.