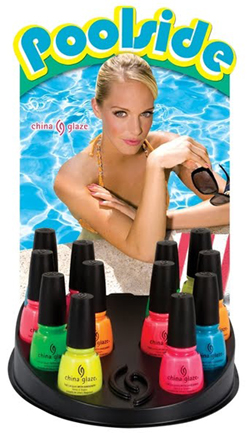 I have a love/hate relationship with brights and neons. I LOVE wearing them in the summer but I HATE photographing them. They are just so hard to capture. Neons just never translate on screen so it's really hard for me to show you what you're getting.

Regardless, I took the new China Glaze Poolside collection for a spin. Poolside consists of six bold, in-your-face neons that are bound to attract attention.  From the shimmery blue Towel Boy Toy to the hi-lighter yellow of Yellow Polka Dot Bikini, if you want to make a bold color nail statement, this collection has it.  Check out my swatches after the jump!

My main issue with the Poolside collection is opacity. I've always thought of China Glaze as having a great color range with an excellent formula but this collection is lacking. Each color applies a bit differently and the pigmentation just isn't there. Application tip: Apply a coat of white creme polish underneath to make the neons really pop and to avoid VNL (visible nail line).
Note: As I mentioned, neons do not photograph true to life so imagine each shade much brighter than it appears. Also, because these polishes dry with a satin/matte finish, I used a top coat.
Bonus: If you've been hunting for a bright matte polish, just put on a neon.
Pool Party is a hot reddish pink. It's got a very 80s feel to it.  I realize neons in general evoke thoughts of the 80s but this one really embraces that style.  Like I imagine this color on a vintage windbreaker.  This color applied a little on the thick side but it leveled out well.  What you see below is three coats.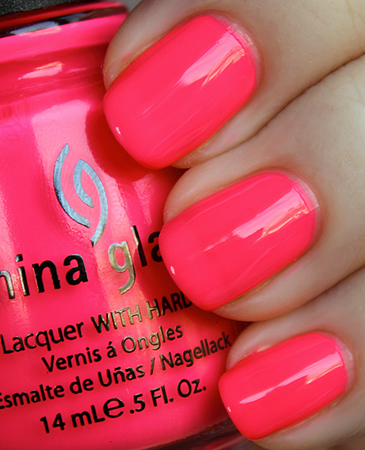 Pool Party with no top coat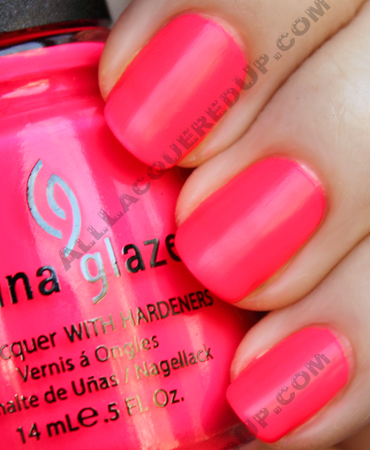 Flip Flop Fantasy was the hardest polish for me to capture.  It's a very bright coral pink and with corals being so prevalent in makeup this season (think Bobbi Brown's Cabana Corals) this color fits right in with that trend.  It applied very similarly to Pool Party, a little thick but spreadable.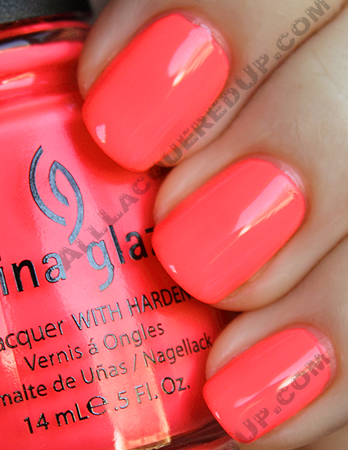 Sun Worshiper is my problem child of the bunch. It's a pretty thick, streaky, radioactive orange that has issues leveling out.  AND to top it all off, I could still see my nail line after three coats.  I added a fourth to my middle finger just to see if I could get it opaque and we're not quite there.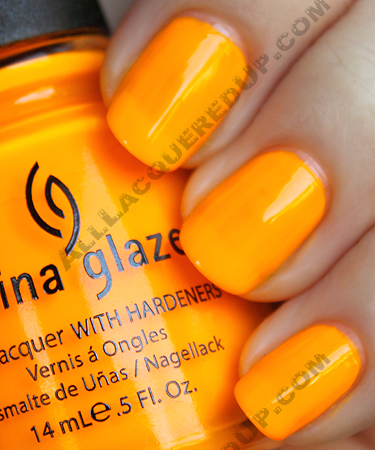 Towel Boy Toy is my fave color in the collection. I love the slight shimmer, the cool Caribbean blue color and how incredible it looks both matte and glossy.  It applies very smooth and even though on the thin side.  Again we're talking opacity issues so four thin coats is your best bet if you don't apply it over an opaque white creme.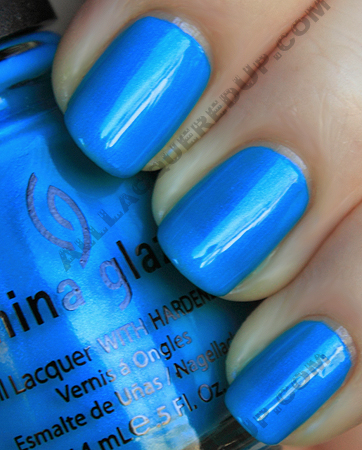 Kiwi Cool-Ada's neon kelly green hue makes Four Leaf Clover look dull. Think AstroTurf at a rave.  The formula on this one was pretty thin and smooth though that results in multiple coats.  What you see below is three layers and while it looks opaque on camera, in person, I could still see my white tips.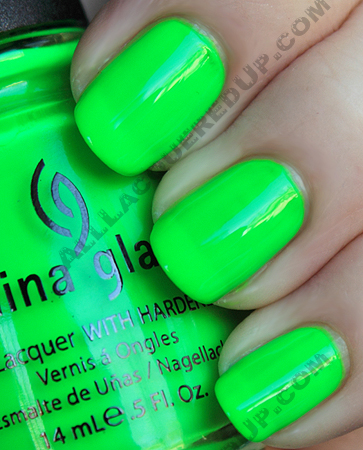 Yellow Polka Dot Bikini is straight up yellow-green hi-lighter. It's a very thin polish that applies pretty streaky and never really gets opaque.  I did four coats on my middle finger before snapping this and it was still looking pretty see through.  Even more so under incandescent lights.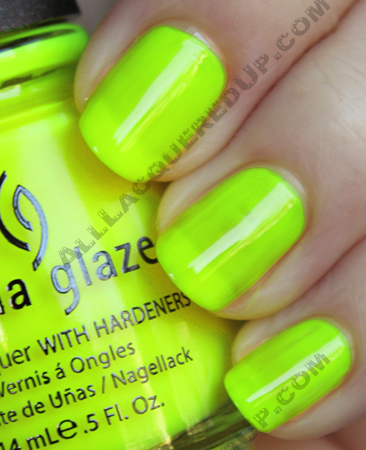 Bottom line: Neons are notoriously difficult to work with (hello essie neons!) but if you want to go there, I recommend Towel Boy Toy, Kiwi Cool-Ada and Flip Flop Fantasy.  Take a pass at Yellow Polka Dot Bikini and Sun Worshiper based on their formula issues.
The China Glaze Poolside collection launches in April but it may start popping up online at e-tailers like Head2ToeBeauty.com before then.  China Glaze can also be found at Sally Beauty Supply but seasonal collection availability varies.  Your best bet is to call first if your nearest Sally's is a trek.
So what do you think of Poolside?  Is it what you expected? Are any colors jumping out at you?  Which polishes are you adding to your summer shopping list?
Disclosure: A product sample was furnished by China Glaze.  For more information view my Disclosure Policy.