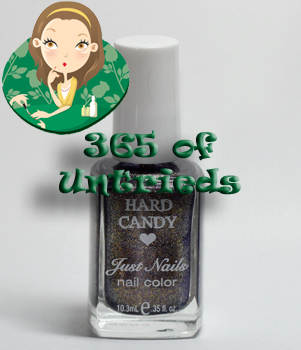 365 of Untrieds is my personal challenge to weed through the polishes in the ALU stash that I've been wanting to try but just haven't gotten around to.
When I first heard that the Hard Candy line was re-launching at WalMart I was excited about the possibility of some beloved vintage shades coming back. However, the line felt like it was geared to a much younger age range so I didn't seek it out and it pretty much was put on the back burner.
Then my friend Steph commented on yesterday's post that I should try Hard Candy Mr. Wrong and I was all, "HARD CANDY!! How did I forget?" Seriously, I've had Mr. Wrong sitting in my stash for a year and a half still sealed in the plastic wrapper.

Formula & Application: Hard Candy nail polishes are 3-Free. They come in a square glass bottle that is reminiscent of the Essie bottles minus the embossing. The brush is smaller than most in length and width so it doesn't pick up as much polish as I would like. I found myself double dipping just to cover one nail.
The polish itself glides on easily though it lacked pigmentation. I ended up needing three coats to get it opaque. On the other hand one of the things I love about foils like this one is that they are pretty goof proof. The formula hides application errors or brush marks pretty easily.

Hard Candy Mr. Wrong is a purple based glitter with gold metallic foil particles. The base color is kind of gritty and grey like a dusty plum. The gold foil in this one is different in that it can look really golden in certain light and more silvery in other situations. Something about this reminds me of an old NYC Glossies nail polish, Molten Metal except the base color is more cool plum than bronzed raisin. ps. let me apologize for the poor quality of this photo. The skies were all kinds of murky and I had to rely on artificial light.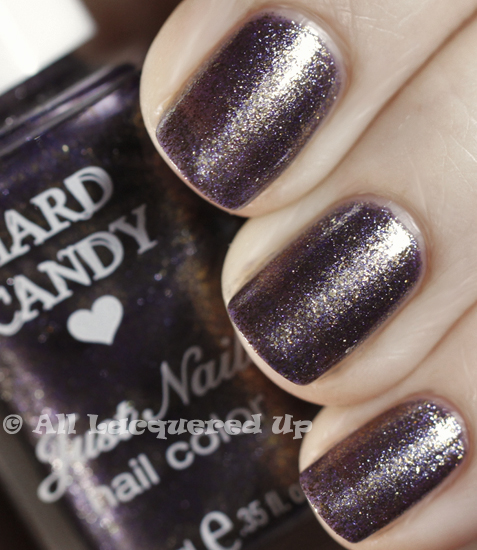 Bottom Line: The concept of the color is interesting enough but on me it falls flat. It lacks depth, like the foil particles are just kind of laying there, like dead fish, rather than adding to the overall effect.
365 of Untrieds Stash/Share Verdict: I wanted to love it but this one is going in the SHARE bin.
Hard Candy Mr. Wrong is available at WalMart stores nationwide. Hard Candy nail polishes retail for $4/ea for a .35oz bottle.
Have you tried the new Hard Candy polishes? Thoughts on the brand? Do you have Mr Wrong? Did you STASH or SHARE it? I know they added Sky to the line. Does anyone know how it compares to the original cult fave color?
Disclosure: A product sample was provided by Hard Candy. For more info view my Disclosure Policy.