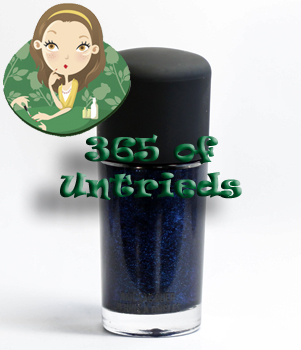 365 of Untrieds is my personal challenge to weed through the polishes in the ALU stash that I've been wanting to try but just haven't gotten around to.
I've had a love/hate relationship with MAC polishes for a long time now.  At first it was issues with the formula but that has greatly improved. I used to say that MAC was only good for dark & sparkly polishes but since the formula change that's no longer the case.
Now my major point of contention is with the brush. Can we start some sort of petition to change that horrible stiff brush? I propose MAC switch to the brush in the mini bottles from their Tartan Holiday collection as it was truly fabulous! The current brush is hindering fabulous colors, like MAC Biker Blue, from achieving their true potential.

Formula & Application: MAC Nail Lacquers are 4-Free (including Formaldehyde Resin).  The tall cylindrical glass bottles are topped with a round, rubberized cap and a thick, stiff, round brush. The MAC brush can be your best friend or worst enemy. It allows for perfect polish placement but if you press too hard you'll end up with patchiness or drag marks, so polish with a light touch.
The consistency of Biker Blue is nice and thin but well pigmented. It flows flawlessly on the nail and would only need two coats if it wasn't for the brush causing dragging. I barely touched the nail with the brush but it still impedes application. I ended up needing three coats but that shouldn't be the case. MAC PLEASE CHANGE THE BRUSH!!

MAC Biker Blue is a denim navy blue sparkler. It was released as part of the MAC Jeanius collection, thus the bit of dusty green in its base. It keeps it from being a true navy. The royal blue micro-glitter is apparent in most light but thankfully dries smooth.
When I first applied it, I thought I was looking at a dupe for Barielle Blackened Bleu from the All Lacquered Up Collection but the base of Biker Blue is decidedly blue whereas Blackened Bleu's is black with teal micro-glitter.  The closest I came to finding a twin is the discontinued Revlon Street Wear Midnight.  The only major difference is the silver glitter in Midnight.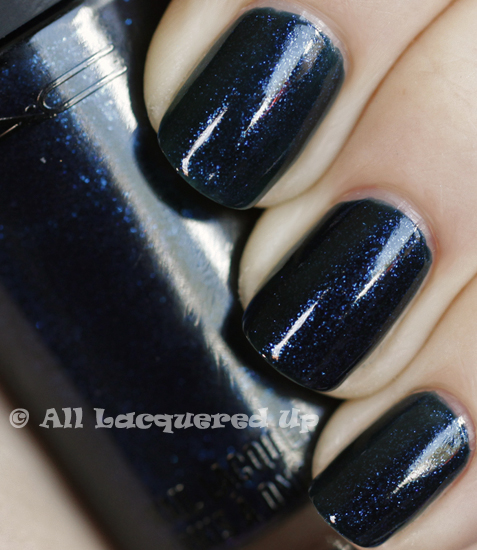 Bottom Line: I love the color and the finish but it's not uber unique.  While I don't have a dead-on dupe for it, I have enough sparkly blues to tide me over (hello RBL Under The Stars). I think that damn brush is keeping me from giving this one the thumbs up because I really do love MAC's retooled formula and the wear time I get from their polishes.
365 of Untrieds Stash/Share Verdict: Unless someone knows of a way I can change out the brush on this polish, it's a SHARE. Yes, I could dump it into an empty bottle but the brushes in my franken bottles aren't much better.
MAC Biker Blue has been moved to the "Goodbyes" section of MACCosmetics.com so if you want this color, you best get on it. Availability at MAC counters will vary. MAC Nail Lacquers retail for $14/ea for a .34oz bottle.
Thoughts on Biker Blue? Did you pick it up when the collection launched? Who agrees that we should petition MAC for a new brush? Or am I making a mountain out of a mole hill?
Disclosure: A product sample was provide by MAC. For more info view my Disclosure Policy.