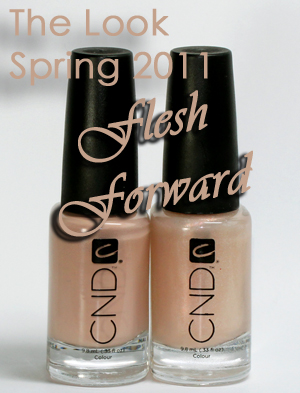 Each spring and fall CND presents what they deem "The Look" for the season along with a new Colour & Effect Duo. For Spring 2011 "The Look" is Flesh Forward which is created with the Perfectly Bare Duo of Perfectly Bare Colour and Perfectly Bare Shimmer Effect.

While last year we were talking about "Mannequin Hands" and matching our polish exactly to our skin tone, CND has created a neutral hue to complement, rather than match, the majority of flesh tones.  While I was in Chicago for America's Beauty Show I got a better idea of the concept behind this look at CND's Fashion Fusion presentation.
The Flesh Forward look is just one of the color stories CND forecasted for the spring season but it is definitely their number one trend. It's based in the 70s boho chic designs seen on the Spring 2011 runways.

CND Co-Founder Jan Arnold described the look as "retro but not hippie." She prefers the look on a longer, more feminine almond shaped nail that elongates the hand without getting into talon-esque territory.

I personally can't grow my nails long enough to achieve a proper almond without breaking one so I suggest short nail girls like me go for a more rounded shape as opposed to squoval.
Formula & Application: CND nail polish is 4-Free (including formaldehyde resin). The bottle is shaped to fit comfortably between fingers, like the Shu Uemura bottle. The brush is a thin, narrow and flat with flexible triangular bristles that soak up polish like a squeegee mop. Allow the brush to hang out in the polish for a couple seconds between strokes to properly absorb the lacquer.
CND has one of the best formulas on the market. I'd even go so far as to say it is comparable to RBL's cremes so you KNOW it's good. Their polishes are extremely pigmented and smooth. The lacquer glides on the nail with ease in three simple strokes, requires only two coats and dries to a perfect, even finish. Unlike the old CND formula, the Colours all dry very fast with none of those denting issues of the past.

CND Perfectly Bare is a peachy beige creme. It is everything I hoped SOPI Let's Plié would be. Their base colors are practically identical except Perfectly Bare gives amazing coverage.  I barely needed two coats.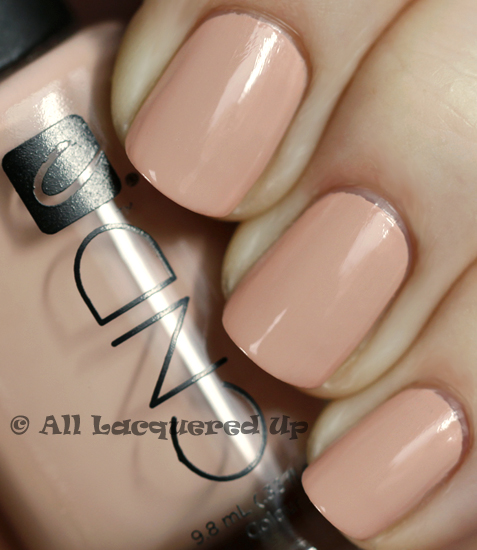 Perfectly Bare Shimmer was describe to me as a "gossamer veil." The sheer pinky beige shimmer Effect is sprinkled with clear mica that reflects the light. The shimmer gives off a pink flash that neutralizes the peach tones in Perfectly Bare Colour.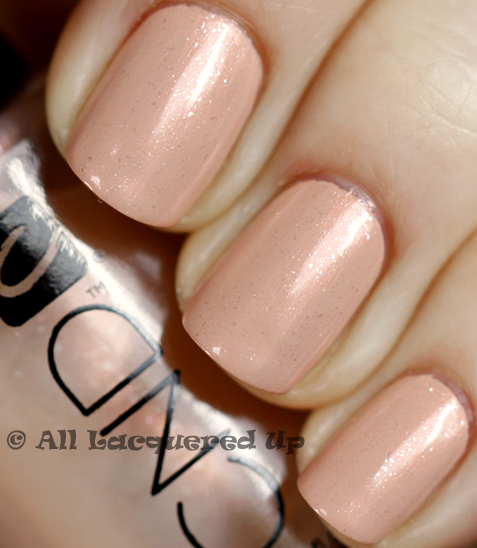 Just to give you an idea of how the base color in Perfectly Bare Effect can transform a base color I swatched it over stark white (CND Brilliant White) and jet black (CND Blackjack). Over white, it adds a hint of pink but over black it becomes a plummy brown.  The other day when I was wearing Sally Hansen Gray by Gray, I threw Perfectly Bare Effect on top and it reminded me of Nubar Indigo Illusion. Very cool!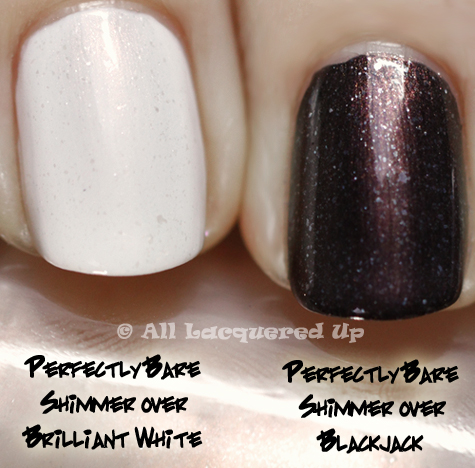 Bottom Line: For the past year the big CND buzz has been Shellac but I really wish the polish would get more attention. Every nail tech I've taken their polish to has raved about the formula.  Now while I'm not really a neutrals kind of girl I do have moments where I want a more subdued nail and of all the flesh toned hues I've tried, Perfectly Bare is my new favorite.  I'd put it up with there with OPI Tickle My France-y and Skinny Dippin in Lake Michigan which are my go-tos. The Perfectly Bare Effect is a great complement and because the base isn't clear or milky like the past CND Effects, it really adds something to the colors you layer it over.
CND Perfectly Bare Duo is available now at salons and spa nationwide including national chains Beauty Brands, Beauty First and Trade Secret. For more info visit CND.com. Online shoppers head to GoInduge.com or TransDesign.com. CND Duos retail for $20/ea for a set of two .33oz bottles.
Also, the CND Jason Wu collaboration that I showed you last Fall is now available on GoIndulge.com for $47.00. See swatches HERE and HERE.
Are you feeling the neutral Flesh Forward look for spring? Thoughts on the Perfectly Bare Duo? What would you layer Perfectly Bare Shimmer over? What is your favorite neutral polish?
Disclosure: A product sample was provided by CND. For more info view my Disclosure Policy.