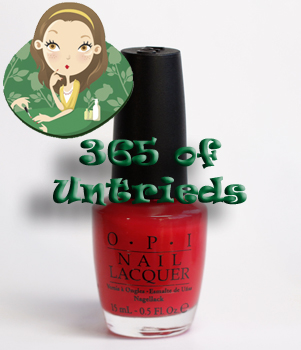 365 of Untrieds is my personal challenge to weed through the polishes in the ALU stash that I've been wanting to try but just haven't gotten around to.
I've received a few questions lately regarding "jelly" polishes. About what makes a polish a jelly and more specifically about the OPI "sorbet-like" finish nail polishes from the Texas collection and if/how they are different from a jelly. I found a great reference picture on Tumblr that helps explain jellies better.
Today a follower on Twitter asked for a spring nail polish recommendation and stated that she is a loyal OPI Bubble Bath user but is looking to branch out into brighter colors.  My suggestion was to try one of the sorbet-like polishes, like OPI Big Hair… Big Nails, since they are less in-your-face than a traditional bright. It makes for an easier transition from pale neutrals.

Formula & Application: OPI nail polishes are now 4-Free (including formaldehyde resin) and free of camphor, which can be an irritant. This is a new development as OPI's pre-Texas were only 3-Free. I just wish OPI had changed the color of the print on the labels so buyers can identify 4-Free polishes like they did when they made the switch to 3-Free.
The OPI Pro Wide Brush is flat, wide and medium in length. It's of average stiffness and easily spreads out on the nail when pressed. The only downside to the Pro Wide brush is that it can be too wide for slim fingers or little toes.
OPI's "sorbet-like" finish is for all intents and purposes a jelly. It's just their name for it, the same way they call their crackle polish "shatter." Of course they claim this type of finish is "new" but we know better. Anyway, for those unfamiliar with the jelly concept, think of them as lip gloss for the nails.  They are semi-sheer polishes with a squishy texture that dries super glossy. They have a lucite appearance or as I like to think of it, it's as though you coated your nails in Jello.  The color is rich and vibrant but translucent.

OPI Big Hair… Big Nails was described by OPI as a rosy peach but I think of it as a coral.  It's red with a lot of pink undertones.  I applied two coats and as you can see, the coverage is pretty good and not at all streaky.  Because I intended to apply a third coat, iI didn't use top coat which is why the polish isn't as glossy as it should be.
What this photo also reveals is why I don't wear sheer polish. Even though my nails are short, they are so detached that my free edge is SUPER thick and fake looking. What I wouldn't give for long nail beds!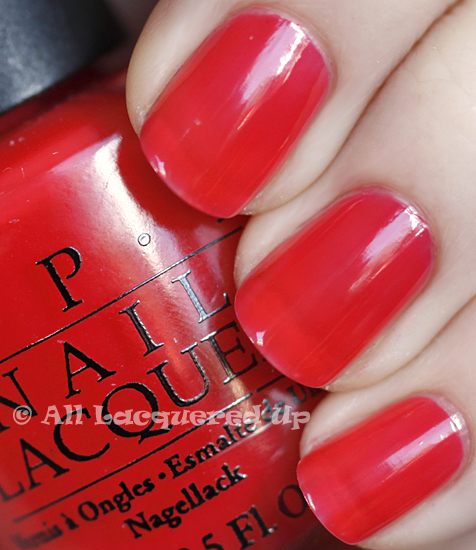 With a third coat we are getting close to opaque. The color is also much more intense. The camera picks up on my smile line more than the naked eye so even though it looks somewhat transparent here, the VNL (visible nail line) is minimal.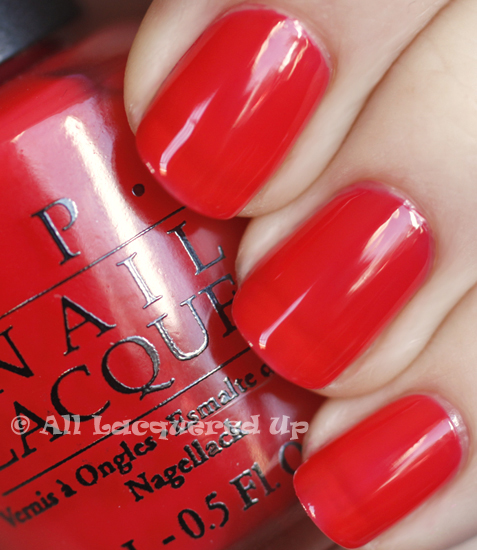 For those of you who love the texture and finish of jelly/sorbet polishes but hate the dreaded VNL, lay down a coat or two of white nail polish as a base. I used CND Brilliant White and two coats of Big Hair… Big Nails. Now while the color looked pretty even with just two coats, my photo clearly shows some patchiness. I threw on a third coat later and it's utter perfection. It can be tricky to layer over white so I suggest polishing just inside the lines with your base color to avoid any white peeking out from underneath.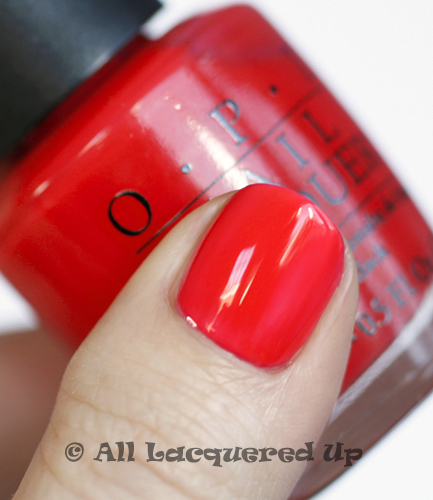 Bottom Line: If you love jelly polishes, you'll dig the "sorbet-like" colors from the Texas line. Jellies can be fun for layering or for a sheer wash of color if you're a bit too timid for full-on bright cremes. Personally I would have loved to see a wider range of colors in the Texas sorbets. A bright green jelly along the lines of Lippmann's Rehab would have been fabulous. I would trade Don't Mess With OPI for a "sorbet-like" version.
365 of Untrieds Stash/Share Verdict: Since I really like how it looks over white and I can be a sucker for corals in the spring/summer, I'm going to hold on to this one. STASH!
OPI Big Hair… Big Nails is available now as part of the OPI Texas Collection which can be found at salons and spas nationwide including chains like Beauty Brands, Beauty First, Chatters, Dillard's, JCPenney, Pure Beauty, Regis, Trade Secret, and ULTA. Online shoppers can purchase OPI at TransDesign.com. OPI nail polishes retail for $8.50/ea for a .5oz bottle.
Are  you a jelly polish fan? What do you think of OPI's version of jelly? Thoughts on Big Hair… Big Nails? Do you prefer to wear jellies on their own or layered?  If alone, do you layer them til they are opaque or let  your nail show through?
Disclosure: A product sample was provided by OPI. For more info view my Disclosure Policy.