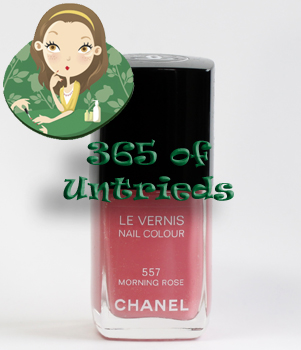 365 of Untrieds is my personal challenge to weed through the polishes in the ALU stash that I've been wanting to try but just haven't gotten around to.
"I wore a pink and I liked i-it! I hope my polish friends don't mind it." I've been blasting Katy Perry in my polish room all day so while I was applying today's 365 of Untrieds color, my altered version of that lyric created an earworm that I can't seem to get rid of.
The point is, I am wearing pink nail polish today and I don't hate it. SPOILER ALERT - I'm actually kind of in love with it.  I suppose that ruins the whole stash/share verdict for today but I hope you'll keep reading to see why I'm so smitten with Chanel Morning Rose.

Formula & Application: Chanel nail polish is 4-Free (includes formaldehyde resin) plus there's no camphor, which can be an irritant. The signature square glass bottles are topped with a black square outer cap that is removed to reveal a stubby, round, ribbed inner cap. The brush is round, medium in length and width and reminds me of the old OPI/new SOPI brushes. It easily fans out and covers the nail without much resistance.
While I was applying this color I couldn't help but thinking the formula is so "Manicures for Dummies" in that it's pretty goof proof for novice at-home manicurists. It's not that this polish specifically is better than others but this type of formula, squishy, jelly-ish, light colored, is great for beginners. You can pretty much slap it on and have it look good since it levels out easily, doesn't show unevenness in application around the cuticle and is barely visible on the skin should you make a mistake. Morning Rose ended up needing three coats but it applied phenomenally well and dried nice and glossy, like a jelly.

Chanel Morning Rose is just as the name implies, a warm rosy pink with gold, flaky micro-glitter that reflects the light the way morning rays of sun would. I've always tended to lean towards warmer pinks and when I was in my pink heyday circa 2005 I was all about Essie Ball-timore, a rosy pink shimmer. Morning Rose reminds me of that old favorite.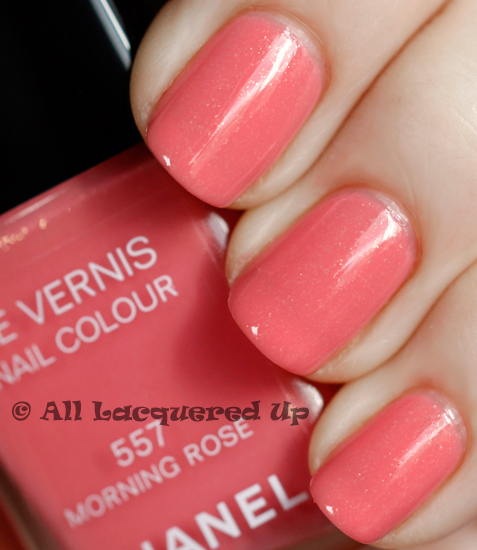 Okay so a while back I saw a manicurist (either Kimmie Kyees or Sophy Robson) tweet about buying 14K gold Chanel logo decals online and I just HAD to get them. I know, I know logos can be tacky, like people dripping in Louis Vuitton Monogram, but I figure I get a pass if I'm wearing it on Chanel polish. I'm at least not trying to fake it, right?
The decals come flat so I suggest waiting for your polish to dry, sans top coat, so you can lightly bend the decal to fit the curve of your nail without messing up your mani. Place the decal with a toothpick and lightly press in place.  Add a layer of top coat and you should be good to go.  If you are concerned about losing it, you can use a bit of nail glue on the decal but I don't find it necessary.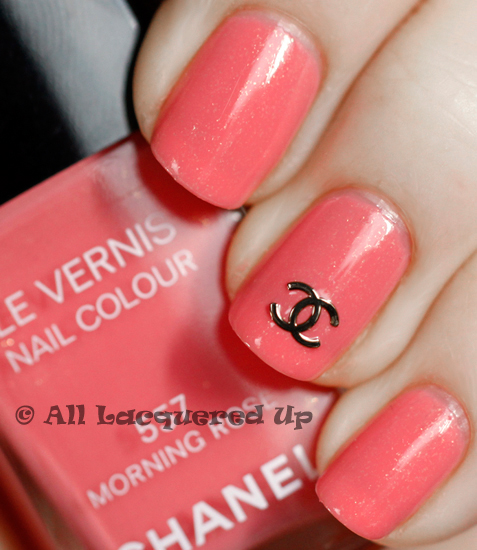 To give you an idea of how Morning Rose compares to some past Chanel pinks, I'm showing it next to Mica Rose, Mistral, Ming and Flamingo.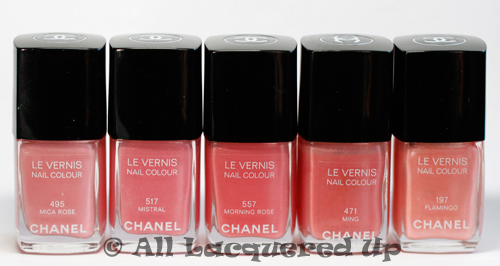 While Mistral is probably the closest in terms of texture and finish, it's much cooler toned than Morning Rose.  Ming has the most similar base color though it's not as pigmented and has shimmer rather than micro-glitter.  Mica Rose and Flamingo are both way off but thought they might be a good reference point for those who own them.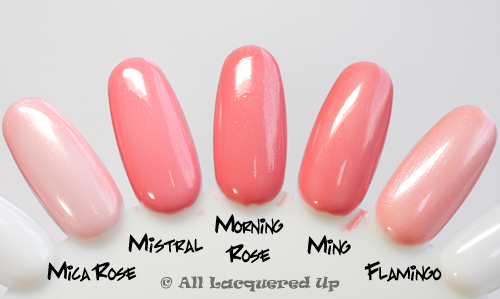 Bottom Line: I love everything about Morning Rose. The color is my ideal shade of pink. Not too light, not too bright, just warm enough to complement my skin tone. And the gold flecks actually show up unlike the Chanel that stole Morning Rose's thunder (I'm looking at YOU Mimosa). As far as the Chanel Summer Collection is concerned, this is the true nail polish winner. Don't waste your dinero on Mimosa, spend it on Morning Rose instead.
365 of Untrieds Stash/Share Verdict: Surprise, surprise I'm STASHing it.
Chanel Morning Rose is available at Chanel counters nationwide and online at Chanel.com. Chanel nail polish retails for $25/ea for a .4oz bottle. Chanel 14K nail decals can be purchased from Esther's Nail Center for $3.75 for 48 decals.
Okay what's your verdict on my Chanel decals? Are they are win or fail? Thoughts on Morning Rose? How many of you bypassed the much ballyhooed Mimosa for Morning Rose? Yes, I used "ballyhooed" in a sentence. I'm old!
Disclosure: I purchased Morning Rose and the Chanel decals. For more info view my Disclosure Policy.