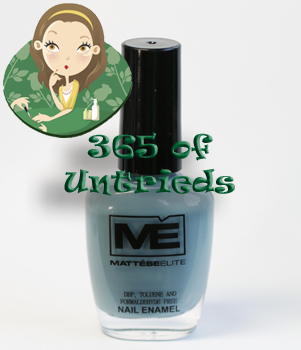 365 of Untrieds is my personal challenge to weed through the polishes in the ALU stash that I've been wanting to try but just haven't gotten around to.
Life is imitating art as Black Swan has continued to inspire beauty and fashion with ballet themed trends. I've seen more women rocking ballerina buns lately than I can remember in past years and the onslaught of adorable ballet flats makes my feet very happy (heels are not my friend).
Mattese Elite is another brand bringing the trend to our finger tips with their spring collection; The Ballet Colors of ME.  The majority of the collection is pretty soft and sweet with pinks and neutrals but it's Attitude that really caught my eye.

Formula & Application: Mattese Elite nail polish is 4-Free (including formaldehyde resin). The bottle shape is identical to Milani though the round brush is slightly fatter than Milani's. The brush bristles are pretty flexible though they don't spread out as wide as I would like.
The formula reminds me so much of Essie. It's squishy and semi-sheer just like Essie. It's not that well pigmented so I needed three coats to get it opaque but it dries nice and glossy. I normally use a top coat when I photograph a polish but I didn't need one for this color.

Mattese Elite Attitude is a sandwashed sea blue creme.  Speaking of Essie, this would have made a great addition to the North Fork Resort collection from 2009 being that it falls somewhere between Greenport and Sag Harbor.  Even though the polish isn't uber-pigmented I'm loving its beachy vibe.  It doesn't exactly scream ballet to me but I love it anyway.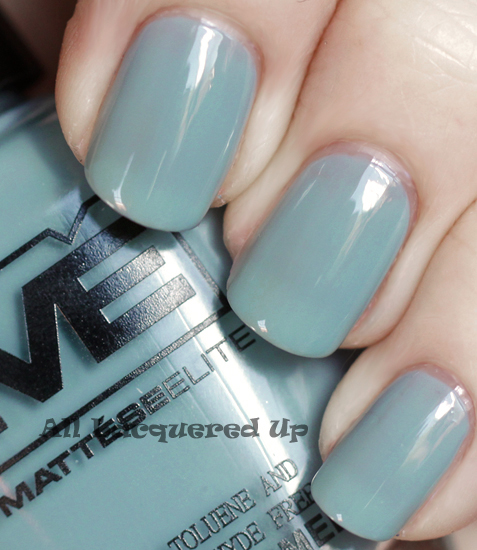 Bottom Line: The formula isn't my favorite and it does take three coats but I'm really into the color and can picture this being a shade I would wear a lot in the summer.
365 of Untrieds Stash/Share Verdict: Being that I can't find a dupe for it in my collection I'm STASHing it.
Mattese Elite Attitude can be purchased at Ricky's NYC stores and online at RickysNYC.com. Mattese Elite nail polishes retail for $5.99/ea for a .5oz bottle.
Thoughts on Attitude? Have you tried Mattese Elite polishes before? Do you agree with my Essie comparison? Do you plan to pick up a bottle of Attitude?
Disclosure: A product samples was provided by a representative for Ricky's NYC. For more info view my Disclosure Policy.