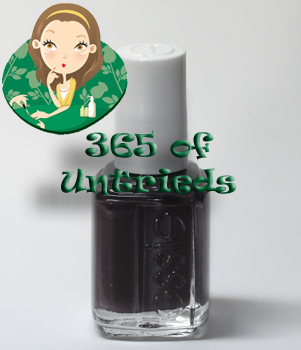 365 of Untrieds is my personal challenge to weed through the polishes in the ALU stash that I've been wanting to try but just haven't gotten around to.
Happy Mother's Day to all the moms out there. I hope your loved ones were good to you today.
So I think all the pinkness of Chanel Morning Rose sent me screaming back to the dark side. You see, after swatching Mattese Attitude yesterday I put Morning Rose BACK ON to wear to a Cinco de Mayo party last night. That's how into it I am. Then this morning I woke up, a wee bit hungover, and all that sweet carnation pink staring back at me was too much. I needed to put on something the complete opposite which led me to Essie Smokin' Hot.
Smokin' Hot was released with the Essie Winter 2010 Collection and I think at the time I was feeling so inundated by the amount of funky greys and taupes on the market that this one kind of flew under the radar. Well today it was exactly what the nail doctor ordered.

Formula & Application: Essie is a 3-Free brand. The square bottles are embossed with the essie logo and the smooth plastic caps include an embossed e on top. The brushes are thin, round and shorter than most. The bristles are very flexible, allowing you to easily fan out the brush to cover your nail width.
Smokin' Hot has that typical squishy texture that I've come to expect from Essie.  That jelly-ish consitency that makes application a breeze even though doesn't exactly pay off in the pigmentation department.  If I would have gotten a little heavier with my coats I probably could have gotten away with two but I opted for three thin coats instead.  After all, the thinner the coats the less likely you are to chip. The finish was so glossy that I really didn't need a top coat but I applied one anyway just to make sure it dried quickly.

Essie Smokin' Hot is a dark purple tinged charcoal grey creme.  It falls into the same category as Chanel Paradoxal, Models Own Purple Grey and Zoya Kelly. You know that new crop of unusual neutrals that you can't exactly describe. I think that's why I love these type of shades so much.  Even in spite of how many have come out in the past year. Any shade you can't truly classify with a standard Crayola crayon color is intriguing to me.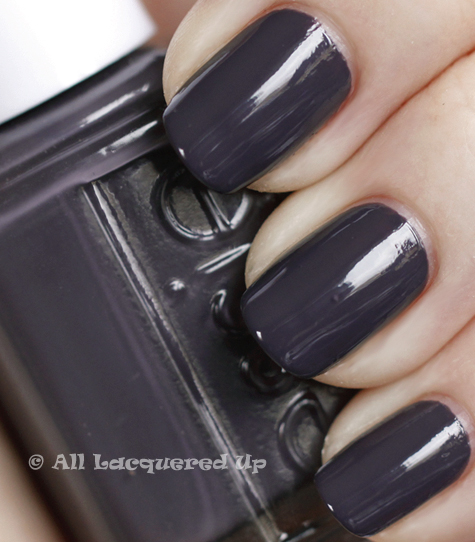 Speaking of Zoya Kelly, I did a little side-by-side comparison for those of you debating between the colors or looking to avoid dupes. As you can see Kelly is more cool blue to it whereas Smokin' Hot has more warmth with its purple base.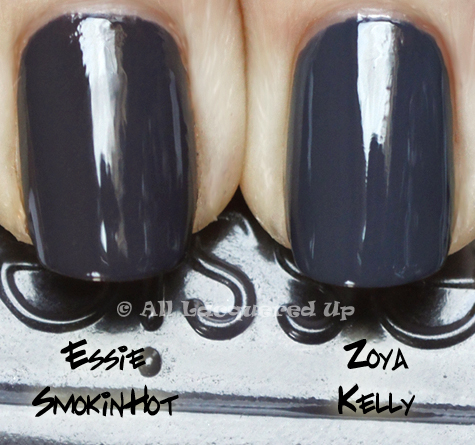 Bottom Line: Smokin' Hot is definitely a winner in the edgy neutrals category. It's dark but not too dark, like a blackened mauve, and really flattering. I wish there was more pigment to it but that's just the nature of Essie polish. The application rocks but the pigmentation doesn't quite hit the mark.
365 of Untrieds Stash/Share Verdict: This one will live to see another day in my STASH.
Essie Smokin' Hot is unfortunately not readily available. The Winter 2010 Collection was Limited Edition so you'll have to track this one down at a local salon, evilBay or a random online seller. Zoya Kelly would make a great substitute even if they aren't identical and it can be found on Zoya.com.
Did you snatch up Smokin' Hot when it was released? Thoughts on the color? Do you think this is something Essie should consider bringing back or making permanent? Or is it just a trendy seasonal shade that should remain LE?
Disclosure: A product sample was provided by Essie and Zoya. For more info view my Disclosure Policy.