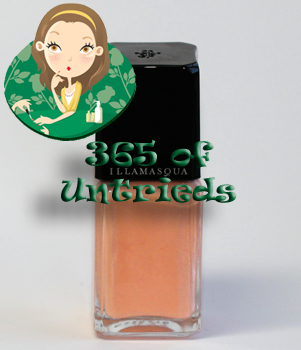 365 of Untrieds is my personal challenge to weed through the polishes in the ALU stash that I've been wanting to try but just haven't gotten around to.
When I meet someone who is unfamiliar with Illamasqua I often find myself describing the brand as the UK version of MAC but that's not really a fair portrayal. While both brands have playful, diverse color ranges and are very open to all walks of life, I dare say MAC has become a bit more tame under the Estee Lauder umbrella while Illamasqua keeps their underground edge a bit more prominent.
This spring the Illamasqua Toxic Nature Collection delves into a a realm where nature is fighting back with conceptual and slightly off nail colors that include a funky ochre, Bacterium, and an acid lime, Radium. I opted to wear the grounded, more traditional, Purity for today's 365 of Untrieds.

Formula & Application: Illamasqua is a 3-Free brand based out of the UK that sells their products exclusively at Sephora in the US. The bottle has a removable outer cap that reveals a small ribbed inner cap that can be used for application though I prefer to just leave the outer cap on while polishing. The brush is thin and round and reminds me of the old OPI non-Pro Wide brush.
Purity is really well pigmented given how light the color is. The formula feels somewhat thick when it lays down and it looks pretty streaky on the first coat but once the second coat went down, it was flawless.  Because the polish is thick with pigment I suggest applying one thin coat, which will be uneven, let that dry for a couple minutes, then apply one medium coat.  You should be good to go.  We're talking two coats and done.

Illamasqua Purity is a Georgia peach creme. Sweet yet vivid. This is not a pastel. If anything I'd call it an energized pastel. The color balance in it is pretty spot on as it's not too pink, like Essie Haute as Hello, nor is it too warm or reddish. To me this looks like a lightened version of China Glaze Peachy Keen from last year's Up & Away Collection.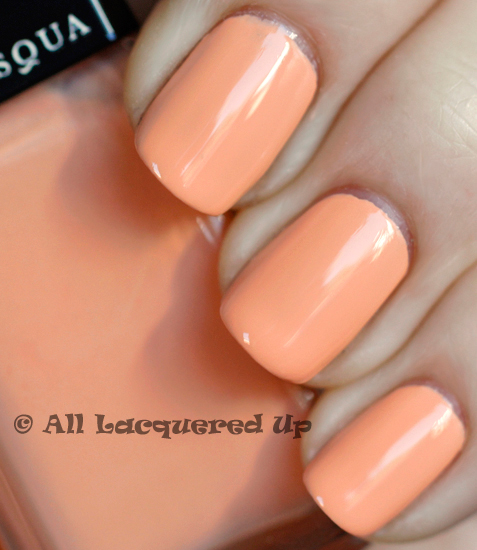 Bottom Line: The coverage is great and I've always been a fan of Illamasqua's impeccable formula and color range. Though if I were recommending shades to a first time Illamasqua buyer, this one wouldn't make the short list. It's pretty and is a good collection staple but it's not something I would be DYING to tell a friend to run out and get.
365 of Untrieds Stash/Share Verdict: I don't wear a lot of peach and I already own quite a few so holding on to this one doesn't feel necessary. I'm going to SHARE it.
Illamasqua Purity is available now as part of the Toxic Nature Collection at Sephora stores nationwide and online at Sephora.com and Illamasqua.com. Illamasqua Nail Varnishes retail for $14/ea for a .5oz bottle.
Are you a fan of Illamasqua polish? What is your favorite shade? Are you into Purity's peachiness? Would you stash or share this one?
Disclosure: A product sample was provided by Illamasqua. For more info view my Disclosure Policy.