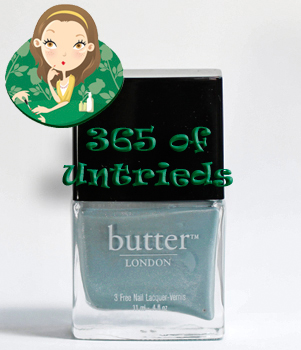 365 of Untrieds is my personal challenge to weed through the polishes in the ALU stash that I've been wanting to try but just haven't gotten around to.
The blogging community in Cleveland is pretty amazing. Even though the city is relatively large, the social media circle feels small and tight knit, in a good way, and I've met some great people through it. Tonight, for instance, I was invited to an event at a local restaurant with a bunch of my fellow bloggers.  We had attended a special media preview when Washington Place Bistro opened its doors last winter and tonight they celebrated the opening of their new patio with a pig roast.
Of course, being the lone beauty girl in this crowd, I have come to expect that my nail color will be noticed or asked about so I try to make sure I'm on point. With the event being sort of a kickoff to patio season I wanted to make sure my polish was springy yet unique.
I knew I was wearing a royal blue top so I started looking for an edgy neutral or light/dark blue in my untrieds bin and pulled this beauty out.  Being that I dragged butter LONDON through the mud over their No More Waity Katie shade a couple weeks ago I hoped Lady Muck would not let me down.

Formula & Application: butter LONDON is known for its 3-Free formula but it is actually 4-Free (no Formaldehyde Resin). The bottle has a smooth plastic outer cap that easily slides off (thanks to a bottle redesign) to reveal a ribbed, round inner cap used for polishing. The brush is thin and round with flexible bristles that easily fan out to cover the nail.
The first coat of Lady Muck went on and it didn't appear that pigmented as it flowed easily on the nail. You never what you're going to get when you first apply a polish and usually such a light color tends to be either semi-sheer and watery or opaque, thick and chalky. Lady Muck falls into neither category. It's rich, pigmented and a breeze to apply requiring only two coats.  Utter perfection.

butter LONDON Lady Muck is a greyed, light cornflower blue packed with silvery shimmer.  While the base color reminds me of China Glaze Sea Spray, the finish is more on par with OPI I Vant To Be A-lone Star. In actuality it appears more shimmery than either one, think Funky Fingers Elephunk, due to how much deeper Lady Muck's hue is than the other two.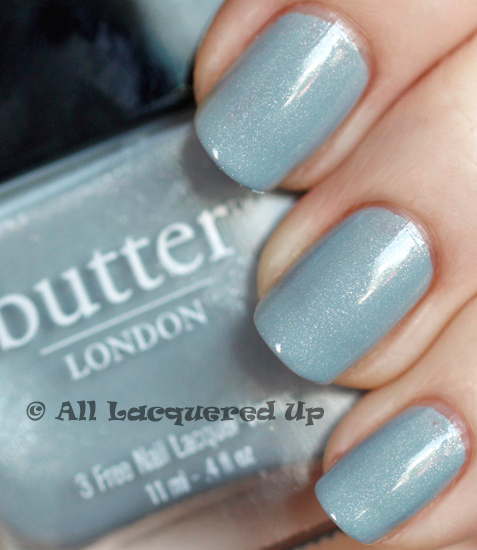 Bottom Line: Between Sea Spray, which you know I adore, I Vant To Be A-lone Star and Lady Muck, Lady Muck is my hands down favorite of the three. I love the slightly dirty undertone, the standout shimmer and impeccable application. butter LONDON's Nonie Creme hit it out of the park with this one.
365 of Untrieds Stash/Share Verdict: No doubt this one is getting STASHed and it may mean my bottle of I Vant To Be A-lone Star will be looking for a new home.
butter LONDON Lady Muck is available now as part of the Spring/Summer 2011 Collection and can be found at Nordstrom and ULTA stores nationwide. Online shoppers head to butterLONDON.com, Beauty.com, B-Glowing.com, Nordstrom.com, or ULTA.com to get your fix. butter LONDON nail polish retails for $14/ea for a .4oz bottle.
Thoughts on Lady Muck? Which of the three pale blues that I mentioned is your favorite? Did you pick up this color when it was released? If not, do you plan to now? What's your favorite pale blue polish?
Disclosure: I purchased this nail polish. For more info view my Disclosure Policy.