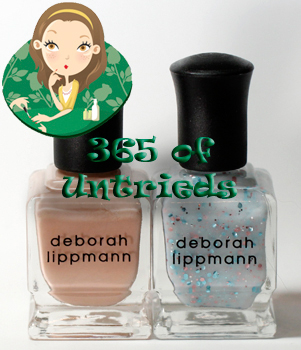 365 of Untrieds is my personal challenge to weed through the polishes in the ALU stash that I've been wanting to try but just haven't gotten around to.
Deborah Lippmann's Spring 2011 Collection nail polishes both made their first public appearance during New York Fashion Week. Naked, a classic backstage beige, was seen on the ADAM runway where the look was a modern take on 70s fashion. Glitter in the Air, which Deb created after seeing Pink's ethereal performance at the 2010 Grammys, was the finishing touch to a layered manicure with Fashion at Badgley Mischka.
When I first saw Glitter in the Air last September, I couldn't help but drool over the cotton candy confection. My mind starting racing with layering ideas, including Waking Up In Vegas but it was Deb who suggested wearing it over Naked so I decided to combine the two for today's post.

Formula & Application: Deborah Lippmann nail polish is 4-Free (including formaldehyde resin) and doesn't contain camphor, which can be an irritant. Her signature glass bottle is so distinct you would know the brand even without the name on it. It's one of the best bottle shapes in the industry. The curved cap was designed with professional manicurists in mind as it is shaped to rest comfortably between your fingers.
The Lippmann brush is short, round and average in width with flexible bristles that easily fan out over the nail plate.  Both Naked and Glitter in the Air had a squishy, watery feel in application. It's as though the formula is a blend of jelly and creme. For reference, Call Me Irresponsible has the same texture and reminds me of the current Essie formula. The level of opacity in these two polishes is very different so I'm going to address that in the individual reviews below.

Naked is a creamy beige. It reminds me of Barbie doll skin, in the best possible way. It's probably one of the most neutral beiges I've come across in a while as it doesn't lean pink or peach. In terms of pigment, it's not the most opaque polish but that was not Deb's intention. She wanted coverage but not full coverage and with three coats, that's exactly what you get.  There is a hint of VNL but it's tolerable. Due to its jelly-like texture, Naked dries extremely glossy.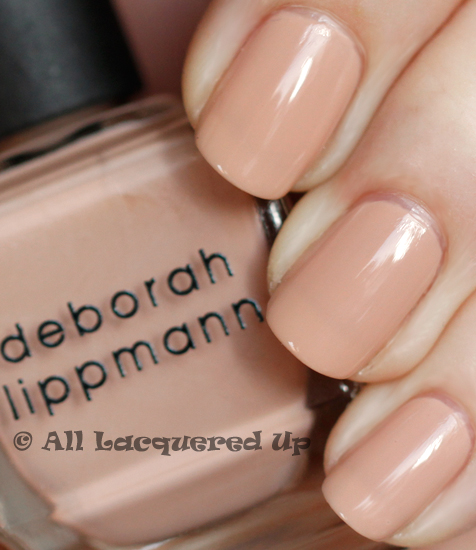 Glitter in the Air is a milky baby blue jelly filled with pink quartz and sky blue hexagonal glitter in varying sizes. The past couple years we've seen Deb contain her "glitter party" to the latter half of the year but this time around she has extended the fiesta until spring. As much as I would love to tell you that all that dreamy blue haze translates to the nail, it doesn't. The base color barely makes a difference when applied over Naked and the glitter can be persnickety.
To show you what additional layers of GitA can do, I used one coat on my pinky, two coats on my ring and three coats on my middle. While the blue base color makes Naked look a bit more cool and pink toned, it's not as noticeable a change as I expected.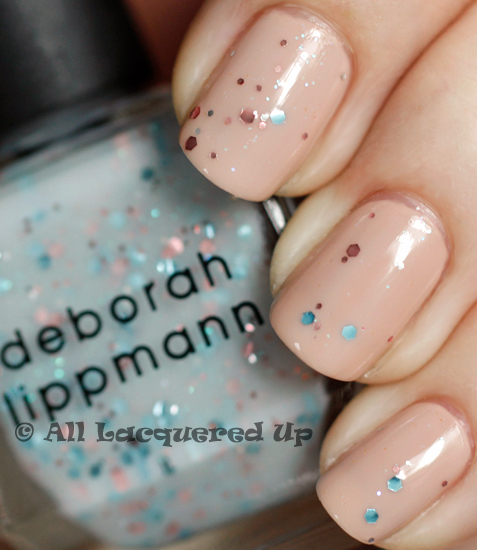 E

Bottom Line: Clearly I'm a sucker for trends as I find myself enjoying the company of neutrals lately. There's something about how fresh and clean they look that is drawing me in. For a girl that loves color as much as I do, I seriously don't understand how this happened. Regardless, I'm INTO Naked. Like ready to introduce it to my parents smitten. Glitter In The Air, on the other hand, wouldn't even get a rose in round one of a nail polish version of The Bachelor. I was hoping this would be my new Today Was A Fairytale but it missed the mark. Considering the price point of Lippmann glitters, it's just not worth it to me.
365 of Untrieds Stash/Share Verdict: Naked is going nowhere – STASH. While my inner hoarder says to stash Glitter In The Air, I'm putting it up for adoption – SHARE.
Deborah Lippmann Naked and Glitter in the Air are available now at Neiman Marcus, Nordstrom and Barneys NY stores. Online shoppers can head to DeborahLippmann.com, Nordstrom.com, Barneys.com, Beauty.com, NeimanMarcus.com. Deborah Lippmann nail polishes retail for $16-20/ea depending on the shade for a .5oz bottle.
Am I alone in my odd neutrals phase? It is only a phase, right? Thoughts on Naked and Glitter in the Air? Did you pick either of them up when they launched? Would you stash/share Glitter in the Air?
Disclosure: Product samples were provided by representatives for Deborah Lippmann. For more info view my Disclosure Policy.