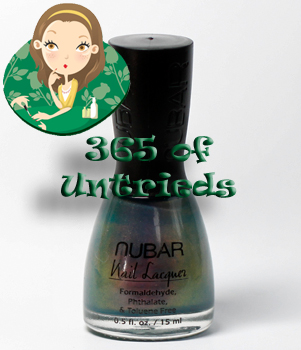 365 of Untrieds is my personal challenge to weed through the polishes in the ALU stash that I've been wanting to try but just haven't gotten around to.
Last week when I reviewed the CND Perfectly Bare Duo I mentioned that the Perfectly Bare Effect layered over Sally Hansen Gray by Gray reminded me of Nubar Indigo Illusion.
At the time I pulled out my bottle of Indigo Illusion and realized that I have never actually worn the color. When I first heard of Nubar nail polish four years ago ALU was just a baby. I posted about the brand but had only swatched Indigo Illusion on a nail art wheel. All this time has passed and I still haven't taken it for a test drive. That situation is now rectified.

Formula & Application: Nubar nail polish is 4-Free (includes formaldehyde resin) and is free of camphor which can be an irritant. The brand is also billed as vegan and cruelty free. The bottles are topped with a curved, matte cap that is designed to rest comfortably between the thumb and forefinger. The brush is thick and round and the width doesn't impede application. In fact it's one of my favorite brushes. It has a bit of resistance which allows for control but the bristles are flexible enough to fan out nicely across the nail bed.
The formula on this polish is kind of thin but nice and smooth. It's not that squishy kind of thin that seems to be the standard with polish nowadays. The only downside of the thin formula is the opacity. I ended up using three thin coats to achieve full coverage but those three coats feel like two.

Nubar Indigo Illusion is a challenge to describe. It has a green tinged denim blue base with a pinkish shimmer. The blend of colors give off a duo-chrome effect that causes the polish to look blue/green/purple depending on the angle you view it at and lighting.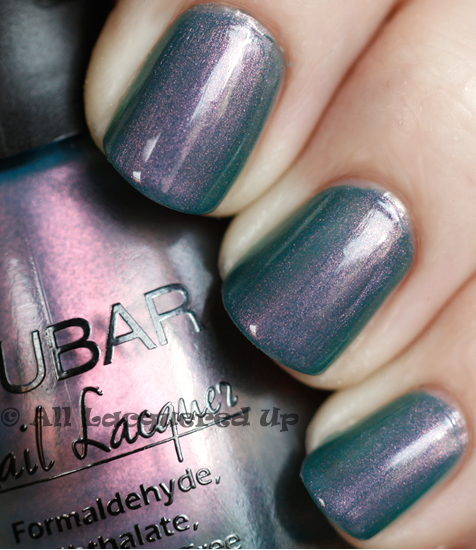 Bottom Line: Indigo Illusion is a unique flower and one of Nubar's biggest hits. For anyone trying the brand for the first time I consider this a "must have" along with Nubar 2010 anything from the Going Green collection and of course their amazing Foundation Base Coat. You will not be disappointed.
365 of Untrieds Stash/Share Verdict: No doubt this one is staying in the STASH.
Nubar Indigo Illusion is available online at ByNubar.com. Nubar nail polishes retail for $7.49/ea for a .5oz bottle. Orders over $50 receive free shipping.
What do you think of Indigo Illusion? Are you a fan of Nubar polishes? What are your "must have" shades from the line?
Disclosure: A product sample was provided by Nubar. For more info view my Disclosure Policy.