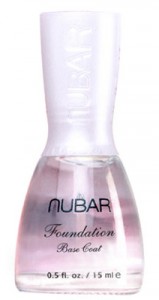 I get a lot of questions and comments regarding the tools and treatment products I use to keep my nails healthy and in tip top shape. Since my routine changes as I test new products, I've launched, The Arsenal, to share with you the items that are "must haves" in my nail kit.
The bare bones basics of any good manicure is base coat, top coat and color.  I've shared with you one of my all-time fave top coats but I've never dedicated a post to base coats.  Obviously this is long overdue!
I've been a fan of CND Stickey for forever and a day.  I even posted about the "Stickey Sandwich" method back when ALU was just a baby.  However Stickey has a major competitor for the "holy grail" crown in Nubar Foundation Base Coat.
I've had bottles of Foundation Base Coat floating around the polish room for years now but it wasn't until I ran out of Stickey that I discovered its magical powers.  It doesn't dry tacky like Stickey or Orly Bonder but Foundation Base Coat grips on like glue.  I get amazing wear every time I use it.  And although it's not a ridge filler, it provides a smooth surface for the polish to glide along even in spite of my less than stellar nail beds. I told you it was magic.
Nubar Foundation Base Coat can be purchased online from ByNubar.com for $6.99.  The shipping is steep though so I suggest banding together with some friends to hit the $75 limit for free shipping.