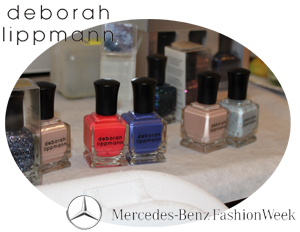 As a Deborah Lippmann fangirl one of the highlights of New York Fashion Week is getting to chat with her backstage.  She always has a great color story to tell and seems genuinely excited to see me.  I'm not going to lie, it makes me feel like a bit of a rock star.  She really knows how to make a girl feel special.  It's really no wonder she has such a celebrity following.

I've had the chance to catch up with Deb at both the ADAM and Lela Rose runway shows and was able to get a preview of her new nail colors for Spring and Summer 2011.  Curious to see what she cooked up?  Find out after the jump!

It's no secret that Deb's been having somewhat of a glitter party in 2010.  Between the Fall, Holiday and Anniversary colors you can bling your nails until your heart is content.  So the natural question is, when is the party over?  The buck stops at Spring 2011 with a whimsical, confectionery glitter and a creamy neutral.
Naked is a semi-opaque soft beige.  It's not too pink and not too yellow.  It gives enough coverage to color the tip of the nail but doesn't completely mask it.  It sounds like a beige version of Before He Cheats, no?
Glitter In The Air was inspired by Pink's performance at the Grammys.  Deb wanted create something that was ethereal and airy with bits of glitter that remind her of circus cotton candy pieces.  Similar to her other glitter shades we have hexagonal sequins in pink & baby blue yet the rest of the glitter pieces are more haphazard as they float through the sea of billowy blue.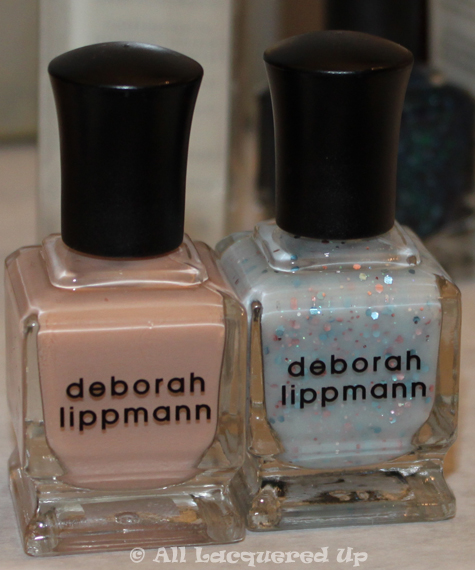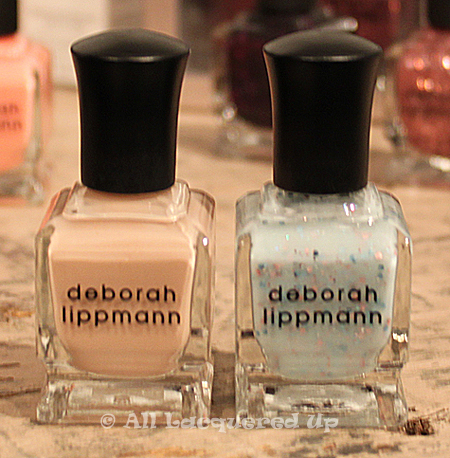 Girls Just Want To Have Fun and I Know What Boys Like are rich and opaque creme colors for Summer 2011.  One of the questions Deb asked herself was, "How we do make coral wearable?"  While coral seems to be a popular summer color, Deb says it's not necessarily a big seller.  That women want to wear it but for some reason they don't so she set out to make a shade with enough pink it to make it less daunting.  The indigo creme is a welcome addition to the Deborah Lippmann lineup and a perfect cool compliment to the grape colored Call Me Irresponsible.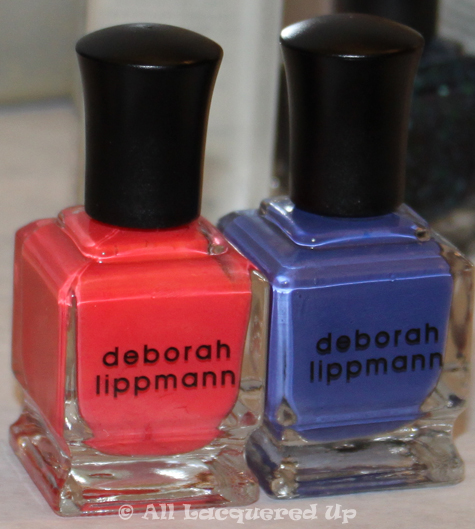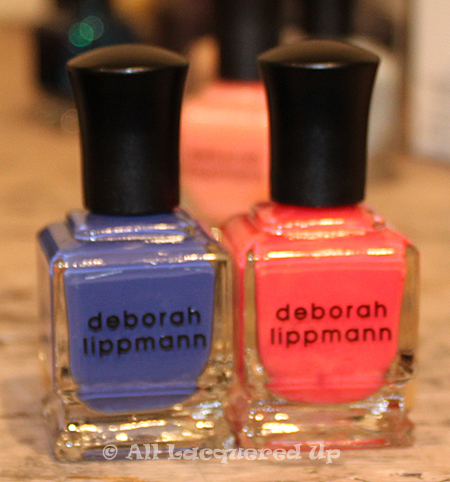 Thoughts on the Deborah Lippmann Spring & Summer colors? I'm really into Glitter In The Air and I'm already thinking up layering combos for it. I'm thinking it would look amazing over Waking Up In Vegas and Deb threw out Don't Tell Mama as a base. If you're lucky enough to still have a bottle of Rehab, like I do, wouldn't that look cool underneath?