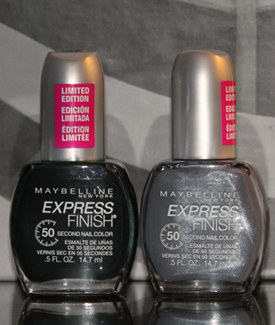 The days are getting longer people and I'm in serious need of sleep but I'm powering through New York Fashion Week like a champ.  Even though my feet want to go on strike, the humidity is having its way with my hair and I can't seem to remember what day it is, I'm having an absolute blast.  I figure I can sleep when I get home so I may as well make the most of my time here and I've been doing just that.

Saturday was Day 3 of my NYFW experience and I was feeling the need to keep my green streak going.  After rocking RBL Anne and Chanel Khaki Vert it was time for something dark and creamy.   Enter Maybelline Grand In Green.  But what fun is wearing just one color when you're at Fashion Week?  I pulled in GiG's collection sibling, Gray-T Glamour for a funky but easy to replicate manicure.  Check it!

Alright so here's the deal. Maybelline polishes have never really been on my radar. Prior to this Fashion Week collection I have purchased maybe two Maybelline colors and they were both identical shades of lime green, only with different names. The perm color range just never drew me in.
Then last Spring the pastel, candy colored polishes were released and my interest was piqued. Unfortunately, the formula was janky and dried with bubbles and pock marks on my nails. Weird, right? I even tried getting a second bottle of some colors just to see if I had a bad batch and for some reason they didn't work on me.
Needless to say, I was skeptical when I saw that Maybelline was introducing a fashion inspired collection for fall. I mean, what good are gorgeous hues if the formula doesn't deliver? Well thanks to a review on my pal Steph's blog, Steph's Closet, raving about the Gray-T Glamour formula I decided to dip my toe back in the Maybelline water. I couldn't be happier about that decision.
Both Gray-T Glamour and Grand in Green are highly pigmented, providing excellent coverage. The polish is a bit thick and the first coat goes on unevenly but once that second coat lays down, you're in business.  Gray-T Glamour is a blue tinged gray shimmer.  It's definitely got a slate feel to it and it makes total sense to combine it with the cool, evergreen creme.
I originally thought about painting four nails on each hand with Grand in Green and applying Gray-T Glamour to my ring fingers but then inspiration hit.  It's not anything complicated but I feel it marries the two colors together.  That it makes their pairing look intentional and not an afterthought.  I painted my middle fingers green and applied the gray to the rest.  Then using the narrow, flat Maybelline brush loaded with a minimal amount of polish, I quickly and deliberately swiped the color on an angle from the middle of the sidewall to the opposite side's tip.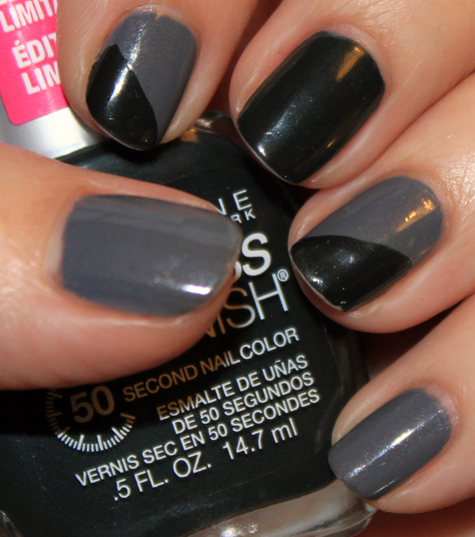 My only concern is that the polishes started to show tip wear pretty fast. I realize that I'm exposing my nails to more stressors than normal while running around NYC but tip wear in less than 24 hours makes me go hmmm. I wore the polishes with CND Stickey base coat and Air Dry top coat and the green was looking kind of beat up.  I'll definitely have to give them another go when I get home as I really like the colors.
Have any of you seen or tried the new Maybelline Fall Fashion Week Collection?  Which colors are your fave?  Have you had any issues with tip wear?   If not, what base/top combo worked best for you?
Disclosure: Product samples were provided by Maybelline. For more info, view my Disclosure Policy