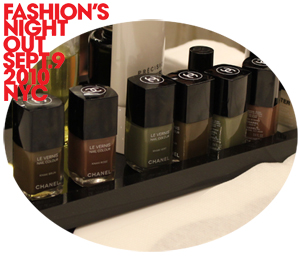 In addition to it being my first full day covering Fashion Week shows, yesterday was also Fashion's Night Out.  I can't even begin to describe the madness.  I've never seen so many people in one place who have NO CLUE there is anyone else anywhere around them.  It's like everyone walks in their own bubble of oblivion.  When you can't even get out of the subway because people are standing 12 deep on a sidewalk, you know it's bad.

That being said, I was not deterred from my original NOTD plan for FNO.  I did a manicure using the Chanel Les Khakis De Chanel colors and visited the redesigned Chanel SoHo Boutique.  I'll be sharing a full FNO recap in a separate post but first up my nail look for Day 2.

So I showed you my trial run of a Chanel Khaki camouflage manicure the other day. Apparently I have first time luck when it comes to nail art because my second attempt was one step above FAIL. I kept looking at my photo from Thursday to try and recreate the design and I don't know if it was the unfamiliar environment, lack of sleep, lack of time or just my lack of skills but the final result was not at all what I planned.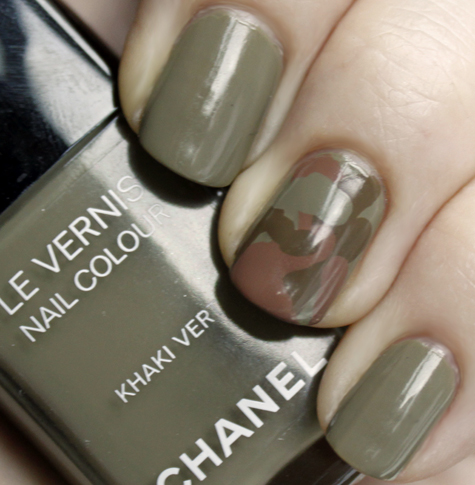 Based on what I heard from fellow bloggers, brands and manicurists it wasn't a total loss. I did receive many compliments on the design, including the amazing Jin Soon, I just wouldn't call it camouflage. It's more like some kind of abstract blob art.  I know, I know I'm too hard on myself.  That I should just embrace the fun and go on.  After all it's just nail polish, it's not that serious but I'm a perfectionist and this is far from perfect.  Or at least what I pictured as perfect in my head.
I ended up applying Khaki Vert on all my nails, using Khaki Brun and Khaki Rose to create the camo pattern on my ring fingers.  Though I ended up throwing in an extra blob of Vert on both nails to add to the craziness.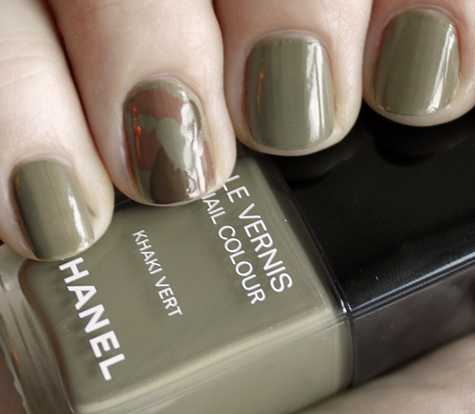 I want to thank those of you who commented yesterday regarding the online launch of the Chanel Khaki collection. It's hard when I'm out and about with just a smartphone to rely on. I am able to see and approve your comments but doing much more beyond that can be a challenge and huge drain on my oh so precious battery life. I'm just happy to hear that the Khakis didn't sell out in minutes. That it was a tech issue on Chanel.com and people were able to place their orders.
If you haven't placed your order yet, the polishes are still available on Chanel.com as of now but I have no clue how many bottles are left. So I suggest if you're hemming and hawing over the purchase, you make a decision asap before you end up regretting it and cursing the eBay sellers.
I hope you're all having a wonderful weekend. The weather here in New York couldn't be more beautiful. I have lots of fun things to share about my trip including some cool new polishes I got a peek at. Stay tuned Fanatics!