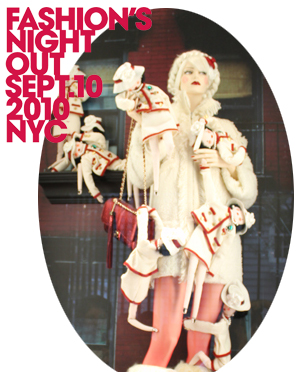 Fashion's Night Out, as Nancy from Beauty411 would say, was a cluster!  I chose to go to SoHo and I think every other person on the planet was there.  Seriously, cars couldn't get down the street because people were standing twenty deep outside a store just to get a glimpse of a celebrity.

With over 900 events at stores all over New York City, trying to figure out a game plan was a challenge to say the least.  Of course I KNEW I was going to the new Chanel SoHo Boutique, how could I not, but the rest of the night was up in the air.

With my friend, and roommate, Nancy at my side we trekked all over SoHo marveling at the crowds and accidentally stumbling across one of my Top 29 events of the night.  Read on to find out all about my Fashion's Night Out adventure with Chanel, Essie and MAC.

I started the night with a visit to the Lincoln Center tents to see Essie and Celebrity Manicurist Elle. Essie was providing manicures, using some of her most popular shades, in celebration of FNO. Can you guess the polishes the guests could choose from? Ballet Slippers, natch, Mink Muffs, Sole Mate and Fishnet Stockings.  Essie and Elle will be back at the tents today providing manicures as well.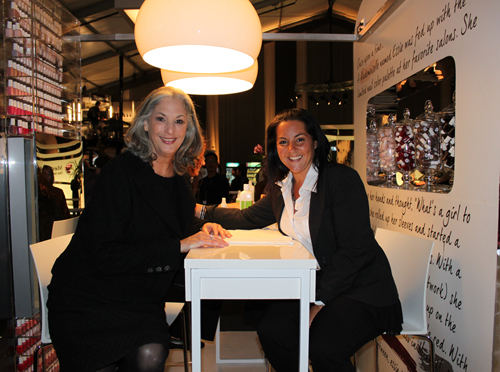 Next stop the Chanel SoHo store. We thought getting there a little before 6pm was the best plan of action but apparently everyone else thought to get there WAY in advance. When we arrived there was already a line wrapped around the store and halfway down the block. It was insane. The thing is, I think a lot of people were unsure of what was happening at the boutique and expected something outside of what Chanel was offering. I heard one person mention that she wanted a pedicure, um that's not going to happen, and another thought some big celebrity was making an appearance.  Above all, everyone seemed to be interested in getting their hands on the Khaki and SoHo story colors.
Fortunately the line moved pretty fast once the store opened.  Once they reached capacity, guests were only allowed in as customers left but it still didn't take too long.  As we stepped inside the door, my eyes bee-lined to a row of Chanel high top tables set up with manicure supplies and Chanel Khaki polishes, the Nail Bars.  Customers could get a polish change by signing up for a Nail Bar appointment.  The whole operation seemed pretty efficient.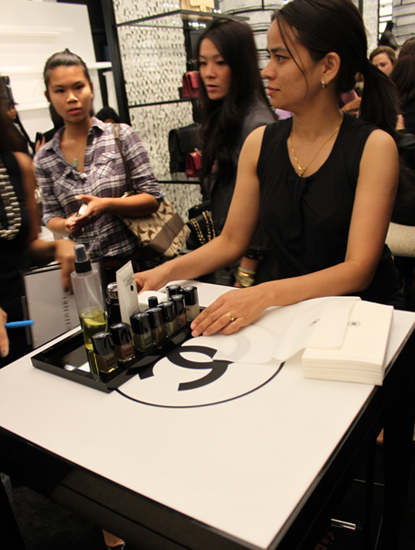 Of course being that I already had the Khakis in my possession, I was all about setting my eyes on the CHANEL SoHo Story polishes. The line just to see the collection was nuts but I had the good fortune of having a PR person from Chanel at my side to snag a set of polishes for me to check out. Thankfully she also allowed me to snap photos since photography isn't permitted in the Chanel Boutiques.
Chanel Strong & Steel (boutique lighting)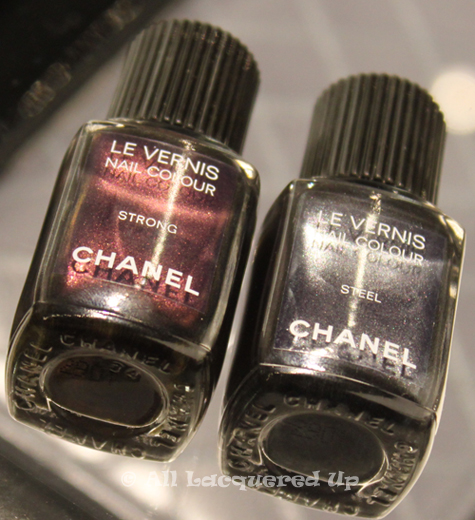 Chanel Strong & Steel (flash)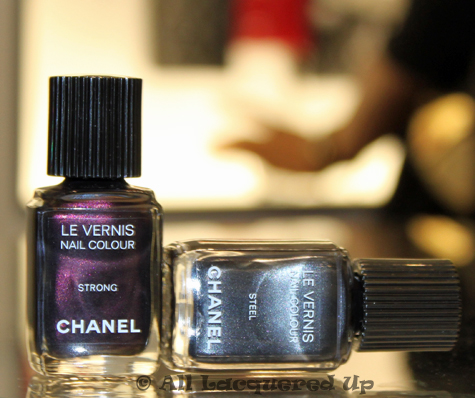 As you can see, Strong looks very different depending on the lighting but I would say its a red grape shimmer. I wasn't able to swatch it on my nails so I can't really judge it but in the bottle I'm not wowed. Same goes for Steel. I'm way more into Khaki Vert than either of these but that's just me. I do have the polishes waiting for me at home though and maybe seeing them on the nail will change my mind.
Here's a shot of me and Nancy from Beauty 411 at the SoHo Boutique.  Nancy was on a post-purchase high after picking up a new Chanel wallet.  She's proof that people really do shop on Fashion's Night Out.  It's not just about the freebies and celeb sightings.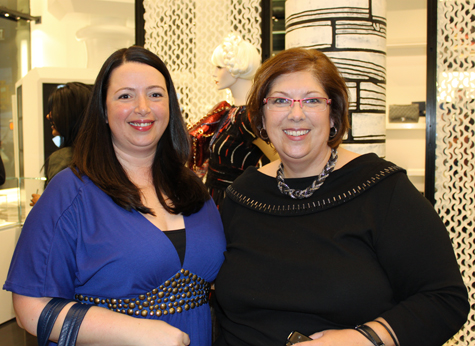 I was really hoping I'd get to see Chanel's Celebrity Manicurist Tom Bachik but he was delayed, I assume due to the crazy traffic. Though I did get to visit with Wendy from Nitrolicious and manicurist Julie Kandalec. You may remember me mentioning Julie in the past. She's from my hometown and has been doing editorial/runway work in NYC & LA. She's actually taking the leap and moving from Cleveland to NYC soon so it was fun to catch up and talk about her plans.
After our visit to Chanel we wandered somewhat aimlessly looking for a store without a crazy line that had something fun going on. We somehow ended up at the entrance to MAC Pro SoHo and I freaked when I realized I would have the chance to see comedienne Sarah Silverman perform. Nance and I managed to snag a viewing spot right in front of the stage so we had the perfect spot to see this funny lady's stand-up set.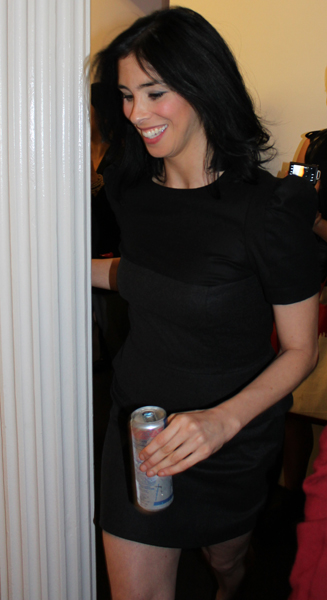 Sarah was performing to celebrate the launch of MAC Fabulous Felines and to promote the release of her new book Bedwetter: Stories of Courage, Redemption and Pee.  How the two are related, I have no clue but seriously you guys, I LO-OVE Sarah Silverman.  She's dirty, raunchy and beyond hilarious.  Have you seen her in The Aristocrats?  She kind of made sitting through that movie tolerable.  Well her and Bob Saget.  And her Jewish jokes crack me up.  I don't really claim any religion but half of my family is Jewish (the other is Catholic, scandalous) so even though I can't totally relate, I get her humor.
Can we talk for just one sec about how hot Sarah looks?  I mean, for real!  The dress, the shoes, the long bob, the makeup… she seriously wowed me in person.
After her 15 minute set, including a song using the c-word more times than I could count, she signed copies of her book for 100 fans. Cool, right? We also got to see some of our fave MAC ladies, Heather & Erin and spotted Vice President of Makeup Artistry Gordon Espinet.
Upon leaving MAC we were kind of over FNO.  Our feet were killing us, we hadn't eaten and the crowds were unbearable.  The bad part, we had no clue which way to go to get to the subway.  As we wandered the streets we came across a madhouse of people surrounding the Piperlime store where Rachel Zoe was making an appearance.  I swear, you would think baby Jesus was inside.  Everyone was screaming Rachel as though she was actually outside and camera flashes were lighting up the street like fireworks.  It was insane.  She's a PERSON not a god.  I'm not gonna lie, I'd love to meet her but let's take it down a notch people.  She's not going to make you look like Demi Moore.  She's not a wizard.
At that point, I was so over it all.  Grabbing a slice of pizza and putting on my pajamas was all I cared about.  We eventually found our way back to the subway and our hotel.  Though I couldn't help but wonder if Fashion's Night Out actually did what it set out to accomplish.  Did people actually buy more to help stimulate the fashion economy?  Or were they just out for the treats and celebrities? From what I've read, it wasn't as much of a success as last year.  Based on seeing a lack of shopping bags I'd have to agree.  Maybe instead of focusing on events, stores should offer more discounts along the lines of Black Friday.  Just sayin.