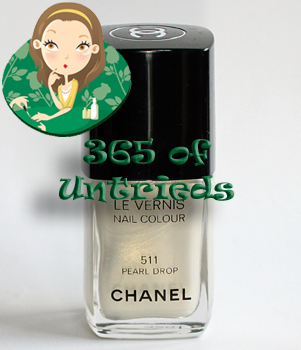 365 of Untrieds is my personal challenge to weed through the polishes in the ALU stash that I've been wanting to try but just haven't gotten around to.
As much as I believe that you never get the whole nail polish story until you see the juice on the nail, I love looking at bottle images. One of my favorite things about scrolling through Tumblr posts is when I stumble across a great bottle shot. So I started photographing my collection, in bottles, by brand, with the intention of eventually posting them in my gallery.
FYI, my gallery hasn't allowed me to upload photos for a year and that's why it isn't updated. I haven't found a fix or a better gallery solution which is why it remains unchanged since April 2010. It's not that I'm neglecting it.
Anyway, I decided to start with Chanel, going color drawer by color drawer though my Helmers. I'll be posting the pics on my Tumblr in the meantime so if you want to follow along, subscribe to my account over there.
I started with my white, black, gray and silver drawers and that inspired me to finally try Chanel Pearl Drop. Pearl Drop seemed to be the forgotten child in the Spring 2011 collection as Black Pearl garnered all the buzz so I was curious to see if it would end up being a sleeper hit.

Formula & Application: Chanel nail polish is 4-Free (includes formaldehyde resin) plus there's no camphor, which can be an irritant. The signature square glass bottles are topped with a black square outer cap that is removed to reveal a stubby, round, ribbed inner cap. The brush is round, medium in length and width and reminds me of the old OPI/new SOPI brushes. It easily fans out and covers the nail without much resistance.
Pearl Drop's names foreshadows a bad finish. "Pearl" makes me think of "metallic" which leads me to the dreaded word "frost" and that can only mean one thing, BRUSH STROKES. I applied this polish with the precision of a surgeon and brush strokes were unavoidable. Now I concede that light colors cause a constant struggle for manufacturers as it's hard to achieve that perfect blend of pigmentation and smooth viscosity. Chanel certainly put forth a good effort here though I still needed three coats to get it opaque. It did flow on the nail quite well and dried pretty fast but brush strokes are like nails on a chalkboard to me, or French pedicures. Painful!

Chanel Pearl Drop grabbed me right away as I applied it in the bright afternoon light of my polish room. The soft white base filled with glimmering gold pearl looked magical, like a sun shower. Think of it as a more opaque, shimmery version of China Glaze White Cap. I was smitten. Now if only the story ended there.
Tonight I went to a fabulous wine & cheese dinner that left my head feeling a bit fuzzy and the dim, soft light turned this beautiful creation into something kind of wretched. The term "grandma" was definitely thrown around the table and suddenly I felt like I was wearing a 70s era Sally Hansen frost that my mother probably bought in multiples. That's not a slam on my mom, we just have different tastes and she just loves herself some frosts.
My point is, what may look fantastic in one light can look devastatingly bad in another. I mean who hasn't left the makeup counter with a bag full of things that made your face look amazingly natural under that odd fluorescent store lighting, only to look in the mirror later and feel like a contestant on RuPaul's Drag Race?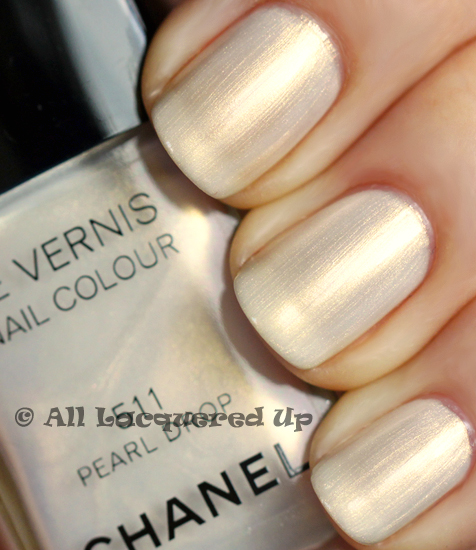 Bottom Line: What I anticipated being a rave review when I left for dinner tonight ended up being a "meh." If you're into frosts, and more power to you if you are, snap this one up. If brush strokes make you verklempt, run in the opposite direction when you see this one at the Chanel counter. The formula is good and the pigmentation is decent for a light color, it's just not my thing. If I could guarantee I would always be in daylight, I would totally rock it.
365 of Untrieds Stash/Share Verdict: SHARE, 'nuff said
Chanel Pearl Drop is available now as part of the Spring 2011 collection at Chanel counters nationwide and online at Chanel.com. I believe this is included in the perm Chanel collection as the website gives you the "replenish" option and that doesn't appear with LE shades. Chanel nail polish retails for $25/ea for a .4oz bottle.
Thoughts on Pearl Drop? Have you ever worn a color that looked great in daylight and turned fug at night or indoors? What is your favorite white nail polish? I still haven't found one I love as much as China Glaze White Kwik Silvr, aka my holy grail of white.
Disclosure: A product sample was provided by Chanel. For more info view my Disclosure Policy.