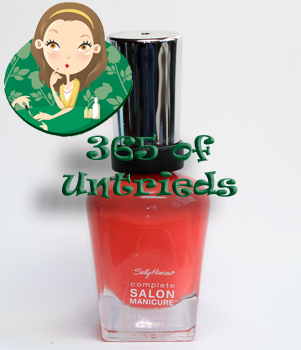 365 of Untrieds is my personal challenge to weed through the polishes in the ALU stash that I've been wanting to try but just haven't gotten around to.
Let's kick off the week with my "lesson learned" moment Fanatics! When I started this 365 project I told myself I wouldn't do any posts in advance unless I was going to be out of town. I wanted it to be as organic as possible and show you my untrieds selections as the mood struck me. The whole point was to challenge myself to post a new polish swatch and review every day.
Well when I became sick this weekend, it threw a wrench in the plan. I actually slept until 2pm today. CRAZY! So in case of emergency I'm going to put a couple posts in the hopper should this issue arise again. I learned my lesson and will add a couple days to the 365 to make up for it. Though there's no point in dwelling on what I can't fix so let's just move forward, shall we?
I had the good fortune to attend the Tracy Reese Spring 2011 RTW runway show which had a 70s chic, jetsetter-on-safari kind of vibe. Mixed in with the graphic prints, black & white basics and sandy neutrals were pops of lavender, blue and coral. Tracy pulled inspiration from her fabrics when it came time to collaborate with her longtime partner-in-polish Sally Hansen. Of the seven shades in the collection, Sally Hansen Coral Fever really piqued my interest.

Formula & Application: Sally Hansen Complete Salon Manicure nail polishes are 4-Free (including formaldehyde resin) and free of camphor, which can be an irritant. The hefty glass bottles are topped with a smooth chrome cap that has a rubberized grip around the base. The grip makes opening the bottle easier and keeps the brush from slipping while polishing.
The brush is the same flat, paddle style as the Insta-Dri line with curved bristles. The bristles are firm so use a light touch to avoid streaking or dragging the polish.
The Complete Salon Manicure formula feels thin when you apply it but Coral Fever is well pigmented so it becomes opaque in two coats. Since this line is meant to be worn sans base and top coat, it dries with a high gloss shine.

There were several coral pieces, from dresses to pants, that popped on the runway but it's this casual chic look of a striped, dolman sleeve sweater and brown shorts that caught my eye.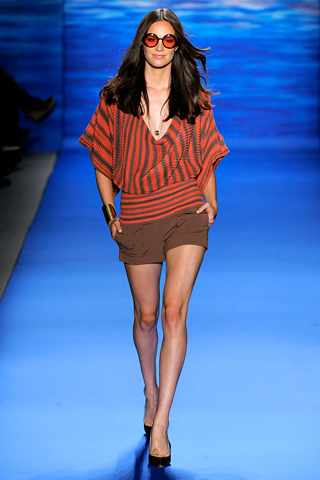 Sally Hansen Coral Fever is what I consider a true coral creme. It's at the opposite end of the coral spectrum from the one I wore the other day, Lancome Sarong. An ideal coral balances the warm tone, orange, with the cool tone, pink, creating a shade that is flattering to most skin tones.  That's why corals are so wearable and perfect for summer. An added bonus… they make you look tan even if you have just the slightest faux glow.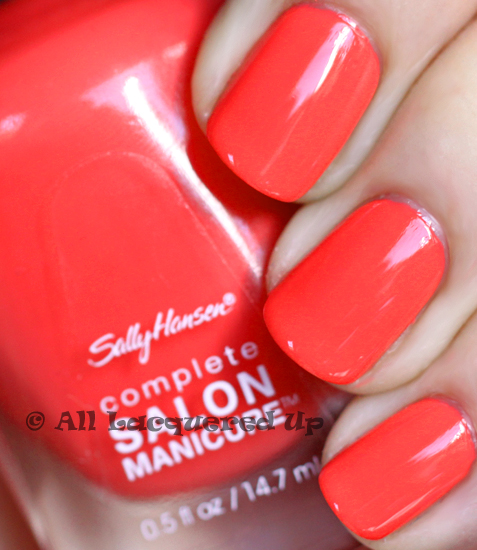 Bottom Line: I've made it no secret that I'm a super fan of the Sally Hansen CSM formula. My only complaint has ever been that some of the shades can stain (I'm looking at you Grass Slipper) so while they can be worn without a base coat, I highly recommend putting one on or be prepared to de-Smurf yourself. In addition to the periwinkles and neutrals that I've been all about lately, you can add coral to that list. Clearly those are my color trends for the season. If you're looking for an accessible, on-trend coral for the summer, Coral Fever won't do you wrong.
365 of Untrieds Stash/Share Verdict: I have an abnormally low amount of corals and this one is perfect for my skin tone so I'm STASHing it.
Sally Hansen Coral Fever is available as part of the Tracy Reese for Sally Hansen Spring 2011 Runway collection in drugstores nationwide. Sally Hansen CSM nail polishes retail for $7.99/ea for a .5oz bottle.
Thoughts on Coral Fever? What are your favorite corals? Do you like them straight up or more pink/orange/red? What have been your go-to colors this season?
Disclosure: A product sample was provided by reps for Sally Hansen. For more info view my Disclosure Policy.