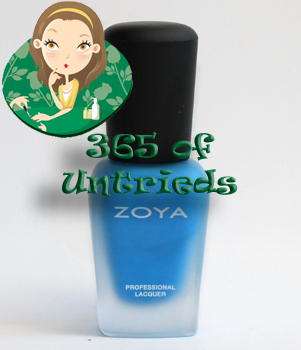 365 of Untrieds is my personal challenge to weed through the polishes in the ALU stash that I've been wanting to try but just haven't gotten around to.
Matte nail polish reemerged on the nail polish scene in 2009 and regardless of how you feel about the gloss-less look, I've always said there is one major benefit to matte; dry time. If you're a girl on the go, the super speedy drying power of mattes can save you from leaving the house with naked nails. Before you even hit the door, your nails are smudge-proof.
I'm genetically predisposed to being fifteen minutes late wherever I go thanks to my perpetually late mother. Okay so lateness isn't an inherited trait, it's a case of nurture not nature, but I consistently find myself grabbing for a matte minutes before I dash out of the house. Even if it's only to cover up my swatching nails, creating what I call "nail blogger skittles." Such was the case when I applied Zoya Phoebe from the recently released ModMatte collection.

Formula & Application: Zoya matte nail polish is 4-Free (including formaldehyde resin) and does not contain camphor which can be an irritant. The ModMattes come in a brushed glass bottle with a tapered, frosted black cap that rests comfortably between the thumb and index finger while polishing.  The brush is short, round and medium in girth with flexible bristles that allow for ease of control.
I was sent the set of mini ModMattes and while they are half the size of regular Zoya bottles, the cap is almost as big as its full size sibling. The major difference is the brush. It's about a quarter inch longer and thinner than the regular Zoya brush. What I found interesting is that as you wipe the brush against the bottle neck, it becomes flat which makes for an easy application. Considering that a lot of minis don't apply as well as their full size counterparts, this was a happy discovery.
The formula of matte polishes can make them unforgiving in regards to application. Any uneven brush strokes or nail imperfections (ie ridges) will be reflected in the final product. The ModMatte polishes apply pretty thin but for me that meant an extra coat. While I can normally get away with two coats with matte polish, I ended up needing three coats of Phoebe. A thicker application would fix that but it could result in a lumpy finish.
Matte nail polish application tips: Apply on a dry, bare nail. Base coat can prolong wear but you must wait until it is completely dry to avoid streaking. To maintain the matte finish, avoid hand lotion and oils. Add a glossy top coat to change up the look and extend wear.

Zoya Phoebe is an electrified blue shimmer that comes about as close to neon you can get without entering DayGlo territory. The subtle shimmer gives the polish a more satin finish and prevents it from looking like flat wall paint.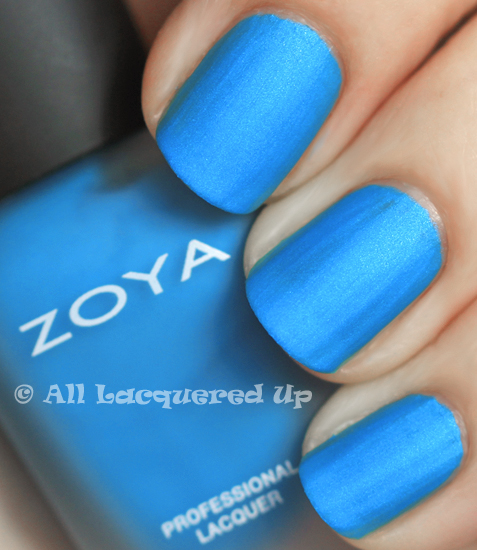 Adding a layer of glossy top coat really brings the shimmer to life. Though a thin top coat, like Out The Door, doesn't dry as high gloss as usual. It has a slight satin edge, as if you buffed the finish a bit. A second layer or a thick top coat like Seche Vite would remedy this but I kind of like it without the wet look of a traditional top coat.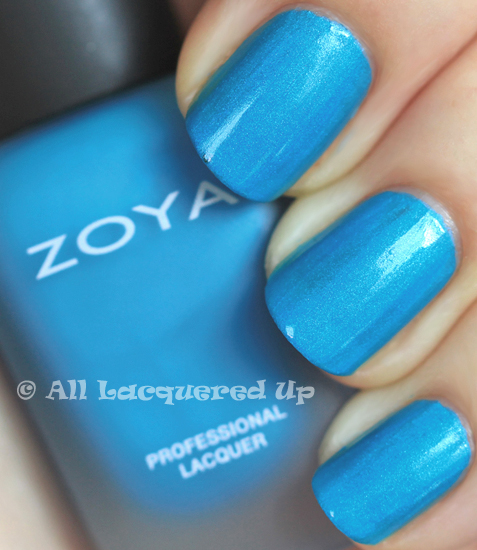 Bottom Line: Considering that the majority of matte polishes have been dark and moody, the fun, summery ModMatte brights are refreshing. Phoebe is unique and vivid with a lot of depth which makes it a great buy whether or not you love a matte nail. Wear it matte when you're in a rush and add a glossy top coat later to change up your look without having to drag out the remover.
365 of Untrieds Stash/Share Verdict: I don't have a matte anything like this color so I'm STASHing it.
Zoya Phoebe and the rest of the ModMatte collection is available at salons and spas nationwide. Locate a salon near you or purchase online at Zoya.com. Zoya ModMatte nail polishes retail for $8/ea for a .5oz bottle or pick up the ModMatte Mini Trio for $15 for three .25oz bottles. Don't forget, you can try before you buy with the Zoya Color Spoon program.
Thoughts on Phoebe and the ModMattes? Are you still wearing matte nail polishes? If so, are you wearing them matte or with a glossy top coat? Has anyone tried a matte pedicure? I would love to know how long it lasted.
Disclosure: A product sample was provided by Zoya. For more info view my Disclosure Policy.