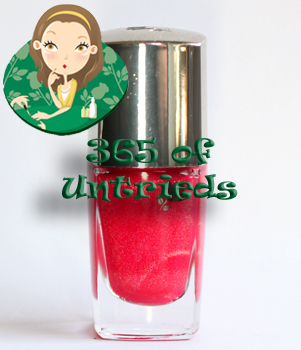 365 of Untrieds is my personal challenge to weed through the polishes in the ALU stash that I've been wanting to try but just haven't gotten around to.
As much as I love greens, I had to break the cycle and put on something the complete opposite. For me, that's anything in the pink or red color families. I decided to combine them by choosing the reddish pink Lancôme Sarong from the Bronze Azure Summer 2011 collection.
Bronze Azure captures beach chic with its palette of shimmering tans, cool blues and bright pops of pink. I've said it many times that I'm NOT a pink girl. And I don't say that as though it's a bad thing. It's just not my aesthetic. Now when you mix pink with orange or red, I'm a little more apt to get on board. True corals and red corals, like Sarong, are like my gateway drug to pink. Every time I wear one I think, "I can do pink." But it takes a rare pink bird, like Chanel Morning Rose, to make me believe.

Formula & Application: Lancôme nail polishes are 4-Free (including Formaldehyde Resin) and they do not contain camphor, which can be an irritant.  The flat brush is about the same length as OPI's ProWide Brush but it's more tapered, not as wide.  The bristles are flexible and spread easily across the nail.
Sarong applied very smooth for such a pigmented polish. And I'm talking high pigmentation. Like a second coat almost felt like too much. I feel like there is a shift in the way polish formulas are heading. It's as if they are taking a page out of the RBL play book. Both Essie Coat Azure and Sarong have thick but pliable textures that are reminiscent of Rescue's famous formula. Considering that both Lancôme and Essie are now under the same corporate umbrella, it isn't too surprising.

Lancôme Sarong is a bright red coral with flecks of fuchsia and gold shimmer. The shimmer doesn't pop as much on camera as it does in person but it's what drew me in to this color. That and they way the gold shimmer formed a ribbon in the bottle. I know it doesn't appear as a ribbon on the nail but I love when that happens. Something about it fascinates me. In the swatch image below you can see the two different colors of shimmer waving hello. They give the color a lot of depth and interest.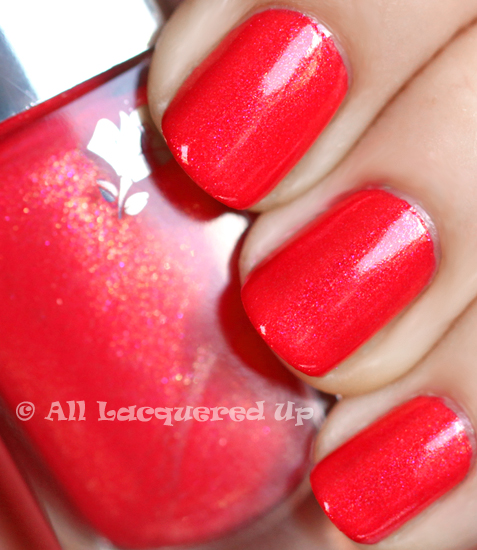 Bottom Line: The base color may not be the most unique on the planet but there's something about the dual color shimmer and formula that stand out to me. Corals are always hot for summer and this season is no different. If you're a Lancôme fan, you'll definitely want to scoop up a bottle.
365 of Untrieds Stash/Share Verdict: What can I say? I'm smitten. STASH!
Lancôme Sarong and the rest of the Bronze Azure collection is available now at Lancôme counters nationwide. Online shoppers can head to Lancome-USA.com or the site to your favorite department store to order a bottle.  Lancôme Le Vernis retail for $19/ea for a .34oz bottle.
Thoughts on Sarong? Do you prefer pink corals, red corals or the more true orange based version? What's your favorite coral nail polish?
Disclosure: A product sample was provided by Lancôme. For more info view my Disclosure Policy.