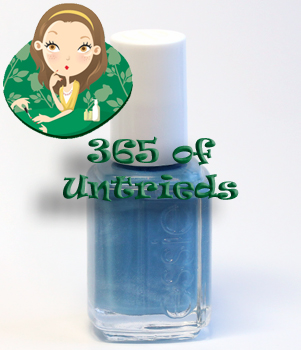 365 of Untrieds is my personal challenge to weed through the polishes in the ALU stash that I've been wanting to try but just haven't gotten around to.
I've briefly mentioned in past blog posts that I was in a sorority in college, Alpha Delta Pi. If you aren't familiar with the sorority system, like a US state, there are a lot of official symbols for sororities. Official flower (woodland violet), mascot (lion), symbol (diamond), open motto (We live for each other), philanthropy (Ronald McDonald House) and colors (azure blue and white).
Now for the past couple years I have found myself yawning over the spring collections from Essie. Soft shades just aren't my bag and sheers make my nails look terrible. So when I stumbled across Essie Coat Azure from the French Affair collection, I was pleasantly surprised. While I haven't been actively seeking out a nail polish version of my sorority's color, finding one has always been on my wish list.

Formula & Application: Essie is a 3-Free brand. The square bottles are embossed with the essie logo and the smooth plastic caps include an embossed e on top. The brushes are thin, round and shorter than most. The bristles are very flexible, allowing you to easily fan out the brush to cover your nail width.
Coat Azure is not your typical Essie in terms of formula. The usual squishy texture has been replaced with a creamy, uber pigmented lacquer that is opaque in two coats. It is a little on the thick side but smooth, reminiscent of the RBL Tudors polishes.

Essie Coat Azure is just as the name implies, an azure blue packed with the tiniest hint of micro-shimmer. I would say it's a step above the Chanel subtle shimmer as it's pretty noticeable in most lighting yet it doesn't give a full-on shimmery sheen. Again I go back to the RBL Tudors as the finish reminds me of RBL Jane. This type of hue is a mix of traditional color wheel blue and cyan and I'm completely smitten with it regardless of the sorority connection and I can't believe there aren't more polishes this color. I went Helmer diving for dupes and came up empty.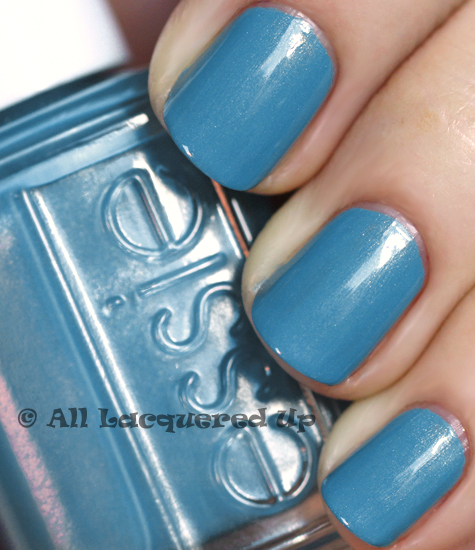 Bottom Line: There's nothing about this polish I don't love. The color, the formula, the finish. It's all nothing short of perfection. This is the shade I chose to wear on my weekend away and I can't stop staring at my nails. For some odd reason it makes me think of frosting and Cookie Monster and now I want an iced sugar cookie this color. If you are even the slightest blue nail polish fan I suggest you run, run now, run fast and pick this polish up.
365 of Untrieds Stash/Share Verdict: As if you don't already know. STASH!
Essie Coat Azure is available at professional salons and spas and also in the retail version at drugstores and grocers nationwide. Online shoppers can head to Essie.com, Head2ToeBeauty.com, and TransDesign.com. Essie nail polishes retail for $8/ea for a .5oz bottle.
Are you as into Coat Azure as I am? Have you picked up a bottle yet? If not, has my review swayed you? Do I have any fellow ADPi nail polish fanatics out there?
Disclosure: I purchased this nail polish. For more info view my Disclosure Policy.