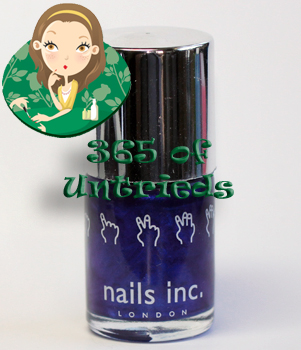 365 of Untrieds is my personal challenge to weed through the polishes in the ALU stash that I've been wanting to try but just haven't gotten around to.
Exciting news US Fanatics, Nails Inc is coming to Sephora!!! The hit UK nail polish brand will roll out to Sephora stores this September and I've been told that the brand is launching some amazing things "never been done before." I spied some "Special Effects" glitters on Eva Chen's Tumblr but we can expect something "even better" than that so get your wallets ready.
I've been a big fan of Nails Inc ever since I first got my hands on the polishes and their incredible Kensington Caviar Top Coat a couple years ago at Cosmoprof and I remember hoping that a major beauty retailer like Sephora or ULTA would pick them up. To celebrate their upcoming major US launch I'm sharing a fabulous Nails Inc color, The Mall.

Formula & Application: Nails Inc nail polishes are 4-Free (includes formaldehyde resin).  The round glass bottles are topped with a thick, round, smooth cap of the same width.  The brush is round and pretty thick with bristles that give some resistance when you try to fan it out.  I had problems with the brush in my last Nails Inc review but this one was cut well and gave me no issues.
The formula itself is nothing short of amazing! It's thin, maneuverable and well pigmented. I applied two thin coats that leveled out perfectly.  The only odd part was that it dried with a satin finish so you definitely need a top coat.

Nails Inc The Mall is an indigo shimmer. It has a slight duo-chrome effect in that it looks navy in the bottle but with a slight purple sheen. Those colors come together on the nail to create a pretty unique shade. So unique that I don't have a match for it. If I mixed China Glaze Indian Ocean, a gorgeous discontinued shade, and Revlon Street Wear Grape, another oldie but goodie, I could probably dupe but why would I want to waste two old gems when I can just wear The Mall?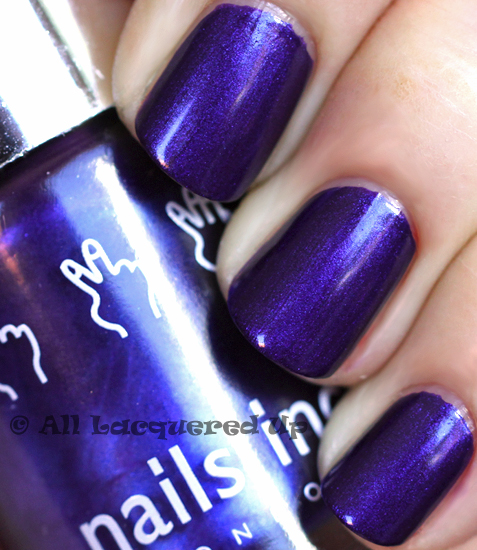 Bottom Line: The formula is pretty epic, the color is stunning and the line and hopefully this color will soon be readily available. What's not to love?
365 of Untrieds Stash/Share Verdict: No doubt about it, STASHing it.
Nails Inc The Mall is currently available online at NailsInc.com and ASOS.com which do not currently ship nail polish to the US. However, the Nails Inc is coming to Sephora in September 2011 so we'll keep our fingers crossed that The Mall arrives with it.
Thoughts on The Mall? Figuring that Sephora will carry only a selection of Nails Inc shades, which ones are you most hoping to see Stateside? Any predictions on what the "never been done before" polishes will be?
Disclosure: A product sample was provided by reps for Nails Inc. For more info view my Disclosure Policy.