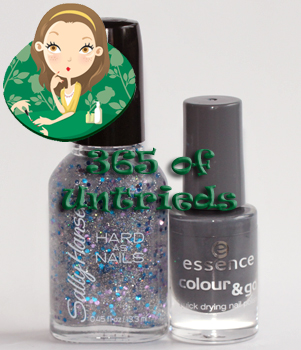 365 of Untrieds is my personal challenge to weed through the polishes in the ALU stash that I've been wanting to try but just haven't gotten around to.
I try to make drugstore nail polish runs as often as I can. I like to check out the seasonal displays regularly and see what's new. The last time I was out, maybe a month ago, I noticed a display of Sally Hansen Hard As Nails polishes that included a fun glitter called Ice Queen.
I keep meaning to wear it but I didn't know what I wanted to layer it over. Well I pulled out some of my Essence untrieds today and inspiration hit. There's something about the moody, neutral hue of Essence Movie Star that made it the perfect partner for the glittery happiness of Ice Queen.

Formula & Application: Essence Colour & Go nail polish is 4-Free. For a full ingredient list, visit Essence.eu.  The bottles are small and round with a sizable smooth, plastic cap.  The brushes are wide, flat and long considering the bottle size.  The bristles are somewhat stiff (think MAC) which can lead to some dragging so use a light touch. The formula itself is pretty well pigmented. Two thin coats are all I need to achieve opacity.
Sally Hansen Hard As Nails Ice Queen is also 4-Free and free of camphor, which can be an irritant. The bottle is pretty tall and the brush handle is long with a short, stubby brush. The bristles are kind of stiff but I think that works as an advantage here as they tend to pick up a lot of glitter and place it pretty evenly on the nail. The sequin glitter will always need some finesse but it wasn't a challenge to get them to stick.

Essence Movie Star is a deep blue-based grey creme. It dries a lot darker than the bottle would suggest. It's about as dark as Models Own Moody Grey only with a blue-grey base as opposed to the green in Moody Grey.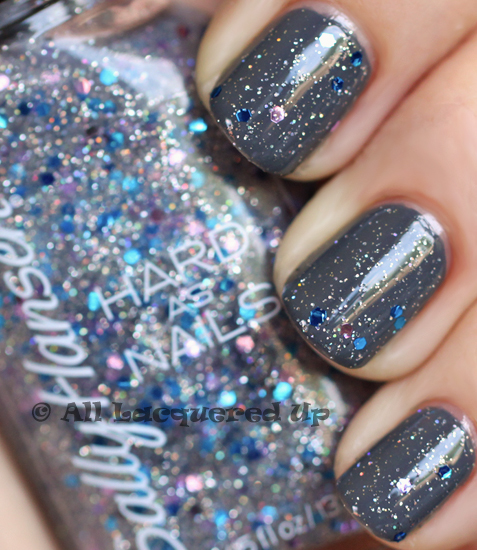 The pink and blue sequins in Sally Hansen Ice Queen are reminiscent of Deborah Lippmann Glitter in the Air, only more intense. Those particles are more cotton candy colored and these are more intense. The pink leans toward lilac and the blue towards royal. The silvery micro-glitter is actually holographic glitter in that it reflects multiple colors depending on the light.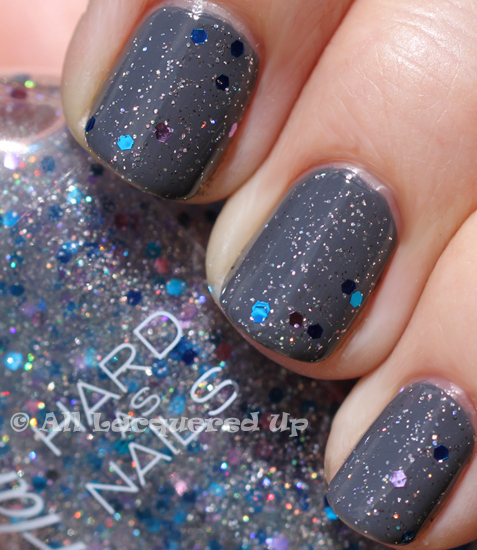 Bottom Line: Essence Movie Star is a great budget friendly basic and with its blue undertones it will flatter cool skin tones. The opacity and formula are pretty spot on so I see no reason to pass this one by if you're in the market for a great grey. Sally Hansen Ice Queen is spectacular and ranks up there with my favorite layering glitters, Deborah Lippmann Boom Boom Pow & Today Was A Fairytale. If you can find it, BUY IT!
365 of Untrieds Stash/Share Verdict: I'm STASHing them both. And based on yesterday's poll, it looks like I'm STASHing both of those as well. This weeding out thing isn't really happening, is it?
Essence Colour & Go nail polishes are available at ULTA stores nationwide, availability can vary, and online at ULTA.com. Essence nail polishes retail for 99¢ for a .1oz bottle. Sally Hansen Ice Queen is a limited edition nail polish so check your local drugstores and mass retailers soon if you don't want to miss out. Sally Hansen Hard As Nails polishes retail for $1.99/ea for a .45oz bottle.
Thoughts on Movie Star and Ice Queen? If you have Ice Queen what is your favorite polish to layer it over? Which do you prefer, Ice Queen or Glitter in the Air?
Disclosure: I purchased both of these nail polishes. For more info view my Disclosure Policy.