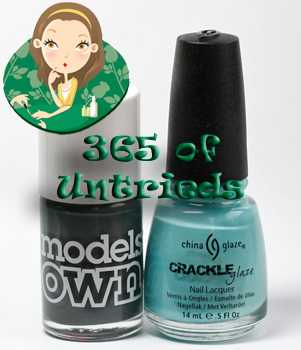 365 of Untrieds is my personal challenge to weed through the polishes in the ALU stash that I've been wanting to try but just haven't gotten around to.
Today's manicure was inspired by turquoise rings I saw on Tumblr. I know I'm so late to the Tumblr party but I'm really enjoying it. Anywho, when I saw those rings I reblogged the pic stating that if crackle nail polish could create veining like what appears on those rings, I would be more into it.
Now I've made it pretty clear that I'm on the fence when it comes to crackle. I've seen people use it in ways that look good, like Kellie Gonzo's manicure using OPI Silver Shatter, but for the most part I haven't been its biggest fan.
Today while attempting to replicate a turquoise ring using Models Own Moody Grey and China Glaze Crackle Glaze in Crushed Candy I may have leaned a bit more in crackle's favor. I wouldn't go printing me a Team Crackle tee shirt just yet but I "could" get there.

Formula & Application: Models Own nail polishes are not 3-Free. They contain toluene, formaldehyde resin and camphor. The round glass bottles are topped with a round plastic cap that is as wide as the polish bottles. While it's not the most comfortable cap I've held, it doesn't interfere with application. The short, round brush is really soft and flexible and it sucks up a ton of polish so make sure you wipe it well before applying to avoid pooling.
I was extremely impressed with how pigmented the polish is considering how thin and smooth it is. That's what toluene brings to the party. I know there are health risks involved with toluene but I can't help but selfishly miss it sometimes. I barely needed two coats of this polish and it was a joy to apply, even with that big wide cap.
China Glaze Crackle Glaze is 4-Free and doesn't contain camphor. Their crackle polish is pretty thick and goopy which means it's not as easy to apply as the OPI Shatters. I know shaking nail polish is frowned upon but giving these a good shaking helped a bit. You can also add a bit of thinner to help with the consistency but add it slowly. Crackles thin a lot faster than regular polish.

Models Own Moody Grey is a green-based, wet cement type grey creme. It definitely has a "moody" feel with its gritty undertones. It actually reminds me a lot of RBL Stormy though Moody Grey is darker.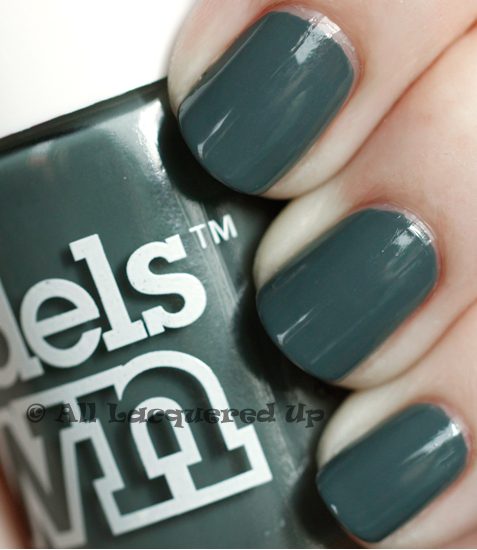 After seeing the image I linked to above, I came across this pic from University of Swag. Combined with the suggestion from ALU reader and licensed manicurist Cathy that she was able to attain a similar look with crackle polish, I was determined to try and find some way to mimic it.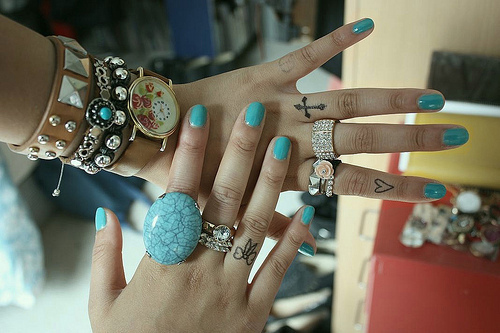 Being that crackle breaks up in direction it is applied and the veining on the turquoise ring comes from all directions, I decided to polish in all directions. I circled my nail with China Glaze Crackle Glaze in Crushed Candy polishing from the edge to the center. While the cracks are much thicker than I would like, I'm satisfied with my effort.  Though if I repeated this look I would apply Crushed Candy a lot lighter with less polish on the brush.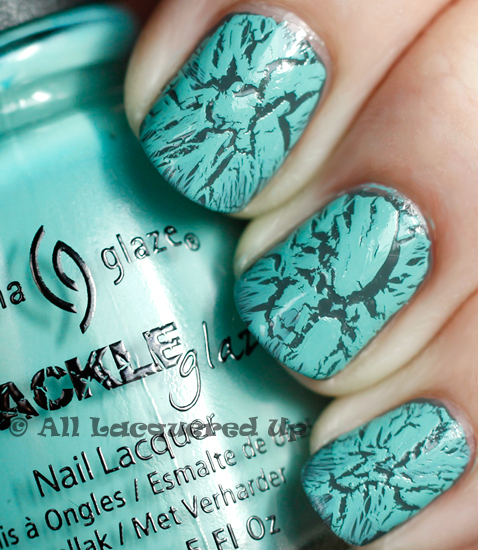 f

Bottom Line: While Moody Grey may not be the most unique grey I've come across, when I went looking for a dark grey creme I couldn't find similar colors in my stash. Plus the formula is a total win in terms of application though the ingredients might be a detractor for some. Crushed Candy may have a funky formula but I have yet to see a crackle sold in the US that looks like it.
365 of Untrieds Stash/Share Verdict: Based on the lack of similar colors in my collection, I'm STASHing both.
Models Own Moody Grey retails for $8/ea and can be found online at ModelsOwnIt.com. ps I see they have a couple crackles now as well.  China Glaze Crackle Glaze is listed as being in stock at SallyBeauty.com. The polishes retail for $5.99/ea ($4.99 with club card) for a .5oz bottle.
What do you think of my turquoise ring inspired manicure? Thoughts on the China Glaze crackles? How would you replicate this look? Are you a fan of Models Own polishes? What are your favorite colors from the brand?
Disclosure: For more info view my Disclosure Policy.