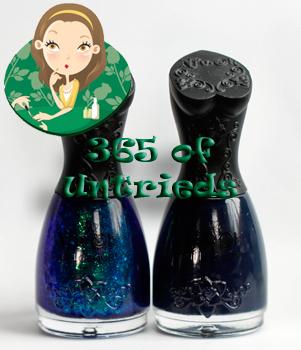 365 of Untrieds is my personal challenge to weed through the polishes in the ALU stash that I've been wanting to try but just haven't gotten around to.
Yesterday a reader posted on my Facebook wall raving about how amazing the famed holo Nfu Oh 61 is and blaming me for finally caving on a bottle. A blame I happily accept.
Naturally that had me revisiting my Nfu Oh stash which contains at least 5 untried colors. What started out as a simple creme manicure with Nfu Oh 570 ended up becoming a full on sparkle-gasm involving Nfu Oh 52. Keep reading to find out why.

Formula & Application: The Nfu Oh bottle doesn't list ingredients so other than the FabulouStreet website saying it's 3-Free I have nothing to go on. The brushes are short, round and firm. For me a firm brush means a light touch so you don't end up with cuticle drag when applying multiple coats. The brush hasn't been a hindrance in the past but today it made for a very awkward application.
Combine the stiff brush with a streaky, jelly formula and you have one mess of a manicure. I haven't had this much trouble applying a polish in a long time. Even Chanel Mimosa went on smoother and that's saying a LOT. I applied three coats and gave up. A flawless manicure just wasn't going to happen which is where Nfu Oh 52 fits in.
Application Tip: Make sure you wrap your tips/cap your edges. Darker jellies like this one will appear lighter at the tip otherwise.

Nfu Oh 570 looks like a murky navy blue creme in the bottle but once the first coat goes down, you see its vibrant teal base. It would probably take at least four coats to get it close to bottle color so I left it looking more blackened teal than navy. I took this shot before applying a third coat to my pinkie nail so you can see how blue-green the base is.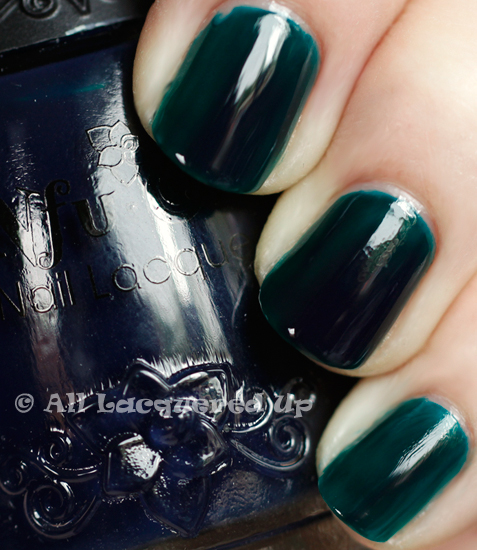 Given what a streak-tastic mess 570 turned out to be and that I was pressed for time this morning, I couldn't start from scratch. I ended up bringing Nfu Oh 52 to to the party and it saved the day.
The Nfu Oh "flakies," as they're called, are a magical creation. They are chock full of multi-shaped glitter and foil that float in the jelly base. While 52 isn't a duo-chrome in the true metallic sense it does create a dual-color finish. Even though 52 looks like it has a lot of purple in the bottle, layered over 570 it flashes both emerald green and sapphire blue.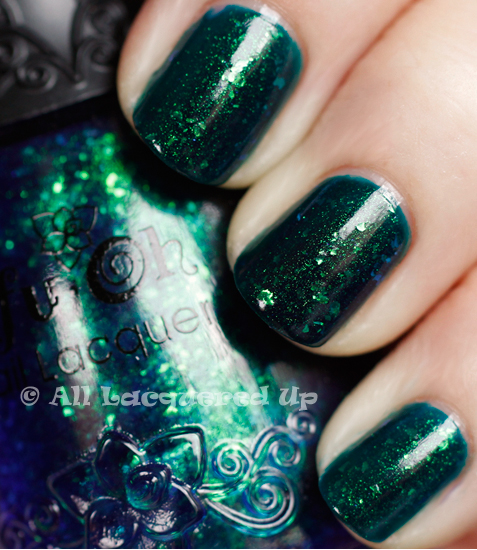 The boyfriend and I attended the International Beer Fest this afternoon and while I was giving my palate a break in between tastings, I snapped this pic on my cell phone that shows off the blue in Nfu Oh 52. Later I stopped by ULTA, since I'm rarely in that part of town, and two of the employees flipped over this combo, remarking that it looks three dimensional. The way the flakes are trapped in the jelly base, it really does look somewhat 3-D.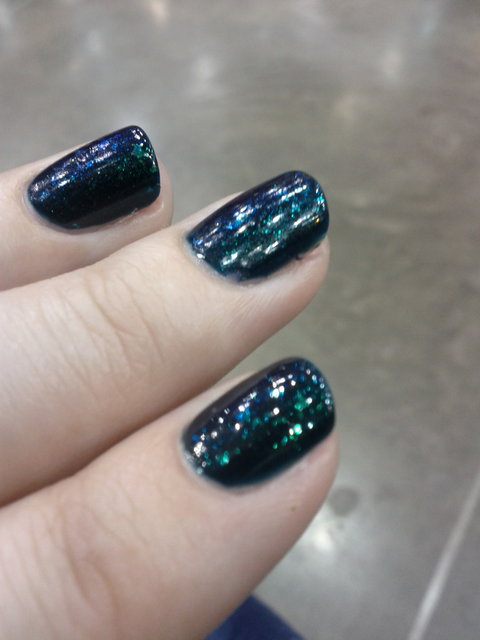 Bottom Line: The color of Nfu Oh 570 is a win but the formula is a giant fail. Though I'm curious if a different base coat (I used Gelous) would make a difference so I'm not ready to give up on it just yet. It's not something I would recommend though as I know there are plenty of dark blue cremes on the market. Nfu Oh 52 however deserves its own holiday. It's beyond fantastic and an all-caps MUST HAVE.
365 of Untrieds Stash/Share Verdict: I'm STASHing both for now but 570 will be put out to pasture if I can't get it to apply better.
Nfu Oh nail polishes are available online at FabulouStreet.com. Polishes retail for $12.50/ea for a 17ml (approx .55oz) bottle. US residents receive FREE SHIPPING.
Thoughts on today's manicure? Have any of you experienced the same application issues with 570? Do you have any tricks to share? If you don't own any Nfu Oh nail polishes WHAT are you waiting for?
Disclosure: I purchased these nail polishes. For more info view my Disclosure Policy.