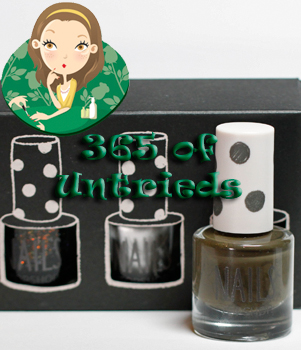 365 of Untrieds is my personal challenge to weed through the polishes in the ALU stash that I've been wanting to try but just haven't gotten around to.
I will openly admit that I was not part of the cool fashion crowd who squealed with joy over the news of Topshop opening in NYC. I remember seeing tons of tweets in the months leading up to the store's opening and had no clue what the frenzy was about.
I still haven't been to Topshop in NYC so I still don't get the hype but when I heard they were launching a makeup line that included nail polish I was intrigued. Seeing UK nail goddess Sophy Robson give the line her stamp of approval made the appeal even greater.
I was fortunate to receive a couple sets of mini polishes to test out and being a lover of both green and what I call "pretty/fugly" shades, Utilitarian seemed like the perfect place to start with the line.

Formula & Application: Topshop nail polish is 4-Free (including formaldehyde resin) and doesn't contain camphor, which can be an irritant. I'm unable to comment on the full size bottles or brushes since Utilitarian came as part of a trio of minis but the mini bottles come with a short, matte cap and medium length, flat brush. The brush is pretty flexible and easily fans out across the nail.
The only downside is the short cap. The stem barely sticks out from underneath before the brush begins which makes it a bit uncomfortable to polish with. It didn't interfere with the finished product but I thought it was worth noting.
The lacquer itself is buttery and smooth. It glides on the nail giving great coverage. I was amazed by how pigmented the polish is given its thin consistency. Two coats is all you need for a completely opaque nail.

Topshop Utilitarian doesn't really fit into a category which always excites me about a polish. It looks really green next to dirty browns like Chanel Khaki Brun and nowhere near green when placed next to well known olives like RBL No More War. I guess you could call it an olive brown creme.

Bottom Line: This funky hue is unlike any other color I own which is always a win. The formula is a dream to deal with so I can't see how you could go wrong picking up a bottle. The shade may be a bit gloom and doom for spring but come fall, I'll definitely be reaching for it.
365 of Untrieds Stash/Share Verdict: No doubt I'm STASHing it.
Topshop Utilitarian nail polish is available in both mini & full size bottles at Topshop US and UK stores and online at Topshop.com though unfortunately they don't ship nail polish outside the UK. Topshop nail polishes retail for $10/ea and Utilitarian is available in a set of three minis with Silver Bullet and Gypsy Night for $24/set.
Have you tried Topshop polishes? What do you think of the formula and color range? Thoughts on Utilitarian? Have you visited the Topshop in NYC?
Disclosure: A product sample was provided by a representative for Topshop. For more info view my Disclosure Policy.