Topshop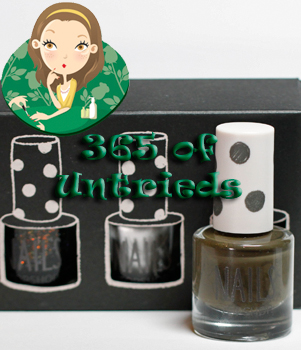 365 of Untrieds is my personal challenge to weed through the polishes in the ALU stash that I've been wanting to try but just haven't gotten around to.
I will openly admit that I was not part of the cool fashion crowd who squealed with joy over the news of Topshop opening in NYC. I remember seeing tons of tweets in the months leading up to the store's opening and had no clue what the frenzy was about.
I still haven't been to Topshop in NYC so I still don't get the hype but when I heard they were launching a makeup line that included nail polish I was intrigued. Seeing UK nail goddess Sophy Robson give the line her stamp of approval made the appeal even greater.
I was fortunate to receive a couple sets of mini polishes to test out and being a lover of both green and what I call "pretty/fugly" shades, Utilitarian seemed like the perfect place to start with the line.