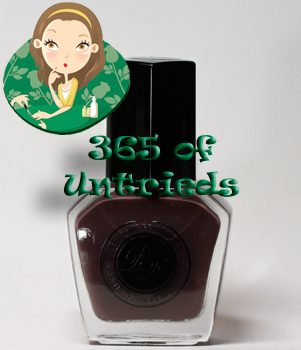 365 of Untrieds is my personal challenge to weed through the polishes in the ALU stash that I've been wanting to try but just haven't gotten around to.
One of the things I'm loving about this 365 series is that I'm getting to try new brands that I haven't previously covered. Those of you who utilize the Labels tab (on the right) to access past posts, know that you can find every brand I've ever reviewed there. In the past 6+ weeks I've added quite a few new names to that list (Eyeko, Essence, Confetti, etc) and good, bad or indifferent it's been fun exploring new-to-me nail territories.
Today I continue that exploration with The Perfect Color nail polish from Perfect Formula. I first heard about the niche brand, that retails online via their website and QVC, last fall when they launched a seasonal collection with some very "me" colors like taupe, grey and teal. I chose to rock the first of those shades, Cubist, for today's post.

Formula & Application: The Perfect Color nail polishes are 4-Free (including formaldehyde resin). The bottles are topped with a square plastic cap that, while smooth to the touch, can make opening a tightly closed bottle uncomfortable due to the hard edges. The flat brush isn't as thin as a typical round brush but it isn't anywhere near the width of the OPI Pro-Wide. The bristles are firm but they have enough give to avoid streaking.
Now a name like "The Perfect Color" from a brand called "Perfect Formula" lends itself to high expectations. The packaging claims that the "Instant Strength Technology" will provide immediate strength and thickness to the nail. That's a lot to try and deliver on. In terms of application the polish glides on the nail nice and smooth. I'd say it falls somewhere between the squishy, watery texture of Essie and the buttery smooth RBL cremes. My experience was that it's not "perfectly pigmented" as promised. Instead I ended up needing three coats.

Perfect Color Cubist is one of those murky, grey, taupe, brown concoctions that have dominated the market. Though unlike a lot of the ones we've seen, this one is a lot darker. In fact, in looking for similar colors I came up short. A shade like OPI YDKJ looks full on grey next to Cubist and Models Own Purple Grey looks pale. In terms of depth of color, RBL Recherche is the only shade in this range that came close to being as dark though the RBL is much more plummy in its base whereas Cubist has a warm brown feel.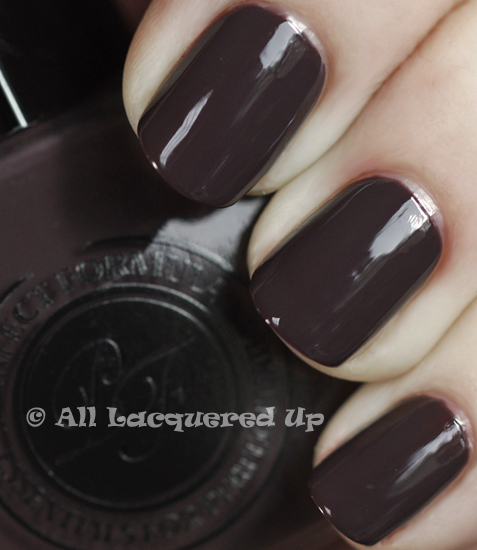 Bottom Line: The formula may not be "perfect' but it's pretty darn good. The pigmentation is it's only drawback though three coats isn't exactly unheard of these days. I really like how this shade keeps its funky taupe integrity while balancing the line between dark and blackened.
365 of Untrieds Stash/Share Verdict: I'm really feeling this one so I"m STASHing it.
Perfect Color Cubist can be purchased online at PerfectFormulas.com and QVC.com. Perfect Color nail polishes retail for $15/ea for a .57oz bottle.
Have you seen Perfect Color on QVC before? Have you taken the plunge and ordered it? Thoughts on Cubist?
I've decided to conduct a wear test on Cubist to see how this "perfect formula" holds up. I'll be posting another Perfect Color shade in the next couple weeks and will include the results.
Disclosure: A product sample was provided by a representative for Perfect Formula. For more info view my Disclosure Policy.