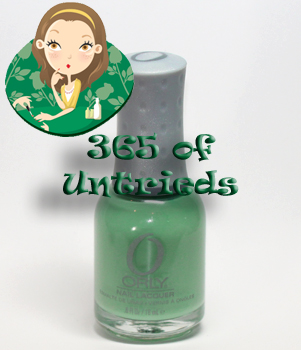 365 of Untrieds is my personal challenge to weed through the polishes in the ALU stash that I've been wanting to try but just haven't gotten around to.
Color-blocking was all over the Spring 2011 runways but being that my own personal style doesn't really mesh with color-blocking, I translated the trend to nails. As much as I love how bright colors look on others, I tend to stick to neutrals when it comes to my own wardrobe. My nails are my color statement.
Inspired by a dress I saw while online window shopping on Nordstrom.com, I incorporated Orly Ancient Jade from the Precious Spring 2011 Collection to create a color-block manicure.

Formula & Application: Orly nail polish is 4-Free (including formaldehyde resin) and does not contain camphor, which can be an irritant. Orly polishes come with the fan fave rubberized cap. That signature easy-to-grip topper makes it easy to control the polish. The brush is long and thin with flexible bristles. I personally would like it if there were more bristles to get more coverage in each stroke.
I clearly have not been wearing enough Orly polish lately because their formula continues to amaze me, as if it's the first time I've ever used it. I raved over Royal Navy's application and Ancient Jade was just as fantastic. Thin, easy to manipulate, well pigmented. For a color so light, two coats were more than sufficient. In fact to avoid my color-block manicure from getting too thick (which it did) I should have used one coat. I totally could have gotten away with it if I wasn't photographing the color on its own for this post.

Orly Ancient Jade is a mint green creme but as the name indicates, it's not a pastel. It's rich, like the jade stone it was named after, and along the lines of Chanel Jade. In fact, if it had the same Chanel subtle shimmer, they could be close relatives.
In the past couple years Orly has released polishes in this color group but in comparison Gumdrop is lighter and more blue based, while Mint Mojito is much darker, almost a spring green. The closest I could come to finding a similar color is Models Own Jade Stone which is Ancient Jade's slightly paler sister. I had hoped, based on the bottle color, that this was a MAC Peppermint Patti dupe but no such luck.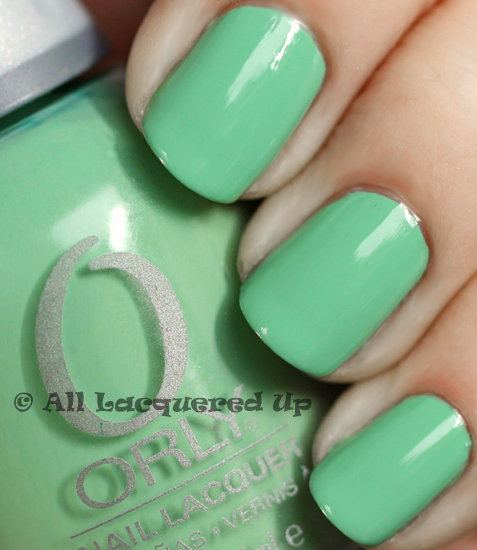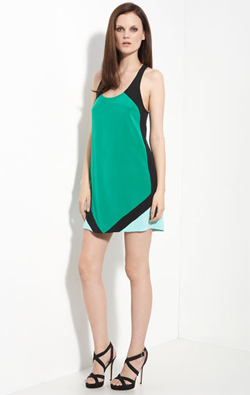 Using this dress from Jay Godfrey as my inspiration, I added CND Blackjack and Sinful Rise and Shine to Ancient Jade to create my color-block nails.

Normally I would not attempt such a manicure. Nail art is not in my skill set and a lot of the nail art I see is too much for my personal taste. But thanks to readers who pointed me in the direction of Chloe's Nails and her amazing scotch tape manicures, my first attempt at color-blocking came out pretty decent.

Check out this tutorial for Chloe's tips on working with scotch tape to create clean lines. I chose to not apply top coat between each layer to keep my manicure from getting too thick so I waited for at least 20 minutes before applying the next color.

Application Tip: If you apply the tape too early, as long as it doesn't pull of any color during removal, any surface marks from the tape will be erased with top coat.  I found that out when applying Rise and Shine. I totally marked up Blackjack and you can't even tell.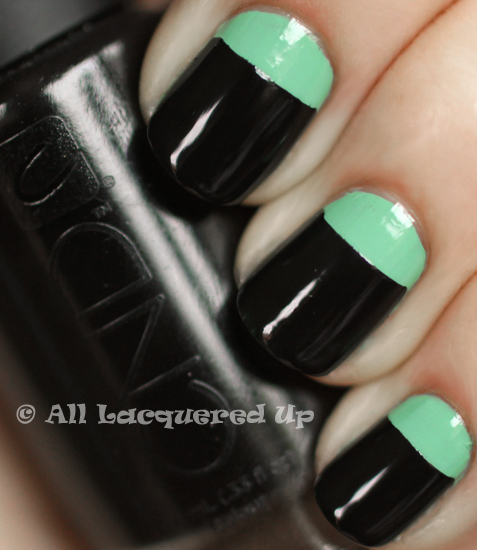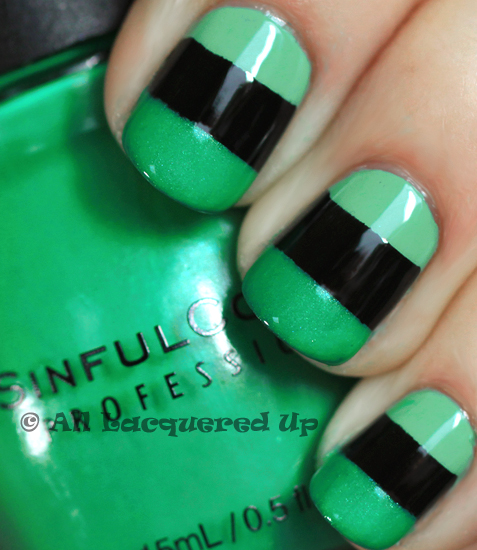 Bottom Line: The jade/mint trend may not be the thing anymore but a great green can always suck me in. Ancient Jade's formula is top notch and the pigmentation is strong with this one. If you're into this type of color, you will not be let down.
365 of Untrieds Stash/Share Verdict: STASH!! In fact, I may be dumping other polishes from my collection in favor of this one. It's that good!
Orly Ancient Jade is available now at Sally Beauty Supply and ULTA stores though availability will vary by store. Online shoppers can head to OrlyBeauty.com and Head2ToeBeauty.com. Orly nail polishes retail for $7.50/ea for a .6oz bottle.
Thoughts on Ancient Jade? How did my color-block nails turn out? Is this something you would attempt? Have you done a scotch tape manicure before?
Disclosure: A product sample was provided by Orly. For more info view my Disclosure Policy.