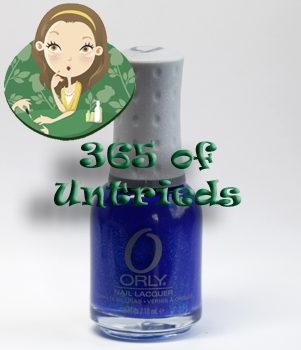 365 of Untrieds is my personal challenge to weed through the polishes in the ALU stash that I've been wanting to try but just haven't gotten around to.
They say it takes 28 days to create a habit, or break one. Today is Day 28 of my untrieds challenge and one of the reasons I started this project was to get over what I'm calling a "blogpression." It's not that I didn't love polish anymore or talking about it.  It's just that after four years I was feeling very mixed about blogging.
As much as I love all of you for reading, commenting, emailing, etc I was putting so much pressure on myself.  Wanting to fulfill every request and please everyone all the time made me avoid blogging.  I wanted to swatch and compare every polish that came out to every other polish that ever existed.  It's simply not possible.
So thank you for the endless support and encouragement.  I'm happy that you enjoy the 365 of Untrieds as much as I do.  It's made me enjoy blogging more than I have in a long time.  Now let's move on with Orly Royal Navy.

Formula & Application: Orly nail polish is 4-Free (including formaldehyde resin) and does not contain camphor, which can be an irritant. Orly polishes come with the fan fave rubberized cap. That signature easy-to-grip topper makes it easy to control the polish. The brush is long and thin with flexible bristles. I personally would like it if there were more bristles to get more coverage in each stroke.
Royal Navy was such a pleasure to apply I was actually a bit giddy as it glided on the nail. The formula has a semi-sheer jelly look to it but it flows on the nail like a smooth-as-butter creme rather than a squishy jelly.  Due to its semi-sheer nature I used three coats and even though the picture shows VNL (visible nail line) it's MUCH less apparent in person.

Orly Royal Navy is a an electrified royal blue jelly packed with turquoise micro-glitter.  This color launched last summer as part of the patriotic themed In The Navy collection and this color clearly stole the show.  It's so amazingly vibrant in person that I can't stop staring at it.  Pictures can not do this one justice.  It's rich and bold but not in-your-face bright.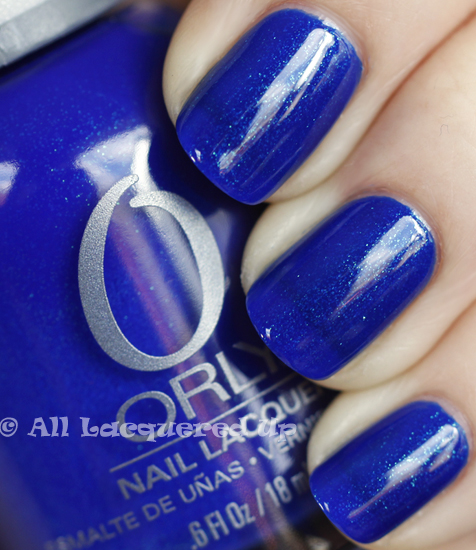 Bottom Line: Without a doubt Royal Navy is going on my all-time favorite blues list. It's stunning and a "must-have" for any blue polish lover. I'm smitten and don't want to take it off. You will have serious nail polish regret if you let this one pass by.
365 of Untrieds Stash/Share Verdict: As if you couldn't guess… STASH STASH STASH
Orly Royal Navy is available online at SallyBeauty.com and TransDesign.com. Check your local Sally Beauty or UTLA for availability.  Orly nail polishes retail for $6/ea for a .6oz bottle.
How many of you have Royal Navy?  Are you as in love with it as I am?  Come on, back me up!  If you don't own it, do you plan to hunt down a bottle?
Disclosure: I purchased this nail polish. For more info view my Disclosure Policy.