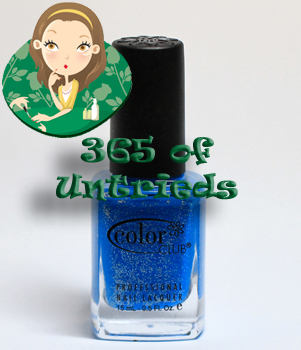 365 of Untrieds is my personal challenge to weed through the polishes in the ALU stash that I've been wanting to try but just haven't gotten around to.Last night I watched the Hellcats

season

series finale and got a bit misty after hearing of its cancellation. DAMN YOU CW!! They usually give shows a chance if they ran all season long so, needless to say, I was a wee bit pissed over the news. I know it's only a show but I really liked it. I hope to see the leads pop up on some new shows next season.

Today in support of the Lancer Hellcats, who wear bright blue cheer-leading uniforms, I broke out an in-your-face neon blue; Color Club Otherworldly from the Starry Temptress Collection for Summer 2011. For the past few years Color Club has cranked out some major neons for summer, with little tweaks to set each collection apart. The Starry Temptress polishes all pack a glittery wallop.

Formula & Application: Color Club nail polishes are 4-Free (including formaldehyde resin). The weighty square bottles are topped with a smooth round cap that feels solid, like it's made out of metal, in the hand. The thin, round brush has long bristles that have a bit of tension to them but it doesn't interfere with application.
The consistency of this polish is somewhat thick. Not unusable thick but because it is so packed with neon pigment, the formula isn't what I would call thin. This means it doesn't level out easily but you get great coverage in two coats. Also, because this is a neon, the polish dries with a matte/satin finish so you definitely need a good high shine top coat. And to mask the texture of the glitter, you may need two coats of top coat.

Color Club Otherworldly is, as I mentioned above, a glittery neon nail polish. It's one big, bold blue packed with square silver micro-glitter. I would say it's somewhere between a true color wheel blue and cyan. In fact I have Barry M Cobalt Blue and Cyan Blue and Otherworldly falls right smack dab between the two.
You may remember the neon blue, China Glaze Blue Sparrow, from the Ink collection a few years back. This reminds me of it only it's quite a bit lighter and brighter. The glitter in this one is unique in that appears to sit on top of the polish like little sugar crystals. A few seasons back CND created nails at NYFW for Malandrino that had sugar and coffee grounds sprinkled on top and the finish of the polishes in this collection remind me of that.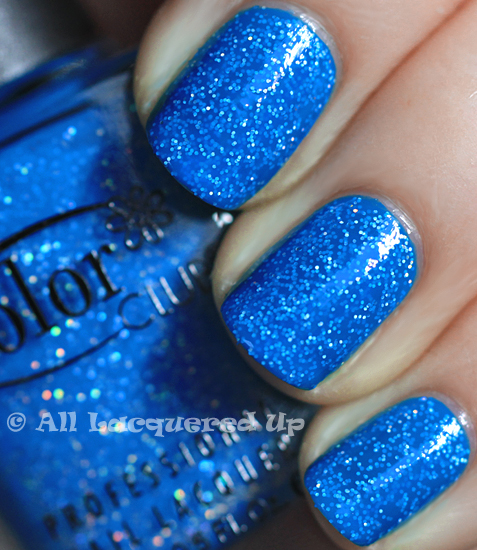 Bottom Line: Normally neons are so eye searing that they turn me off a bit. Neon pink, orange and yellow aren't usually my thing. But a bright blue like Otherworldly is just my speed. It's a neon that doesn't hurt my eye's feelings and the unusual way the glitter looks on the surface makes it a standout. A pedicure with this color would be a great way for the color shy to break the ice with neons.
365 of Untrieds Stash/Share Verdict: Oh I'm definitely STASHing it. No doubt!
Color Club Otherworldly is available now as part of the Starry Temptress collection for Summer 2011. To find a retailer near you, visit CosmeticGroup.com. In the Cleveland area visit the Bed, Bath & Beyond stores with expanded beauty sections like the one on Harvard. Online shoppers head to Head2ToeBeauty.com and TransDesign.com. Color Club nail polishes retail for $3/ea for a .5oz bottle.
Thoughts on Otherworldly? If you aren't a neon person, like me, does this color tempt you? What do you think of the glitter in this one? What are your favorite Color Club colors?
Disclosure: A product sample was provided by Color Club. For more info view my Disclosure Policy.