Sinful Colors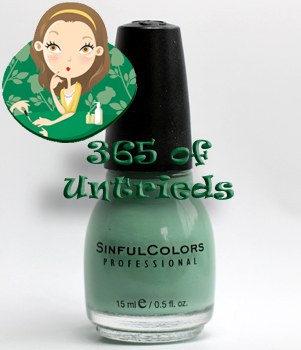 365 of Untrieds is my personal challenge to weed through the polishes in the ALU stash that I've been wanting to try but just haven't gotten around to.
Even though I tend to be pretty much a salon brand kind of girl I do have certain drugstore lines that I consider quality buys. Sally Hansen is a given, Milani puts out some great colors and is regularly on sale and Sinful Colors makes the best budget nail polish I've tried. Though it's always on the bottom shelf of the fragrance counter at my local Walgreens which really does a disservice the brand.
Of course my Rite-Aid knows Sinful's value as they always place Sinful's seasonal collections in a prominent spot. As was the case last week when I stopped in to see what was new.
Side note: The Rite-Aid closest to me has the best seasonal displays of any drugstore chain in the area. It's a gold mine. The Sally Hansen Tracy Reese & Prabal Gurung collections? Both there, in full!
Anyway, on my last visit I noticed a display that looked eerily like the OPI Pirates of the Caribbean: On Stranger Tides collection so I had to investigate by bringing Sinful Colors Open Seas home with me.