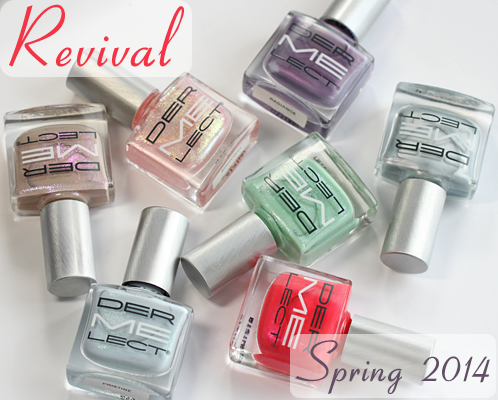 The latest collection from the Dermelect ME nail polish line, Revival, is about more than just the renewal of spring. It also marks the first shimmers and metallics from the creme-based brand. Celebrity Manicurist and Dermelect Color Curator, Elle, created six new full-coverage shades and one transformative flecked top coat.


Formula & Application
Dermelect ME nail polish is 5-Free and is the first peptide-infused nail color. It includes UV protection to prevent fading and discoloration. The square glass bottles with their brushed metal caps remind me of the RBL bottles. The brush is short, round and medium in width with flexible bristles that fan out easily on the nail without causing any dragging.
The four shimmery cremes are all kind of odd in that they are thick yet easy to spread and self-leveling. They are pigmented yet require a good three coats to get full coverage. The two metallic shimmers, on the other hand, are pretty sheer with the silver having brush stroke issues. I needed a minimum of four coats with Radiance and three with Luminous.

Dermelect Au Courant is a minty green with silver and pale green flecks. It's a bit lighter and more shimmery than the famous Chanel Jade.
Dermelect Luminous is a soft silver metallic. Like I mentioned above, brush stroke marks are an issue. Yes, you can sponge a layer over the dried polish to avoid that but this one takes a while to dry. Even an hour later, I ended up with dents.
Dermelect Mellow Drama is a punchy, pink-leaning coral with hot pink shimmer. It dries a bit matte as though it has a bit of neon pigment to it and even with one layer of top coat, it's not completely glossy. Something about the finish and shade reminds me of a retro coral lipstick.
Dermelect Naturale is a sandy beige with a duochrome shimmer that looks pink or purple, depending on the angle. It can also blend into the background as see in this shot.
Dermelect Pristine is a sandwashed blue with pale green shimmer. It's reminiscent of one of my fave polishes, China Glaze Sea Spray, only with more a more apparent and unique shimmer.
Dermelect Radiance is a cool, mid-tone orchid that is warmed up some by the fine pink pearl. This is the most sheer polish of the collection and what you see here is four coats.
Dermelect Spotlight is a pink-based glitter top coat that reads as peach, thanks to the golden iridescent shimmer. Dermelect describes it as a hologram but it's clearly not. I've layered it over all the shades, except Luminous.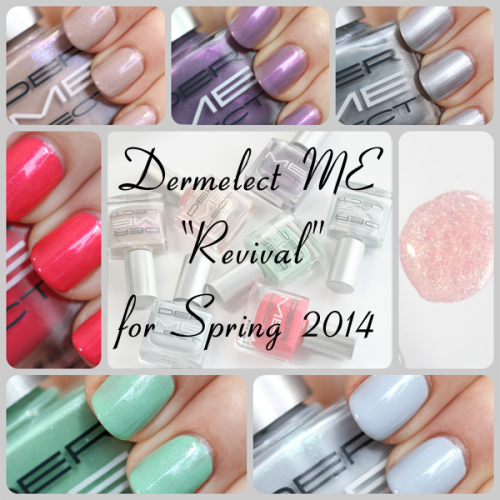 Bottom Line: Overall, I like the concept and color palette of the collection. I know that Au Courant, Mellow Drama and Pristine will find permanent homes in my collection. I just love the unique shimmer in them. Naturale, while pretty, isn't flattering on me and the application and opacity issues with the two metallics earn them a pass from me. While I have a lot of iridescent glitters in the same vein as Spotlight, none have its pink tint to slightly alter the base color.
Dermelect ME Revival for Spring 2014 is available in March 2014 at ULTA stores nationwide and online at ULTA.com, Dermelect.com and Amazon.com
. Dermelect ME Nail Lacquer retails for $12-14/ea for a .4oz bottle
Are you feeling the Revival collection? Have you tried Dermelect polish before? Which shades do you plan to pick up?
Disclosure: Product samples were provided by reps for Dermelect. Affiliate links appear in this post. When you purchase through an affiliate link, you help support this site. For more info view my
Disclosure Policy
.