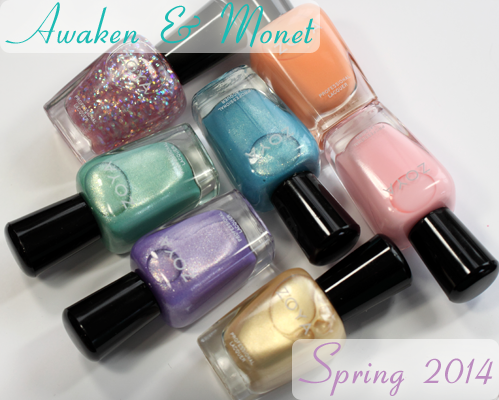 Just as hotly anticipated as the Zoya Magical PixieDusts, Zoya Awaken and new glitter topper Monet bring sparkling power pastels, dreamy creams and a glowing metallic to the spring color table. I'm all about Zoya's sparkling, flecked finish so I couldn't wait to play with these new Water Lilies-esque shades.


Formula & Application
Zoya nail polish is 5-Free (free of Formaldehyde, Toluene, DBP, Formaldehyde Resin & Camphor). Their signature Italian glass bottles have a tapered, shiny black plastic cap that rests comfortably between the thumb and index finger while polishing. The brush is short, round and medium in girth with flexible bristles that allow for ease of control.
Because there is such a variance in finish and consistency among the different finishes, I will address application individually below.

Zoya Brooklyn is a pale, buttery gold with a pearl finish. It applies pretty patchy and has brush stroke issues but with enough finesse, and three coats, you can get a relatively smooth result.
Zoya Cole is a peachy creme. It's not quite as ripe and bold as NARS Wind Dancer, nor is it as deep and pink-y as Essie Resort Fling. Note: It has major application issues. We're talking sheer and streaky and needing 3-4 coats.
Zoya Dillon is a spearmint green metallic with silvery and golden shimmer. I know some people mentioned it reminding them of Zoya Zuza (a personal fave of mine) but this shade is much lighter and not nearly as turquoise. The finish is their only similarity. It applies smooth and even with decent pigmentation. I used three coats but you might get away with two.
Zoya Dot is a mellow baby pink creme with cool undertones. It wasn't nearly as patchy as Cole and with three thin coats, I achieved a nice, even coverage.
Zoya Hudson is a cool orchid metallic with what appears to be pink, silver and gold shimmers. Think of this as the cool version of Zoya Stevie (minus the texture) as its nowhere near as warm but has the same saturation level. Like, Dillon, it delivers full, even coverage in three coats.
Zoya Rebel is a cool, Caribbean blue metallic with silver and gold shimmer. The gold stands out more in the bottle than on the nail. Whereas Zoya Skylar is a faded denim, Rebel is punchy and vibrant in comparison. Again, I felt three coats were necessary. Mainly because the camera can pick up VNL (visible nail lines) easier than the naked eye. YMMV.
Zoya Monet is a holographic, glitter topper. Though unlike other holo glitters that are all silver, these come in a rainbow of hues. Its tinted pink base is VERY thick, to evenly suspend the glitter particles, which makes applying Monet a challenge. One coat doesn't really deposit that many pieces of glitter but additional coats make for a super thick layering combo. I applied one coat over Dot using my Dab, Dip, Glide method.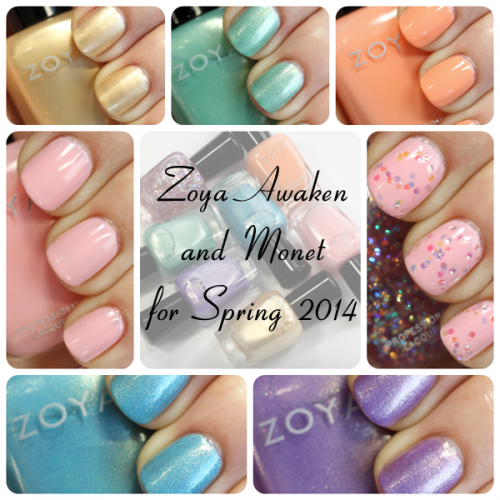 Bottom Line: I'm completely smitten with the three sparkling metallics in this collection. Purple, blue and green. I mean, hello, it's like they were MADE for me. I like to think of this finish as an elevated version of the subtle crystal sparkle I love in Essie polishes. So for me, all three are winners. The formula issues that plague Brooklyn, Cole and Dot earn them a pass and Monet is just too thick to achieve the desired effect.
Zoya Awaken and Monet are available now at salons nationwide including ULTA stores and online at Zoya.com and Amazon.com
. Zoya Awaken shades retail for $9/ea while Monet retails for $10/ea.
So, how are we feeling about Awaken and Monet? Do you plan to pick any of these up? What color would you wear Monet over?
Disclosure: Product samples were provided by reps for Zoya. Affiliate links appear in this post. When you purchase through an affiliate link, you help support this site. For more info view my
Disclosure Policy
.