The Zoya Fairies are at it again. They've worked their magic to bring us six new bright, summery shades of PixieDust to sprinkle on our nails.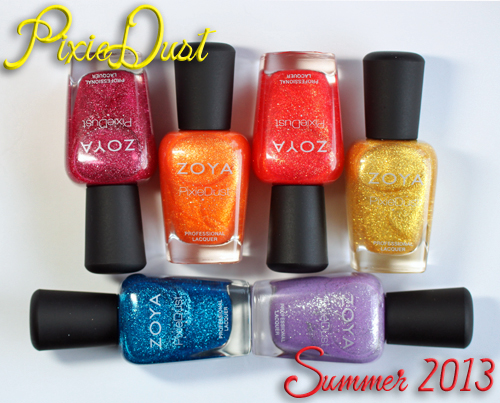 This time they've included new metallic versions of the sweet, sugary texture including an exclusive gold pigment that you can only get in PixieDust. As if that isn't enough, my friends at Zoya are offering a fabulous giveaway just for ALU readers. Let's take a look…

Formula & Application: Zoya PixieDust nail polish is 5-Free (free of DBP, Toluene, Formaldehyde, Formaldehyde Resin and Camphor). Their signature Italian glass bottles have a tapered, matte black cap that rests comfortably between the thumb and index finger while polishing. The brush is short, round and medium in girth with flexible bristles that allow for ease of control.
The Zoya PixieDust formula is smooth and easy to control in spite of the glitter in the base. The base colors are all sheer and jelly-ish but build-able. I used two coats with all these shades and while you can see a bit of my free edge in the pics below, it isn't noticeable to the naked eye.
Because these are polishes designed to be worn matte, you should not apply top coat. To achieve the perfect sugar crystal finish, Zoya says, "apply 1-3 (for full coverage) thin coats of polish. Allow product to dry completely for full effect. Do not use a base coat or top coat."
Personally, I used a 2 to 1 mix of Elmer's glue & water as a base coat to make removal easier but, on their own, they wear really well. I know some have commented that PixieDust removes easier than traditional glitter. While that is true compared to chunkier glitters, I find that it's still a bit rough without a glue base.

Zoya Beatrix is a tangerine metallic that includes gold glitter to give it a sun-kissed look. It reminds me of sugared orange slices which makes me want to raid a candy store! If only Mr. Bulky (a bulk candy chain) still existed.
Zoya Destiny is an intense coral with gold metallic glitter. It leans way more red than a traditional coral so I'd say it leans towards a burnt or sun-baked coral. Destiny is the first textured shade I've worn that has a dupe. OPI Jinx from the Bond Girls collection is a close, close match. Close enough that you don't need both.
Zoya Liberty is an electric cyan in the original (ie non-metallic) PixieDust formula. If Wonder Woman were to wear textured polish, I would imagine her in this. It has a very Americana feel that would make for an excellent 4th of July manicure. Word of caution: Liberty stains something fierce so beware of smurf fingers.
Zoya Miranda is a saturated rose shade in the original PixieDust finish. I only know who Miranda Lambert is because of The Voice (I love Blake Shelton), but she seems to be into wearing fun nail color so I totally picture her as the inspiration behind the name of this shade. They're both spunky yet feminine.
Zoya Solange contains a gold metallic pigment, exclusive to Zoya. It's very yellow brick road. I mean seriously, doesn't it look like I was panning for gold, like a forty-niner in California, and mixed my jackpot in nail polish?
Zoya Stevie is a pink-based purple that falls somewhere between amethyst and lavender. It is in the original PixieDust formula is packed with silver glitter that sets it apart from Miranda and Liberty. While those shades have tonal glitter, Stevie is the lone ranger with silver in its mix.

Giveaway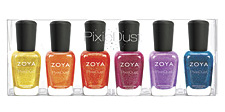 Now that you have checked out my Zoya PixieDust™ swatches… Here's your chance to win a set of your own. Zoya Nail Polish has given me an exclusive opportunity to give-a-way five Zoya PixieDust™ samplers. GIVE-A-WAY VALUE: Zoya PixieDust™ Nail Polish – Summer Collection (US). $54 (US) plus shipping. Available on Zoya.com
HERE'S HOW… Simply follow @AllLacqueredUp and @ZoyaNailPolish on Twitter and Tweet this…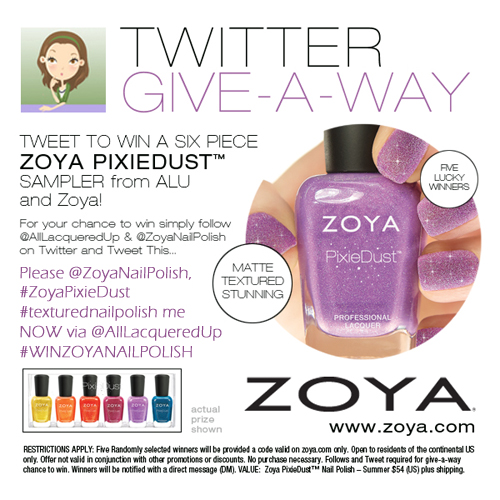 Please @ZoyaNailPolish, #ZoyaPixieDust #texturednailpolish me NOW via @AllLacqueredUp #WINZOYANAILPOLISH http://bit.ly/117iyvK [Tweet This]

RESTRICTIONS APPLY: Five randomly selected winners will be provided a code valid on zoya.com only. Open to residents of the continental US only. Offer not valid in conjunction with other promotions or discounts. No purchase necessary. Follows and Tweet required for give-a-way chance to win. One tweet per Twitter account. Winners will be notified with a direct message (DM).
Giveaway ends Friday, April 19th, 2013 at midnight EST.

Bottom Line: Of the textured polishes I've tried so far (four different brands) Zoya, is my hands down favorite. The color range and chic, subtle sparkle make this the most approachable of the textured lines I've seen thus far. Even if you abhor the idea of your nails feeling gritty, you might fall in love with these shades enough to get over it. If not, add a top coat and enjoy the encapsulated bling. I guess you could say that, thanks to Zoya, I'm officially on the textured nail train.
The Zoya PixieDust Summer 2013 nail polishes are available now on Zoya.com and at salons and spas nationwide, including ULTA. The lacquers retail for $9/ea for a .5oz bottle. ps the "sampler" includes full size bottles even though the name suggests otherwise.
What do you think of these new summer shades? Which one is your favorite? If you were anti-texture, have you come around to the idea? Has anyone worn texture on their toes? I'm curious how it feels in socks. Does lint get stuck to it?
Disclosure: Product samples were provided by Zoya. Affiliate links may appear via a third party link service. For more info view my Disclosure Policy.