If you look back on the '80s with great nostalgia, as I do, you should have your DVRs set for the National Geographic mini-series The '80s: The Decade That Made Us starting this Sunday, April 14th. Bonus: it's narrated by my number one celeb crush, Rob Lowe. Though I'm still waiting for a "The '80s" movie like the ones NBC produced for The '60s and The '70s. IT'S TIME NBC!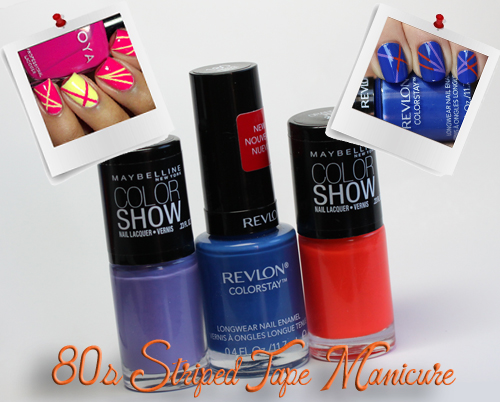 Affiliate Link|I Bought This|Press Sample
In anticipation of the mini-series, I've been on a non-stop 80s pop listening spree on Spotify and thought some fun '80s inspired nails would be perfect for my next PinspiratioNAIL challenge. I put my twist on a look I found on Pinterest using poppy brights from the Revlon ColorStay and Maybelline Color Show nail polish lines.

The Pinspiration: Something about the graphic lines and borderline neon colors Enamel Girl chose for this tape manicure felt very '80s, in a good way. The hot pink and yellow is so Deborah Foreman in Valley Girl.

When it came time to select my colors, I decided to go on a slightly different route than Enamel Girl. I was debating back and forth between blue & orange and purple & orange when I realized, I didn't have to choose. Why not use two colors, side-by-side for the base?
I used Maybelline Color Show Orange Fix and Iced Queen and since I would be polishing over them, accuracy didn't matter so, I just free-handed it. Iced Queen is a deep violet creme and Orange Fix is a bright nectarine creme. Orange Fix is more sheer than I anticipated, so you can still see my tips after two coats but, again, it doesn't matter since most of it will be covered.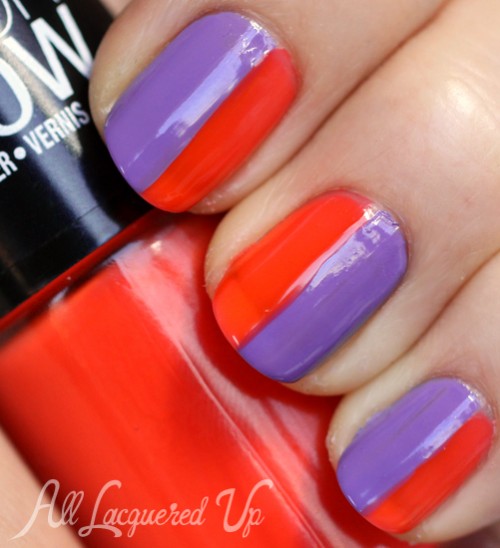 After the polish was completely dry, I used thin nail striping tape, which you can find at beauty supply stores or on Amazon.com, to create the graphic lines. In a pinch you can just cut blue painters tape or Scotch tape but striping tape is best for consistency.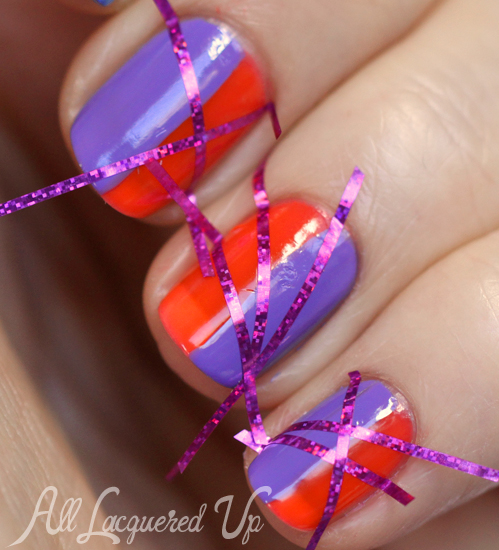 I applied a coat of Revlon ColorStay Longwear Nail Enamel in Indigo Night on top and then pulled up the tape with tweezers while it was still wet. I'm in a serious love affair with the ColorStay line and Indigo Night is so pigmented, you don't have to worry about  whether one coat is enough.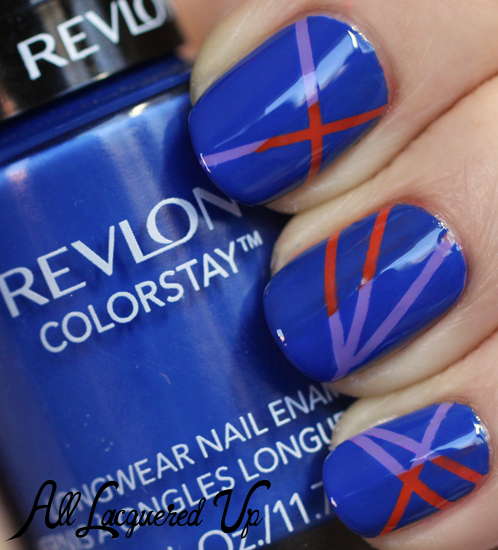 The look reminds me of the Max Headroom backdrop or when Kira and Sonny jump through the wall to talk to Zeus in Xanadu, with all the Tron-like neon lines. Can you picture it with me?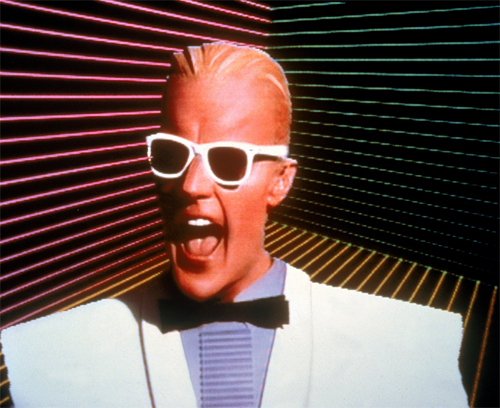 Revlon ColorStay Indigo Night and Maybelline Color Show Iced Queen and Orange Fix nail polishes are all core colors from their respective brands and available at drugstores and mass retailers nationwide. For more info, visit Revlon.com and Maybelline.com
Do you like my interpretation of Enamel Girl's look? Would you try this yourself? What colors would use for a distinctively '80s nail? Do you plan to tune in to The '80s on NatGeo?
Also, follow my PinspiratioNAIL board on Pinterest and leave a comment on the look you would like to see me try next.
Disclosure: I purchased Revlon Indigo Night. Product samples were provided by reps for Maybelline. Affiliate links may appear via a third party link service. For more info view my Disclosure Policy.