As Tom and Donna from Parks and Recreation say, Treat Yo' Self Day is the, "Best Day Of Year!" It's a day to splurge on the those things that are outside your normal budget; facials, designer handbags, totally impractical shoes, expensive meals, etc. Since that episode aired, every time I go to make an extravagant purchase and question whether I REALLY need it, I hear Tom in my head saying, "Michelle, treat yo' self!"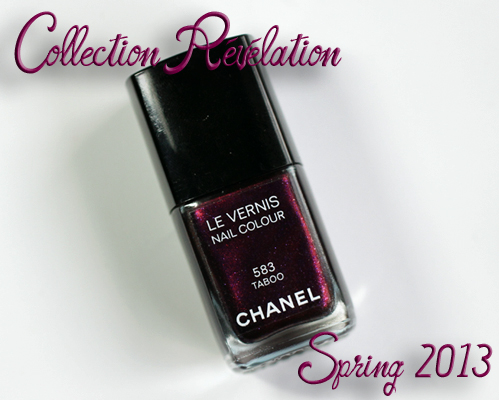 You see, I was raised a frugal barganista (thanks Mom!) so it takes a lot for something to be worth its full price tag. In this new series I'll be sharing the nail polishes and products that I are consider fitting of a Treat Yo' Self Day indulgence.
Even though I've been avoiding dark nail polishes this spring, I could not escape the mystical allure of Chanel Taboo.

Formula & Application: Chanel Taboo is 5-Free (free of DBP, Toluene, Formaldehyde, Formaldehyde Resin and Camphor). The signature square glass bottles are topped with a black square outer cap that is removed to reveal a stubby, round, ribbed inner cap. The brush is round, medium in length and width and reminds me of the old OPI/new SOPI brushes. It easily fans out and covers the nail without much resistance.
Taboo flows effortlessly on the nail. The consistency is thin and easy to manipulate yet it's extremely pigmented. I barely needed two coats for full coverage. Even though there are tiny micro-glitter particles in the polish, it dries glossy and smooth to the touch. Warning: Because it is so dark, it can stain your skin during removal, so apply a bit of cuticle oil around the nail to prevent.

Chanel Taboo is a unique color to describe. When you first apply it, you see this super saturated indigo shade at its base. Then the deep amethyst shimmer takes over and finally the tiny blue and reddish-bronze metallic flecks come into play. Combined it becomes a captivating work of alchemy. A shimmering eggplant with a reddish glow.
Naturally there are no dupes for Taboo in the Chanel family so I'm showing you its cousins for comparison sake. Chanel Strong, with its inky black base, looks more maroon/brown. Vendetta leans way more towards the blue side of purple. And Feu De Russie is much more similar to Strong with its brownish black base and maroon and gold flecks.
In my personal stash, the only colors that even came close to matching Taboo are NARS Purple Rain, which is too red and Givenchy Purple by Night, which has similar sparkle but looks murky in comparison.
The only way I could come close to Taboo was by layering them and even then it's not the same. And let's get real. Trying to dupe a Chanel by layering two shades that cost way more combined, is just ridiculous.

Bottom Line: Chanel Taboo is utterly unique and a must for Chanel fans and vampy polish lovers. Is it necessary to life? Obviously not and the price tag will keep most polish lovers at bay. But, if you're in need of a little retail therapy and having a Treat Yo' Self moment, you won't have buyers remorse if you pick up a bottle.

Chanel Taboo is available now at Chanel.com and Chanel counters nationwide including Nordstrom.com & Saks.com. Chanel nail polish retails for $27/ea for a .4oz bottle.
Thoughts on Taboo? Is this a splurge-worthy shade? When was the last time you had a Treat Yo' Self Day and what did you indulge in?
Disclosure: A product sample was provided by Chanel. Affiliate links may appear via a third party link service. For more info view my Disclosure Policy.