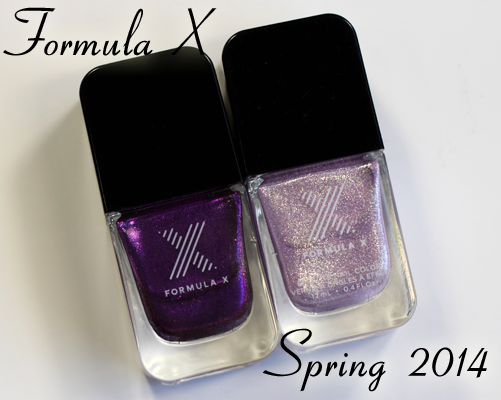 Formula X for Sephora officially replaced the beloved Sephora by OPI line last fall and, to be honest, every time I go in the store, I am so overwhelmed by the immensity of the line that I can never decide on a just a couple shades to try and leave empty handed. I think it's just too much all at once and my brain explodes looking at the display. You know what I mean?
Anyway, when I heard about the new Liquid Crystals collection, I just had to see them for myself. Inspired by stained glass, this Effects line is made from crushed micro-crystalline glass and light reflecting micas. And when I say that they glow, they GLOW. They've also added more textures to the Celestials line and I have one of those to show you as well.

Formula & Application
Formula X for Sephora is 3-Free (Formaldehyde, Toluene and DBP). The rounded, brick-like bottles have a futuristic look and feel. The shiny plastic outer cap pops off to reveal and ribbed, round inner cap for application purposes. The brush is long, thin and round with flexible bristles that capture a lot of polish and easily fan out to cover the nail.
Since both polishes have completely different finishes and textures, I'll address application and coverage individually below.

Formula X for Sephora Equinox is a warm red grape that is super pigmented and filled with so much crystallized sparkle that it's like there is a fire burning beneath the surface. It gives new meaning to "lit from within." What's unique is that while it has a glass-fleck style finish, it's pigmented so you don't have the opacity issues than can plague the genre. Essentially, it's the love child of glass-fleck and foil.
It's saturated enough to only need two, thin, silky coats yet it effortlessly floats the crystal flecks for even glitter disbursement.
Finish-wise Equinox reminds me of one of my all-time fave purples, The Painted Nail by Nubar Legendary Lavender. Though LL isn't as red or as pigmented. In terms of shade, Zoya Hope is in the same immediate family with Nubar Pasadena Purple as a distant cousin.
Formula X for Sephora Glitter Rocket is a lilac-hued glittery texture meshed with golden shimmer. It's very much in the PixieDust style of refined glitter and the golden shimmer, definitely stands out more in person when the light hits it than it appears here.
Because of the fine texture particles, I was able to apply relatively thin coats, which is always preferred over thick layers that can be lumpy and take longer to dry. While I could have gotten away with two coats, three gave me the coverage and level of sparkle I was looking for.
As you can see, Glitter Rocket is lighter and a bit more pink than other polishes in this shade range. China Glaze Tail Me Something has more blue to its base color while Zoya Stevie is darker with a silvery, not golden, shimmer.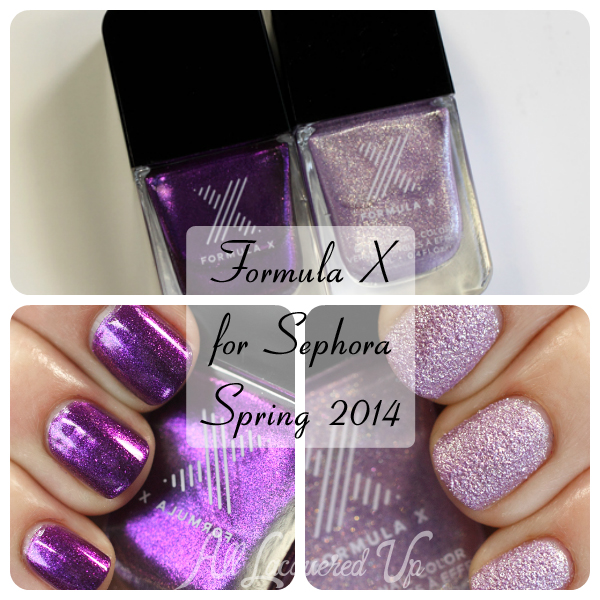 Bottom Line: The formula, pigmentation and finish of Equinox makes it such a joy to apply and wear that I need to get my hands on the rest of the Liquid Crystals colors, stat. Obviously I can't speak for all the shades but if they apply with the same coverage, I'm going to be in heaven. Granted, this finish isn't as revolutionary as Sephora would like you to believe but it's the pigmentation that really sets it apart. Warm pale purples like Glitter Rocket aren't my most flattering shade but I dig the golden shimmer and fine grit of the texture.
Formula X for Sephora is a Sephora exclusive, obvi, and the Liquid Crystals 14-shade collection and 5 new Celestials are available now at Sephora stores and online at Sephora.com. These two collections retail for $12.50/ea for a .4oz bottle.
Tell me I'm not alone. Are you as smitten with Equinox as I am? Have you tried some of the other Liquid Crystals shades? Tell me your faves and if you plan to add Equinox to your collection.
  Disclosure: Product samples were provided by reps for Sephora. Affiliate links appear in this post. When you purchase through an affiliate link, you help support this site. For more info view my
Disclosure Policy
.