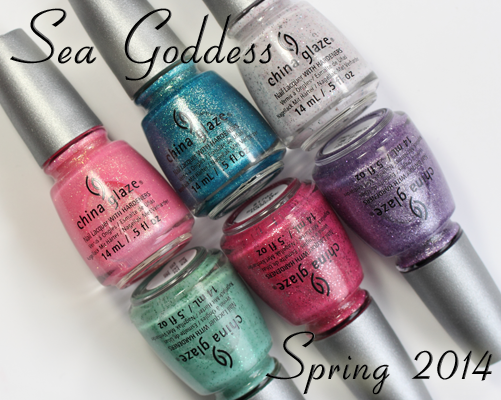 When it comes to textured nail polish, China Glaze certainly walks to the beat of its own drum. While other brands seem to be all, "the more glitter the merrier", China Glaze continues to test us with their unique take on the genre.  Following up the polarizing Crinkled Chrome collection, China Glaze Sea Goddess mixes the more expected sparkling textures with creamy creations in a range of whimsical, dream-like shades.

Formula & Application
China Glaze Sea Goddess polishes are at least 3-Free (Formaldehyde, Toluene, and DBP) but because my samples bottles don't include a label with ingredients, I can't comment on whether they include Camphor and Formaldehyde Resin. If you have allergies, check the label before purchasing.
The bottle contains a round brush that is both medium in length and firmness with enough give to allow for ease of control. The cap is slightly tapered and made of slightly textured silver plastic that is comfortable to hold.
The consistency of the polishes differs based on the finish. All four of the metallic sparkles are relatively smooth and glide easily on the nail though due to the high amount of textured particles, it does get a bit chunkier as you apply additional coats. The two creme based shades, on the other hand, are lumpy and challenging to work with.
With the four glitter shades, I only needed two coats while the creme shades required three.

China Glaze Sand Dolla Make You Holla has a creamy white base that looks to have the slightest hint of pink, mixed with tonal bead texture and multi-colored micro-glitter. It reminds me of Funfetti frosting with its odd matte finish. Don't even get me started on the name. Anything that references Honey Boo Boo makes my skin crawl.
China Glaze Seahorsin' Around it a highly metallic turquoise texture blended with fine gold shimmer. To borrow a phrase from China Glaze's description, it has a "mermaid tail" quality.
China Glaze Shell We Dance is a bright raspberry texture interspersed with bright pink glitter and slightly larger light pink glitters than can look somewhat silvery in the light. It's a lighter version of Sally Hansen Sugar Coat Pink Sprinkle.
China Glaze Tail Me Something contains a range of pale to medium toned purple glitters that results in a silvery lavender shade. Like Shell We Dance, it has some larger glitter pieces but they aren't so big that they become clunky or heavy on the nail. Compared to Zoya Stevie, TMS is cooler with a more metallic look.
China Glaze Teal The Tide Turns is a seafoam creme-based texture peppered with bright green round micro-glitter. The way this one dries down makes me think of fondant, just nowhere near as smooth.
China Glaze Wish On A Starfish is a soft pink sparkle texture with golden shimmer. If you have OPI Pussy Galore, this one is darker with gold, rather than silvery, shimmer.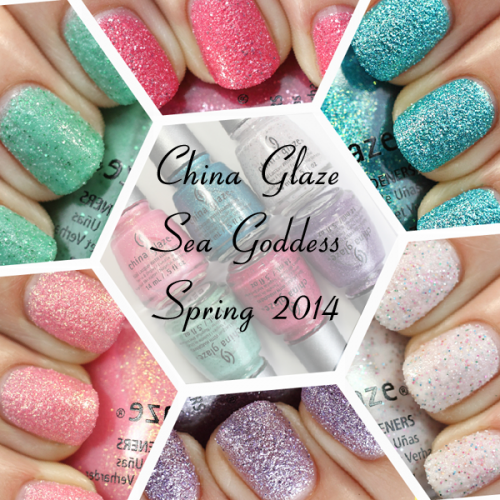 Bottom Line: The sparkling textures are all my style of texture. Eye catching and fine enough to not feel overwhelming on the nail. Seahorsin' Around is my fave of the bunch and Shell We Dance is a pink I can get behind.
I'm not gonna lie, the two cream based shades, well, I just don't get them. I'm not sure what China Glaze was going for here but it's not working for me. While I applaud them for thinking outside the box, not all experiments need to be mass marketed. Sometimes you have to go back to the drawing board and this was one of those times.
China Glaze Sea Goddess is available now at select retailers nationwide including Sally Beauty and ULTA stores and online at Head2ToeBeauty.com and SallyBeauty.com. China Glaze nail polish retails for $3.25-6.99/ea for a .5oz bottle.
Thoughts on Sea Goddess? What do you think of these creamy textures? Which shades do you plan to get?
Disclosure: Product samples were provided by reps for China Glaze. Affiliate links appear in this post. When you purchase through an affiliate link, you help support this site. For more info view my Disclosure Policy.