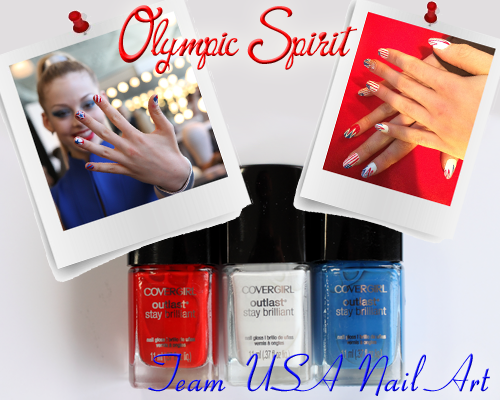 I don't know about you guys, but I've been an Olympics-watching junkie this past week. I've been taping the live day coverage and watching the night coverage as well. I can't get enough. And tonight is the start of my favorite event of the Winter Games, Ladies Figure Skating.
You may remember my interview with Olympian and COVERGIRL Gracie Gold where I showed you the nail art from her COVERGIRL photo shoot and the design she wore on the day of our chat. Well, to show my Team USA spirit, I've created a mash-up of both manicures to create one almighty Patriotic Nail Art explosion.


The Inspiration
I loved elements from both looks Gracie wore. The flags and stripes are a must and the explosive nature of the jagged peaks in the first photo really caught my eye. It's like modern fireworks. Even though I'm into the intricate star pattern on her middle finger, below, I know my nail art limits so I stayed with what I knew I could accomplish.

Step 1: I polished my nails with COVERGIRL Outlast Stay Brilliant Nail Gloss in Snow Storm, Ever Reddy and Out of the Blue.
NOTE: In the finished look below, I ended up redoing my pinkie with Ever Reddy on the bottom. It isn't opaque enough to cover Out of The Blue in one coat. I discovered this way after the fact and had to make a last minute swap out.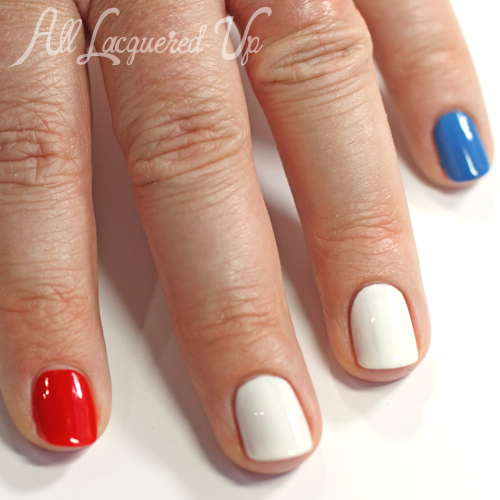 Step 2: Use a thin nail art brush dipped in Ever Reddy to create stripes for the flag. Apply Out of the Blue to the upper corner create the background for the stars. You could use a nail art brush or tape to create crisp lines but I just used the polish brush and a steady hand. Finally dip a dotting tool in Snow Storm for the stars.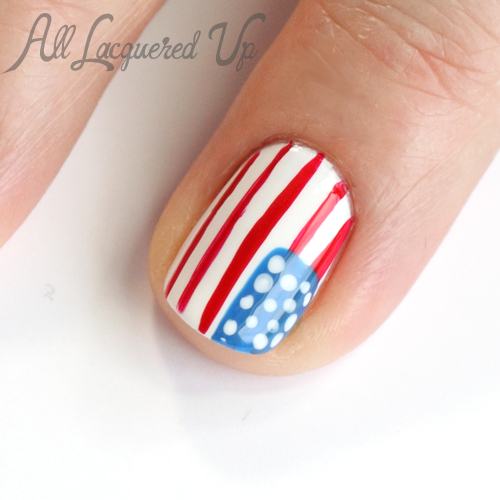 Step 3: Use a nail art brush dipped in Snow Storm to create long, thin triangles. The tip of my nail art brush is looking a bit jagged so I couldn't get the clean lines I was aiming for. Next, paint just inside the lines with Out of the Blue. I clearly need a new nail art brush as this turned out less than impressive.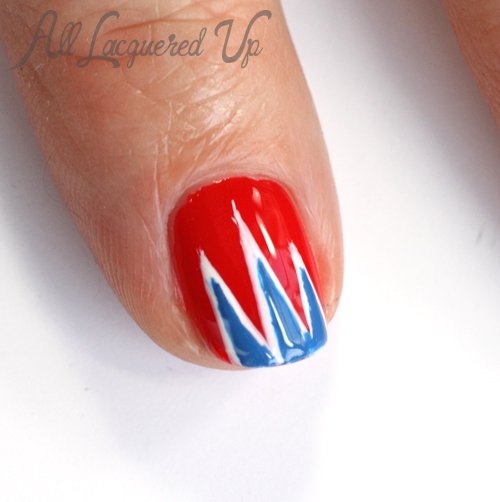 Step 4: Wait for your base color to completely dry. Then apply striping tape at an angle, polish over it with Out of the Blue and immediately pull up the tape with tweezers.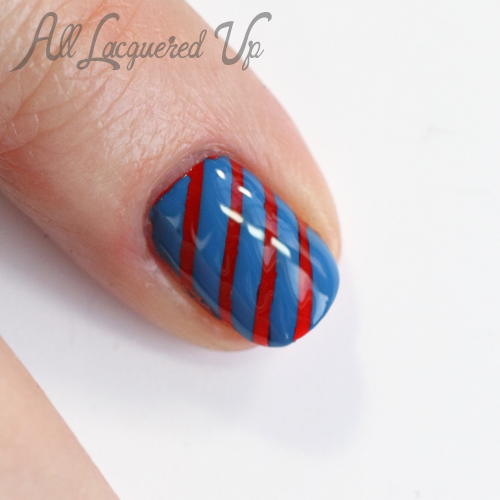 Step 5: Repeat the striping tape process using Out of the Blue over Snow Storm.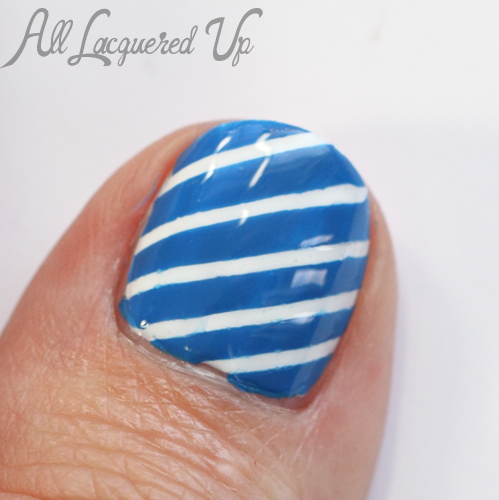 Step 6: Finally, one last striping tape nail with Ever Reddy over Snow Storm. I alternated the angle of the tape on each nail.
Tip: Wait 5-10 minutes before applying top coat to avoid smudging the designs. And when you do apply it, gently float a bead of top coat so that the bristles don't have a chance to wipe out your work.


Are you as into the Olympics as I am? Are you rocking some nail art in support of your home team? What do you think of my inspired design? Would you try any of these techniques yourself?
Oh and if you have a favorite nail art brush to recommend, I'm in the market.
COVERGIRL Outlast Stay Brilliant Nail Gloss is available at drugstores and mass retailers nationwide and online at Drugstore.com, Target.com, and Walgreens.com. COVERGIRL nail polish retails for $3.89-4.79/ea for a .37oz bottle.
Disclosure: Product samples were provided by reps for COVERGIRL. Affiliate links appear in this post. When you purchase through an affiliate link, you help support this site. For more info view my Disclosure Policy.