Back when I started college at the University of Cincinnati, I majored in Chemical Engineering because I excelled at math and chemistry but, like most teens, I had no clue what I actually wanted to do. Exploring my co-op options lead me to P&G because they kind of rule that town AND they make COVERGIRL. That's when I learned that cosmetic chemist was a real, viable career option. Alas, I transferred out of the enginerd program before my first co-op quarter but, I still dream of mixing nail polishes in their labs.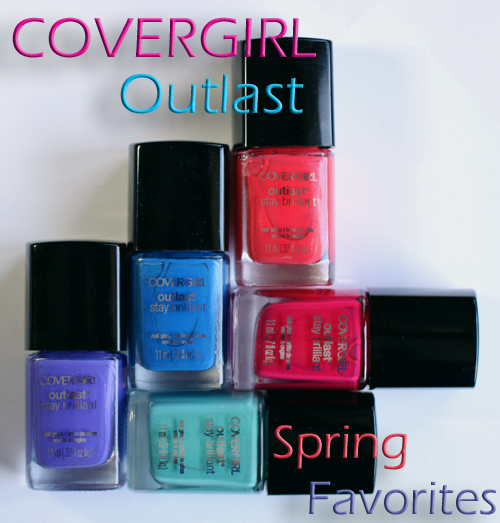 At the time, COVERGIRL nail polish was, quite frankly, crap. It, and other drugstore brands, were just not cutting it with me so I became somewhat of a nail polish snob. Sadly, those stigmas stick with me to this day.
So, to say I was skeptical when COVERGIRL relaunched their nail line, Outlast Stay Brilliant Nail Gloss, would be an understatement. Regardless, I gave the brand a second chance and selected 5 Spring-ready shades from the 45 core collection colors to share with you.

Formula & Application: COVERGIRL Outlast Nail Gloss is 5-Free (Formaldehyde, DBP, Toluene, Formaldehyde Resin & Camphor) and comes in a square bottle, similar in shape to the Chanel bottles. Like Chanel bottles, the outer black plastic cap is removable, revealing a ribbed, round cap. The brush is round, short and medium in width with flexible bristles that easily fan out.
The wizards in the P&G labs clearly took their time with this formula because it's outstanding. The consistency of the lacquer is smooth and flows like melted butter on the nail. It has a bit of squishy-ness in the texture yet it's SO  pigmented.  Like I'm seriously impressed and amazed with how easy it is to apply and how well it covers. We are talking two coats for every color I've tried so far.
My only gripe, if  you apply too much in one area, it doesn't self-level so use thin, precise coats. It's nothing a little top coat won't cure but this polish was created to be worn sans top coat. And I can attest that it dries nice and glossy on its own but, I can't help it, I always use top coat.

COVERGIRL Mint Mojito is more of a turquoise than a mint in my book. This is no wallflower pastel. We're talking vivid and Caribbean-worthy. Word of warning, this baby leaves a mark so have a nail stain remover at the ready. My fave, Orly Cutique.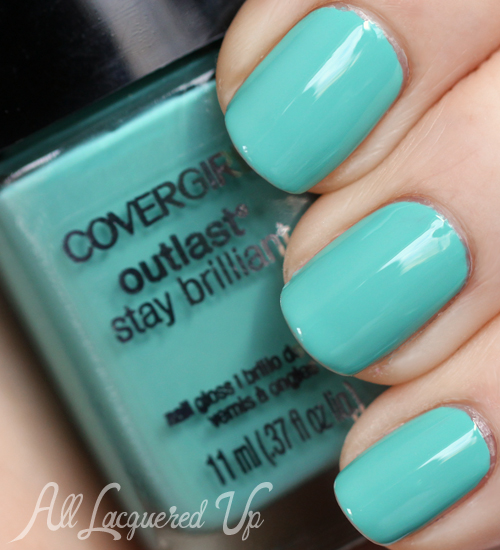 COVERGIRL My Papaya is a shimmer infused coral. The pink-leaning base and hot pink micro-shimmer, keep it from getting too warm or orange-y. I'm currently carrying it in my purse because I NEED a lipstick this shade for summer. It's exactly what I've been looking for. If anyone knows of a lippie this color, TELL ME!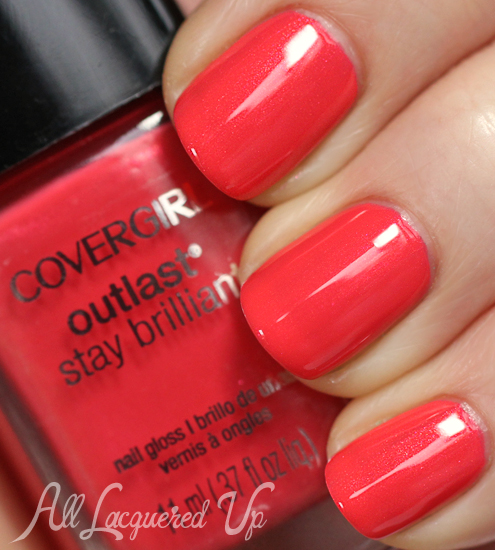 COVERGIRL Out of the Blue is a bright, true, blue creme. It's not quite royal, not quite sky, falling somewhere between Zoya Robyn and cobalt. Both the China Glaze and Essie spring collections have included this hue so clearly it's having a moment.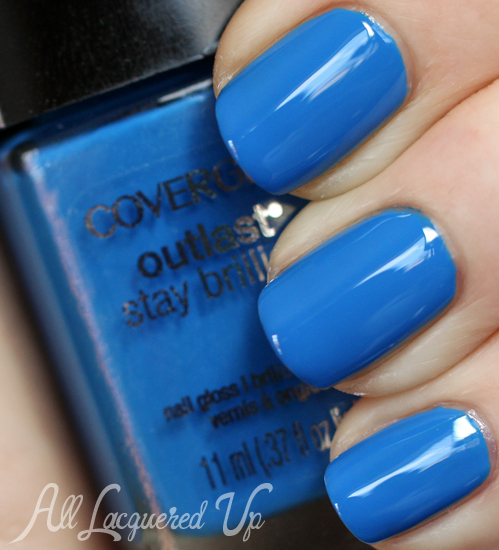 COVERGIRL Reliable Red is a lush, fuchsia creme. Since fuchsia is part of the red family, I'll let the name slide, (I know, so kind of me), but in my head it's a red-pink more than a pink-red.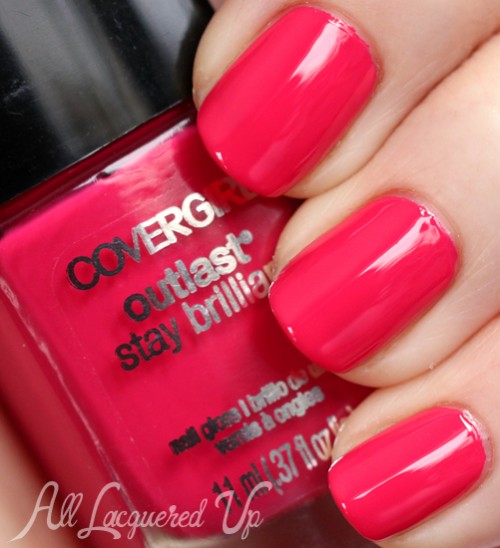 COVERGIRL Vio-Last is an electric violet creme. This shot was taken on one of the rare sunny days we've had in the CLE so it looks a bit lighter than it truly is. You'll notice that it looks darker in the shots below.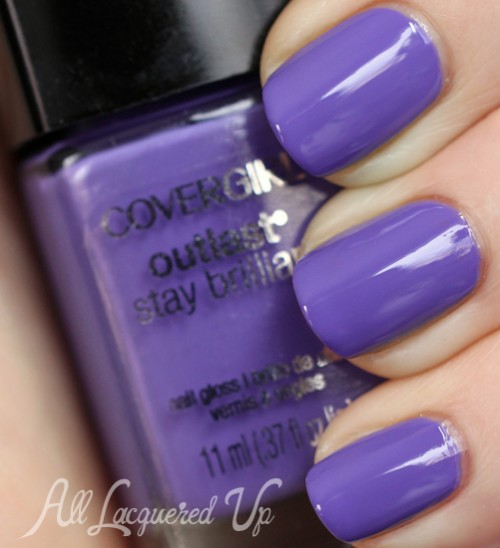 Given how amazed I was by this new formula, I decided to put the polish through a wear test. Having so many colors options in my nail wardrobe I can't seem to wear just one color anymore so I opted for a multi-colored manicure using Mint Mojito and Vio-last.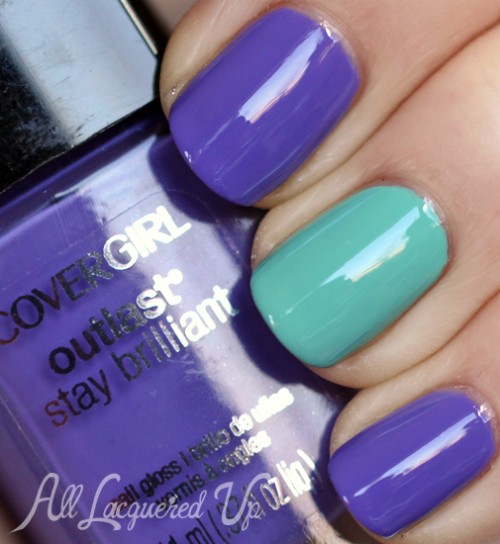 As with all my wear tests, I used a base (SOPI Strengthener) and top coat (Out the Door). Over the course of a week, the surface remained glossy and the tips showed very little wear. Though the wheels came off the bus on Day 7 after a night of bowling. Sticking my fingers in the ball must have taken its toll because after I got out of the shower the next morning, the chips shut my manicure down. Overall, I call it a successful run.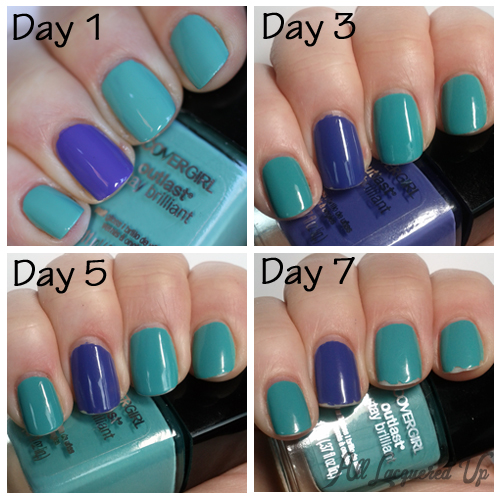 If you've been reading this site for a while, you know that I'm friends with Celebrity Manicurist Elle. In addition to being a great friend she's also one of the best in the nail biz. Well she teamed up with COVERGIRL to create some fun and easy nail art looks. One of them is dubbed "Chevron Chic" and after watching the tutorial below, I decided to give it a whirl using Vio-last, Out of the Blue and Snow Storm.
For my first attempt at a free-hand chevron, I'm happy with the finished product. I didn't allow myself any mulligans so my lines aren't perfect but I'm not a pro nor an artist by trade. Plus, the average person isn't looking at my nails as intently as a macro lens. It just goes to show that, if I can do it, so can you!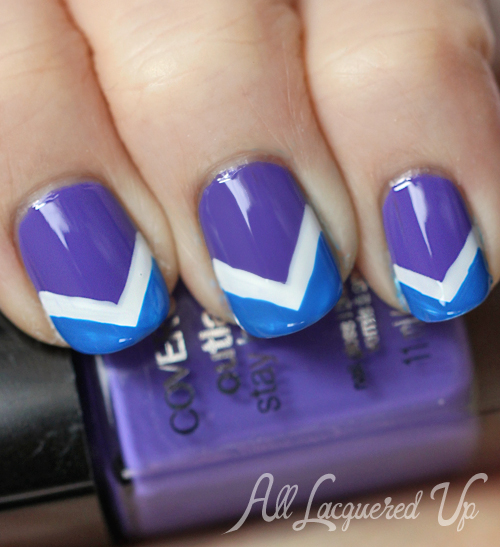 Bottom Line: These new COVERGIRL polishes are top notch and causing me to take another look at the mass brands I've snubbed in the past. While these may not be the most unique colors on the planet, the formula is smooth, pigmented and wears well. What more can you ask for from a polish? Yes, the self-leveling issue can be a bother if you want to wear them without top coat but that just means you need a little practice using the product. It's an easy obstacle to overcome.
COVERGIRL Outlast Stay Brilliant Nail Gloss is available now at drugstores and mass retailers nationwide. To find a retailer near you, visit COVERGIRL.com. COVERGIRL nail polish retails for approximately $5/ea for a .37oz bottle. Price varies by store.
Have you tried the new COVERGIRL nail polish? Thoughts on the new formula? Which of these shades is your fave for Spring? Do you have any tips for the perfect free-hand chevron?
Disclosure: Product samples were provided by reps for COVERGIRL. Affiliate links may appear in this post via a third party link service. For more info view my Disclosure Policy.