Essie founder, Essie Weingarten, is the quintessential uptown lady and while she may throw us a color curve ball from time to time, hello Luxeffects, she creates nail polish with the typical Essie woman in mind. Classic, fashionable, effortlessly chic, they are the type who tend to play it a bit safe with nail color on their hands but can rock a turquoise pedicure with the best of them.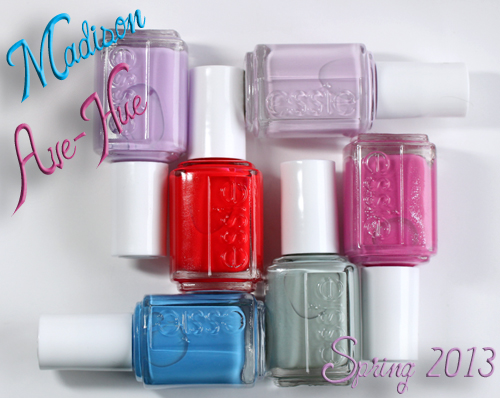 This season Essie takes us on a trip to the greatest shopping destinations in the world. Paris, London, Tokyo, etc. And while, at first glance, this collection may look a bit ordinary, there are definitely a couple shades worth a second look.

Formula & Application: Essie is a 3-Free brand. The square bottles are embossed with the Essie logo and the smooth plastic caps include an embossed 'e' on top. The brushes are thin, round and shorter than most. The bristles are very flexible, allowing you to easily fan out the brush to cover your nail width.
The Essie formula is a bit watery in texture but well pigmented. It glides on the nail allowing for precise application. With the exception of the two lightest shades (Go Ginza and Bond With Whomever) I can get away with two coats for full coverage. The other two require three coats and even then I experienced a bit of pulling at the cuticle, which you'll see below.

Essie Avenue Maintain is a bright, French blue creme. As I mentioned in my CoverGirl post, this type of blue is popping up a lot for spring and the more I see of it, the more I can't get it out of my head. Avenue Maintain a lighter version of CoverGirl Out of the Blue and it makes China Glaze Sunday Funday look blue-green in comparison. Orly Snowcone is as close as I can come to finding a match.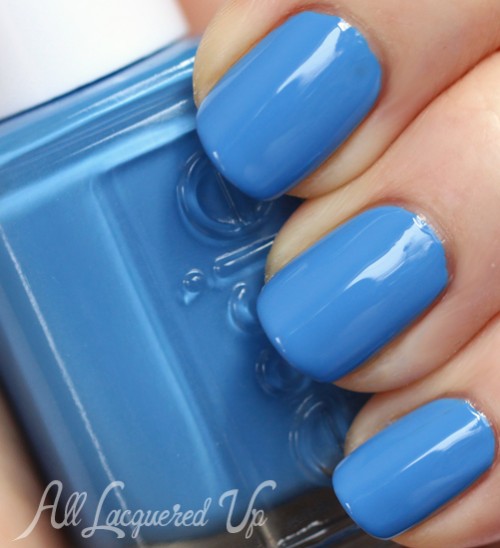 Essie Bond with Whomever is a pastel lilac creme. As I've stated many times before, the pink-purples don't work on me so I don't keep many on hand for comparisons. Think of this as a pinked-up version Essie Lilacism. Same depth of color, except Lilacism has more blue in its base.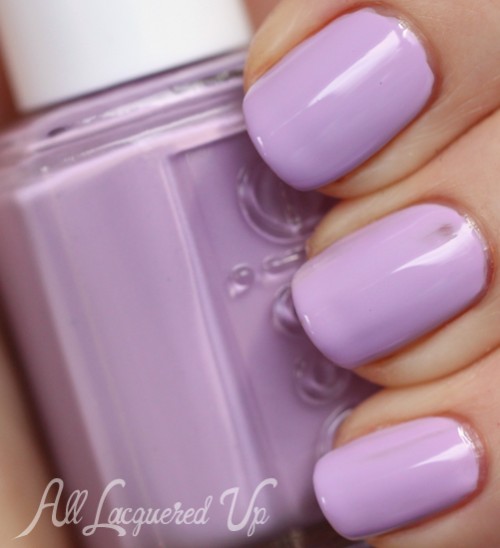 Essie Ginza is a pale, whisper of a pink. Essie describes it as a cherry blossom pink which is quite fitting. Again, this is not my color family so I don't have a ton to compare it to but it's cooler than OPI Panda-monium Pink.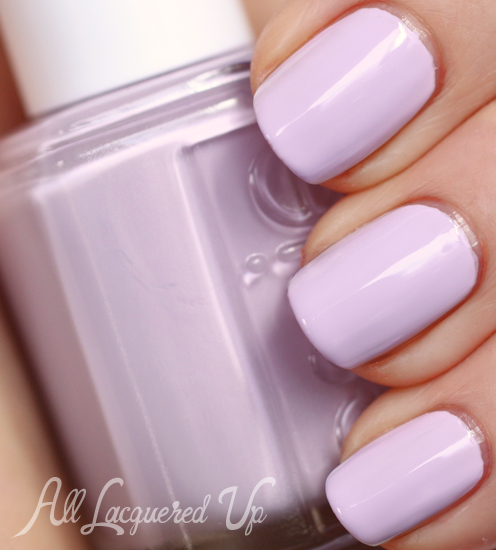 Essie Hip-anema is a bright, tomato red creme. It has some warmth to it but not in a way that would be unflattering to cooler skintones. I wore it yesterday, in support of Marriage Equality, and even though I have a lot of pink in my skin, it didn't clash. To my eye, I can barely tell the difference between Hip-anema and Essie Fifth Avenue. And that's a big BARELY. Hip-anema is a "bit" brighter but not enough to matter.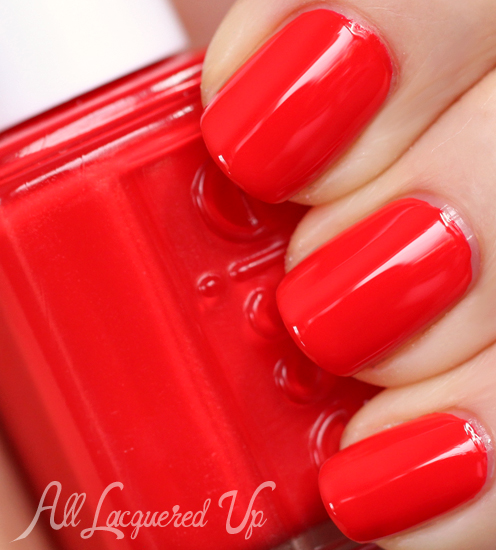 Essie Madison Ave-hue is a punk-y hot pink with fine silver flecks. It's the silver flecks that drew me in and you guys know how I feel about wearing pink. It's the way Brandon Walsh felt about dancing. I just don't do it. Sorry, I'm not sorry, the 90210 re-runs on SoapNet are my crack. Anyway, this is not a color I ever would pick out on a shelf yet I love it on my nails. Will wonders never cease, you guys? In search of dupes, I came up empty handed. An old ass bottle of CND Scorched had a somewhat similar base color but that's about it.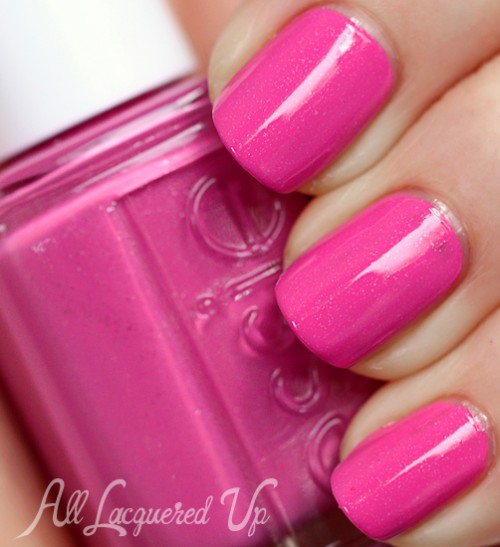 Essie Maximillian Strasse is a mouthful AND a super greyed-out green creme. It's got a sand-washed look that keeps it from becoming pastel. I'm seriously over the moon with this color. It's really unique to my collection and a new take on the greyed greens of the past, ie Essie Sew Psyched. The only color I have the comes close is Sally Hansen Green Tea but that is too green in comparison.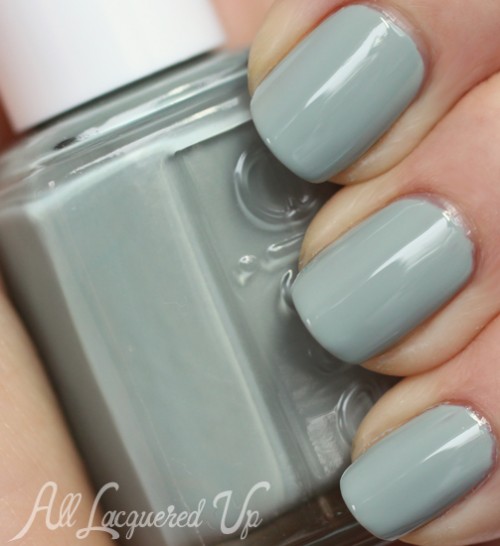 I'm beyond smitten with Maximillian Strasse so I felt it only appropriate to add the nail polish equivalent of "Spirit Fingers", by incorporating Essie Beyond Cozy. And just like, Spirit Fingers, this combination is "GOLD!"  I've been involved with Beyond Cozy ever since I wore it to a friend's wedding last fall. So much so, that I'm moments away from pulling the trigger on the Bauble Bar Beyond Cozy set. A, because I love the art deco feel of the bangle. B, because I want a backup of Beyond Cozy. I'm that kind of obsessed, people.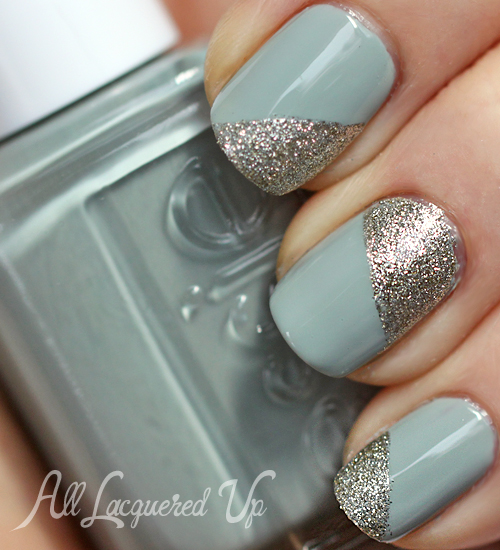 Bottom Line: Maximillian Strasse is so full of win that I can't stand it. Madison Ave-Hue has blown my pink-hating mind and Avenue Maintain is the perfect French blue though with other similar shades on the market, you have to find the one that suits you best. The rest of the shades are pretty standard fare, nothing to write home about, but Hip-anema is a great staple if you're building your nail wardrobe and missing a poppy, orange-red creme.
Essie Madison Ave-Hue is available now at retailers nationwide. Visit Essie.com to find a store near you. Essie nail polish retails for $8/ea for a .46oz bottle.
Thoughts on Essie's spring collection? Which shade is your favorite? Do you feel me on the Beyond Cozy love? What would you love to see Essie do that she hasn't already?
Disclosure: Product samples were provided by reps for Essie. Affiliate links may appear from a third party link service. For more info view my Disclosure Policy.