Okay, so I've never been one of those people who tears pages from magazines or uses the clever reminder tabs that come with Lucky when I see something I like. Instead, I'm the one who saves decades of magazines and then has to ransack them looking for that one thing, I saw that one time, that I now want, but can't remember the name of. Brilliant system, eh?
Fortunately, there's Pinterest and it's been a revelation, and a giant time suck, for me. I credit Pinterest with changing my mind about nail art. Not gonna lie, I'd been drinking the nail art hatorade. When nail art took off, a lot of what I saw was too over-the-top for my taste. Seeing tons of it roll by on Pinterest has warmed my heart, though I prefer the simpler, more geometric designs. It also helped me find amazing nail art bloggers like Chalkboard Nails and Lucy's Stash.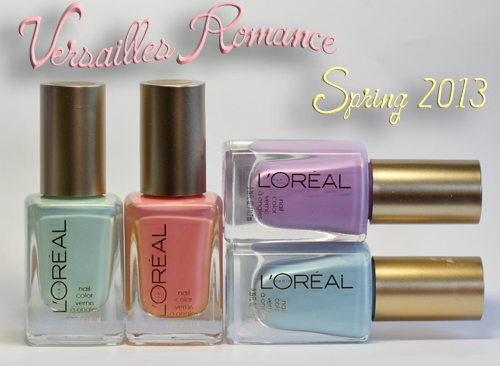 Over the past year I've been collecting nail art designs on Pinterest that I want to try someday. Well, today is that someday. I'm going to attempt to recreate my fave nail art looks in this new series PinspiratioNAIL. I'll put my spin on an image I find on Pinterest. My first look is a Fishtail Manicure using the new L'Oréal Paris Versailles Romance nail polish collection.

The Pinspiration: I've seen quite a few fishtail manicures on Pinterest but there was something about this one from Nailderella that struck a chord with me. The color palette is just very me and the lines are so well balanced.
Turns out, Nailderella used a technique found on The Beauty Department that creates clean lines but takes way more time than I'm willing to spend. I went the less labor intensive route by following the tutorial on Lucy's Stash.

As much as I love the bright and shiny look above, I was in the mood for something more subtle. The L'Oréal Paris Versailles Romance collection fit the bill.
I polished all of my nails, except the ring finger, with L'Oréal Paris Pistachio Dream, a soft mint green with a hint of shimmer. It goes on a little streaky so I opted for three coats of color. On my ring finger I used L'Oréal Paris Lacey Lilac, a pink-tinged pastel purple. Lacey Lilac has great pigmentation so I only needed two coats.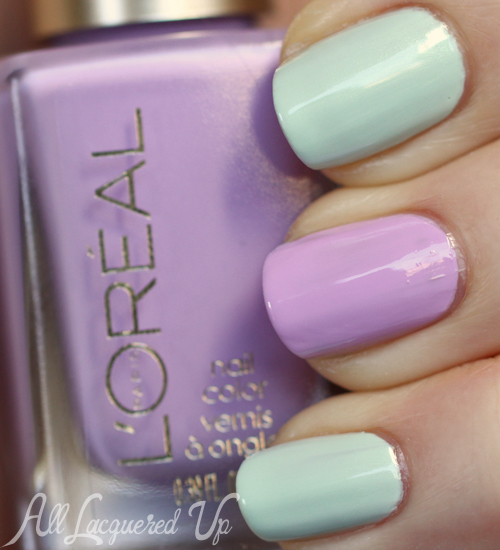 Using L'Oréal Paris Royally Yours (baby blue creme) and Macaroon Me Madly (pale peach creme) along with Lacey Lilac, I painted overlapping diagonal stripes of color starting at the cuticle. Since you'll be covering up part of the stripes as you go up the nail, make sure you concentrate on the inside edge being straight. The flat L'Oréal Paris Colour Riche brush makes it very easy. Repeat the stripes, rotating colors, until you reach the free edge.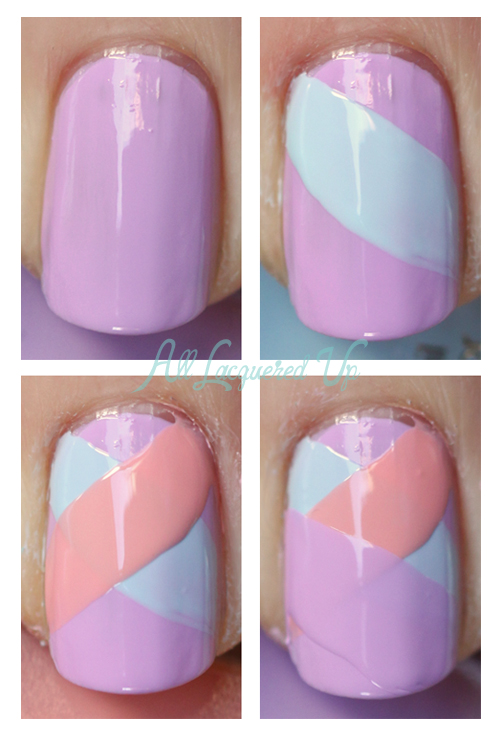 Add a layer of top coat and you are ready to go. The final result feels very spring-y and because the colors are so soft, it's not overwhelming. It would look great on Easter Sunday, for those of you who celebrate.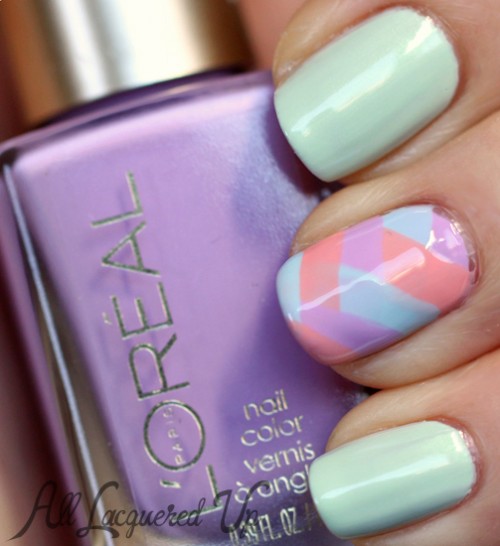 I took this with my cell phone which doesn't pick up the detail as much but shows how the colors will look in indirect light.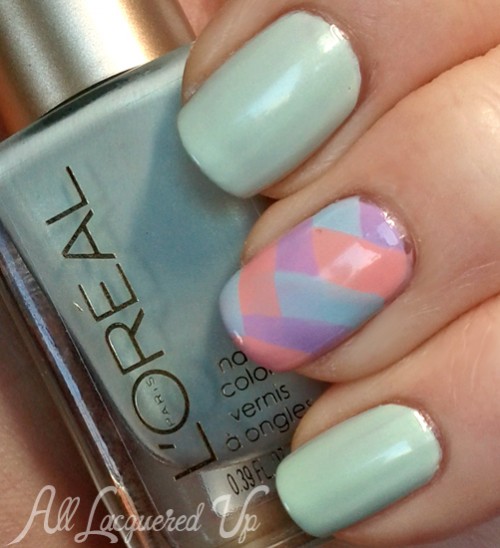 The L'Oréal Paris Versailles Romance collection is limited edition and available now at drugstores and mass retailers nationwide. The collection includes a pale yellow (Creme Puffs) and a baby pink (The Palace Life) that aren't shown. L'Oréal Paris Colour Riche nail polish retails for $5.99/ea for a .39oz bottle.
Thoughts on my first fishtail manicure? Is this a look you have/will try? Which technique do you prefer? Are you into my color choice?
Also, if you're on Pinterest, follow me (Pinterest.com/AllLacqueredUp) and leave a comment on my PinspiratioNAIL board for the nail art design you'd like to see me try next. 
Disclosure: Product samples were provided by reps for L'Oréal Paris. For more info view my Disclosure Policy.