It's April 1st, aka April Fool's Day, and it also happens to be Dyngus Day, which even though it's celebrated in Cleveland, I had never heard of until the Anderson Cooper giggle-fest last year. So whether you're pranking your friends, spraying girls with water, hitting boys with pussy willows, or trying to avoid a "case of the Mondays", I hope your week is off to a good start.
This is just a quick Mani Monday. I celebrated Easter with my family yesterday and when I decided to wear a bright color-block dress, I knew I had to switch up my nail look from the pastel fishtail braid I showed you on Friday. Enter, the Fearless Beauty collection from Dermelect, created by Celebrity Manicurist Elle and Fear No Beauty's Karie Frost.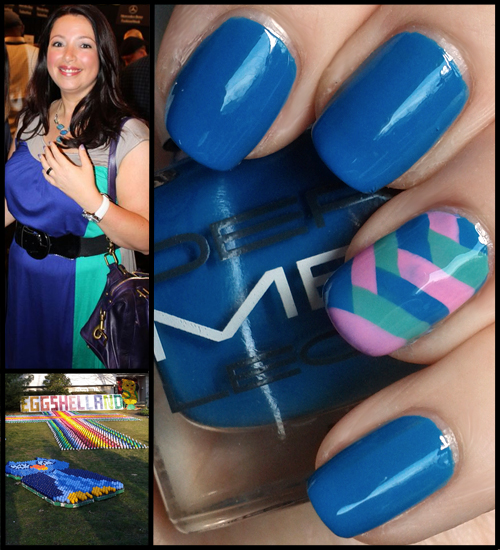 I used Fearless (cobalt blue), Moxie (bright, not chalky, pepto pink), and Renegade (jade) to create the look. The colors paired perfectly with my dress, shown above when I wore it to NYFW last September.
Since we don't have kids and Mom finally stopped hiding Easter baskets, after doing it for 30+ years, Easter is pretty laid back, just an early dinner. But this year we stopped by the famous Eggshelland for a visit. I've never been and hearing this was the last year, I had to go. The display uses over 20,000 enamel painted egg shells and it's quite a sight. If you're in the CLE, they'll have it up until April 5th so head on over.
The Dermelect Fearless Beauty collection will be available this summer so consider this an early preview with a full review closer to launch.
If you celebrate Easter, did you create a special manicure? Does your city have any Easter displays like Eggshelland? Have you tried Dermelect nail polish? What do you think of the new summer shades?
Disclosure: Product samples were provided by reps for Dermelect. An affiliate link may appear via a third party link service. For more info view my Disclosure Policy.