Mani Monday
As we spend this Memorial Day remembering and honoring the men and women who died in service of our great country, I just want to share a quick USA themed #ManiMonday with you. I originally created this look during the Olympics last summer but it works so well for any USA-centric holiday or event; Memorial Day, Independence Day, etc.
It's a classic red, white and blue nail art look using nail striping tape I bought on Amazon and L'Oréal Paris Colour Riche Nail.
I started with two coats of L'Oréal Paris I Will! (white creme), as my base and waited for it to dry. Next, I applied four strips of striping tape to the right half of each nail. I then painted over each half with L'Oréal Paris Caught Red Handed (tomato red creme) and Jet Set To Paris (blue creme), alternating the colors on each nail.
Application tips: 1) Use a quick dry top coat or UV top coat, like Seche Ultra-V, over the white to speed the drying process. 2) Lay the first tape strip in the middle of the nail and work your way to the edge for a balanced look. 3) Remove the tape immediately after applying the polish with tweezers. 4) Wait 10-15 minutes before applying top coat to avoid blurring the lines.
Simple, easy, a bit time consuming, yet eye-catching. Would you try this look at home? Do you wear themed manicures on holidays?
What's on your nails on this ManiMonday? Tag me on Facebook, Instagram, Pinterest or Twitter and use the hashtag #ALUManiMonday so I can share it.
Disclosure: Product samples were provided by reps for L'Oreal Paris. Affiliate links appear via a third party link service. For more info, view my Disclosure Policy.
As much as I love loud, "notice me" nail color, I have moments where I just want something neutral, effortless and clean. This past weekend, I had one of those moments. It was a lazy, no plans kind of weekend. The boyfriend has been working like a dog throughout tax season (which is almost over, yay!) so we kept it low key.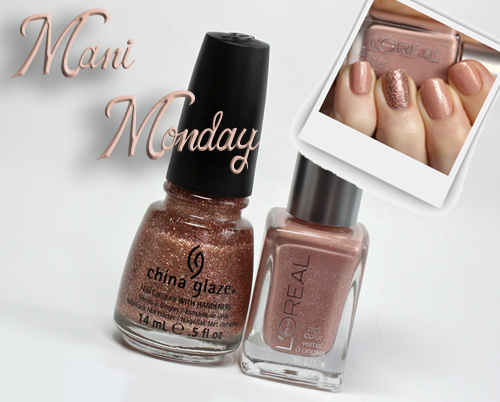 Even though no one would see it, I still wanted something new on my nails so I turned to my current neutral nail look of choice, which I call the "Subtle Sparkle." I've been living for China Glaze Champagne Kisses for months now but it can be a bit much on its own. Paired with my perfect not-quite-naked nail color, L'Oreal Paris Colour Riche So Chic!, it makes for one stunning manicure.
Continue Reading »
It's April 1st, aka April Fool's Day, and it also happens to be Dyngus Day, which even though it's celebrated in Cleveland, I had never heard of until the Anderson Cooper giggle-fest last year. So whether you're pranking your friends, spraying girls with water, hitting boys with pussy willows, or trying to avoid a "case of the Mondays", I hope your week is off to a good start.
This is just a quick Mani Monday. I celebrated Easter with my family yesterday and when I decided to wear a bright color-block dress, I knew I had to switch up my nail look from the pastel fishtail braid I showed you on Friday. Enter, the Fearless Beauty collection from Dermelect, created by Celebrity Manicurist Elle and Fear No Beauty's Karie Frost.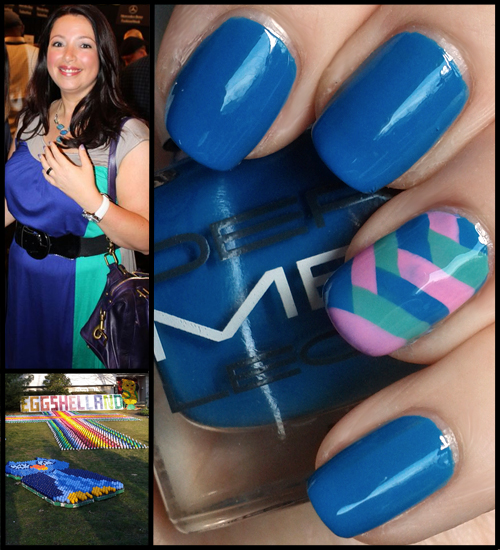 I used Fearless (cobalt blue), Moxie (bright, not chalky, pepto pink), and Renegade (jade) to create the look. The colors paired perfectly with my dress, shown above when I wore it to NYFW last September.
Since we don't have kids and Mom finally stopped hiding Easter baskets, after doing it for 30+ years, Easter is pretty laid back, just an early dinner. But this year we stopped by the famous Eggshelland for a visit. I've never been and hearing this was the last year, I had to go. The display uses over 20,000 enamel painted egg shells and it's quite a sight. If you're in the CLE, they'll have it up until April 5th so head on over.
The Dermelect Fearless Beauty collection will be available this summer so consider this an early preview with a full review closer to launch.
If you celebrate Easter, did you create a special manicure? Does your city have any Easter displays like Eggshelland? Have you tried Dermelect nail polish? What do you think of the new summer shades?
Disclosure: Product samples were provided by reps for Dermelect. An affiliate link may appear via a third party link service. For more info view my Disclosure Policy.